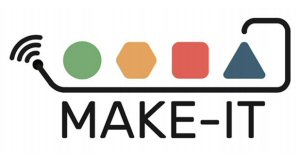 Understanding Collective Awareness Platforms with the Maker Movement
The project is completed.
MAKE-IT project is to understand the role of Collective Awareness Platforms (CAPs) in enabling the growth and governance of the Maker Movement.
To understand how the role and impact of Collective Awareness Platforms (CAPs) approaches the Maker movement, MAKE-IT will undertake multidisciplinary research in different fields including: behavioural studies, social psychology, sociology, management information systems, economics, environmental science, technological impact and governance issues.
MAKE-IT will focus the research specifically on the role of CAPs in:
1. how maker communities are organised and governed;
2. what maker participants do and how they behave;
3. the various ways this impacts on and adds value to society.
Objectives
The overall objective of the MAKE-IT project is to understand the role of Collective Awareness Platforms (CAPs) in enabling the growth and governance of the Maker movement, particularly in relation to using and creating social innovations and achieving sustainability. The results of this research will help to understand the uses and impacts of CAPsin different contexts, as well as of the Maker movement itself.
DTI contributes to the following work packages
Conceptual and Methodological Framework
Case Explorations
Innovation Action Research
Technology and Use Scenarios
Synthesis and Impact Analysis
Participants
The MAKE-IT consortium presents a truly cross-disciplinary research team with a very strong representation of the target groups, namely the maker communities. The partners have been carefully selected to cover the specific objectives of the project, which is rooted in the maker movement itself. The scientific partners have already established working relationships and are key players in studying (digital) social innovation and their implications. Similarly, the makers in the consortium have established links, either amongst each other or with one of the scientific partners. In some cases, the different roles are covered by a single partner organisation, such as DTI, which functions as a core scientific partner and has an active maker space to be involved as a case study.
Nederlandse Organisatie voor Toegepast Natuurwetenschappelijk Onderzoek, Netherlands
Teknologisk Institut, Denmark
Zentrum für Soziale Innovation, Austria
Technische Universität Dortmund, Germany
The Institute for Advanced Architecture of Catalonia (IAAC) - Fab Lab Barcelona, Spain
Fab Lab Zagreb, Croatia
Happylab GmbH, Austria
Sihtasutus Teaduskeskus AHHAA, Estonia
Create it REAL ApS, Denmark
MAKE-IT is supported by EU funds.
Find more information about this project on www.make-it.io/
Follow the latest news on Facebook and Twitter.
The project ran from January 2016 to January 2019