Project - Verification of environmentally friendly technologies
New technology for optimized control of pan heat and defrosting in freezer cabinets
The project has been completed.
Project start October 2008. Ended in December 2009.
The project will proceed as part of the establishment of a Danish verification centre, which is a pre-project for a future ETV scheme in the EU. ETV stands for Environmental Technology Verification and ETV schemes have already been established in the USA and Canada. The scheme makes it possible for developers of environmentally friendly technologies and products to obtain verification of environmental benefits when specific products or technologies are used.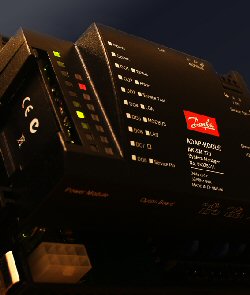 Verification will take place at the verification centre of an independent third party who will deliver comparable and reliable data. Verification will help capture market shares of the developers and also provide important sales arguments. Furthermore, the scheme will give society the opportunity to invest money in technologies and products that have a beneficial impact on the environment and climate.
As part of the EU commission's ETAP (Environmental Technology Action Plan) the establishment of an ETV scheme is planned in the European Union. In the long term, the EU scheme will be fused with the existing American and Canadian schemes establishing an international verification body that will apply in the EU and America. In that way, verification of technology developed in Denmark can be marketed and approved in the EU as well as in America.
In this Danish pre-project, four technology centres verify different technologies and they are DHI, Force, AgroTech and Danish Technological Institute. The centres cover a wide range of technologies within the fields of GTS – Advanced Technology Group. One field is "energy efficiency in industry" where refrigeration technology plays an important part.
Danfoss has recently developed new technology incorporated in the AK2 control system for refrigeration and freezing cabinets in supermarkets. A substantial part of the energy consumed by the cabinets keeps certain parts of the cabinets warm so condensate and frost are avoided. The heat is not controlled appropriately and much more energy than necessary is consumed. Optimized control will reduce the energy consumption considerably.
Reduced energy consumption in the heaters will also result in the refrigeration cabinet needing less energy to keep the products cold. Therefore, intelligent heater control will reduce the direct energy consumption in the heaters and at the same time reduce the load on the cooling system.
Project Objectives
Development of a test protocol for verification of energy reducing technologies for refrigeration cabinets
Verification of energy reduction through intelligent control of panel heaters
Verification of energy reduction through intelligent control of de-frosting
Verification of total energy reduction when using the new control system
Participants
The Danish Agency for Science Technology and Innovation
Danish Technological Institute
Danfoss
DHI
Force Technology
Do you want to know more?
Information about the project is available at: www.etv-denmark.com