Cleaner steel industry in Vietnam
Better environment and economic growth go hand in hand in a project to promote cleaner technology in the Vietnamese steel industry.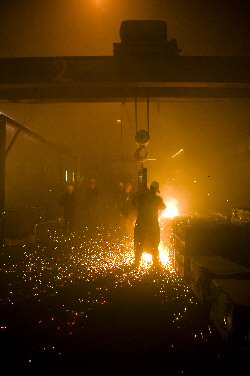 The Danish Technological Institute is working to promote cleaner steel production in the Thai Nguyen and Nghe An provinces in Vietnam in close cooperation with the Vietnamese authorities, experts and consultants. This gives Vietnamese society and trade and business access to the newest knowledge on environment friendly technologies.
The Danish Technological Institute reviews the production at the Vietnamese companies and identifies avenues for increasing productivity, improving quality, streamlining energy utilisation and reducing environmental impacts.
Similarly, the Institute also evaluates the companies' potential for reducing greenhouse gas emissions.
The project, supported by Danida, will be completed in 2009. During the initial stage, Vietnamese stakeholders visited Denmark to learn from Danish experience.
The Danish Technological Institute was in Vietnam to collect information and prepare a strategy for cleaner technology in the steel industry, together with the Vietnamese experts. This information is greatly needed since steel production in Vietnam will become more environmentally detrimental in the coming years.