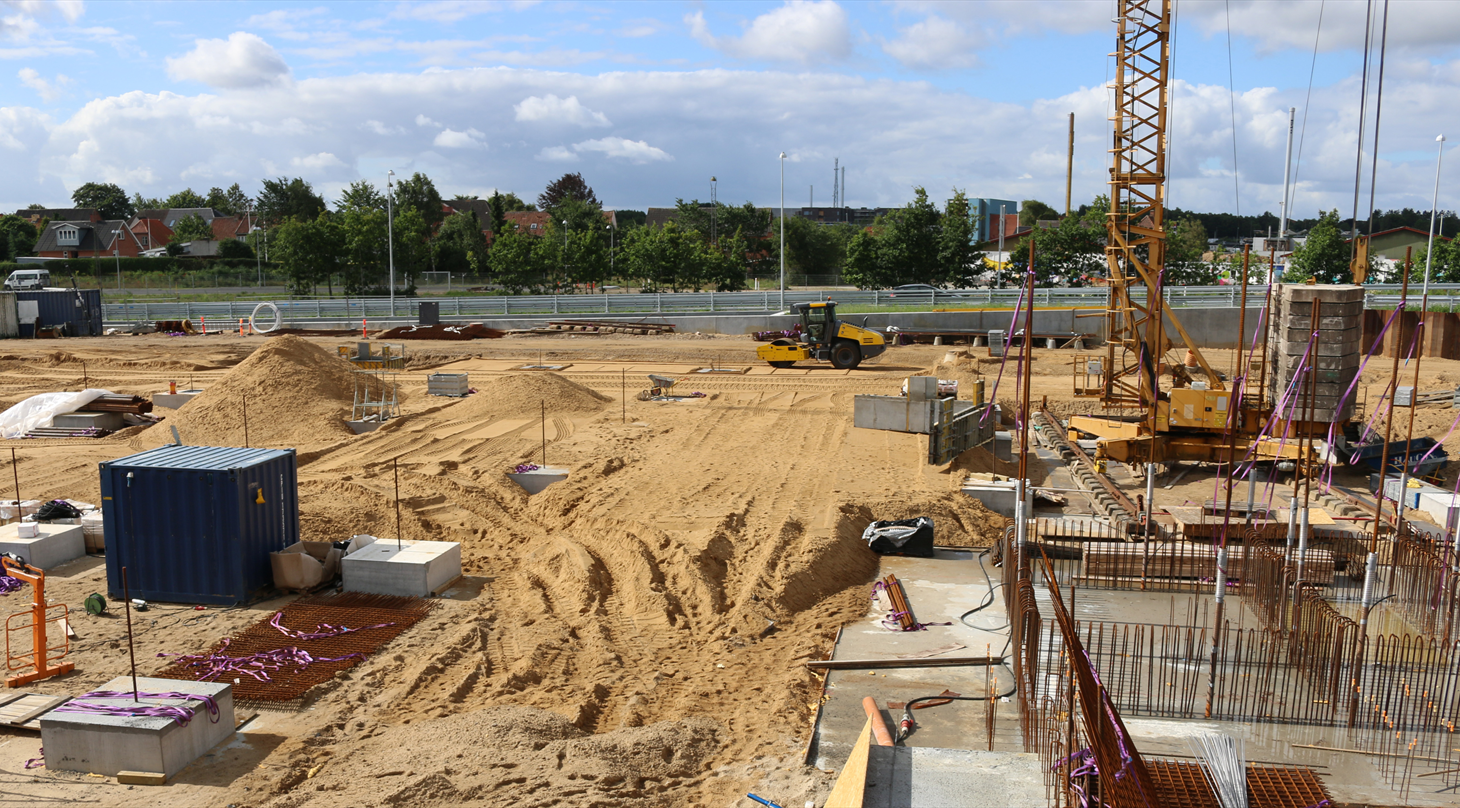 Project - Green Construction Site of the Future
Project start: January 2021 Expected project completion: December 2023
2030 climate goals and a strong focus on pollution from urban construction sites calls for a green conversion of the construction industry.
Until December 2023, the project The Green Construction Site of the Future will investigate the effect of various initiatives on one or more selected construction sites, where Per Aarsleff is the contractor.
Full scale demonstration
The project will establish a data-driven full-scale demonstration of the green construction site of the future. The initiatives involve the conversion of construction machinery into electricity and other alternative fuels such as HVO or GTL. Some special machines that cannot be converted will have a particulate filter and SCR catalyst fitted. In addition, CO2 reducing energy systems will be established, e.g. solar cells and digital tools that will contribute to on-site logistics optimization and smart behavior.
Sensors measure the effect
Sensors on site and attached to the individual vehicles will measure the effect of the measures, which will be implemented individually. By means of sensor technology and location data, a heat map will be developed showing the route of e.g. a loader, what it does and how much it costs in emitted particles and CO2.
The goal is to create a so-called digital twin which documents current driving enabling to see how improved logistics can reduce driving and thus emissions and CO2.
Integration of solar power cells and heatpumps
A further initiative is a smart energy infrastructure with solar cells and heat pumps on the construction site cabins supplemented with an energy storage for balancing load. Danish Technological Institute will identify and analyze electricity consumption to identify possible energy savings and increased flexibility.
Evidence of green initiatives
The purpose is to give the industry evidence of which green initiatives provide the most climate and environmental impact for money. The vision is that the project will thereby contribute to the sustainable society of the future, where the availability of sustainable alternatives will make more contractors demand increased sustainable construction sites.
Participants:
Per Aarsleff A/S
Airlabs Denmark
Alumichem A/S
Purefi A/S
CP
Technical University of Denmark - Department of Civil and Mechanical Engineering, Design, and Processes
DCE - Nationalt Center for Miljø og Energi, Aarhus University
Aarhus University Engineering
Volvo Construction Equipment
Danish Technological Institute (project manager)
The project is supported by: Danish Ministry of the Environment (Eco Innovation)