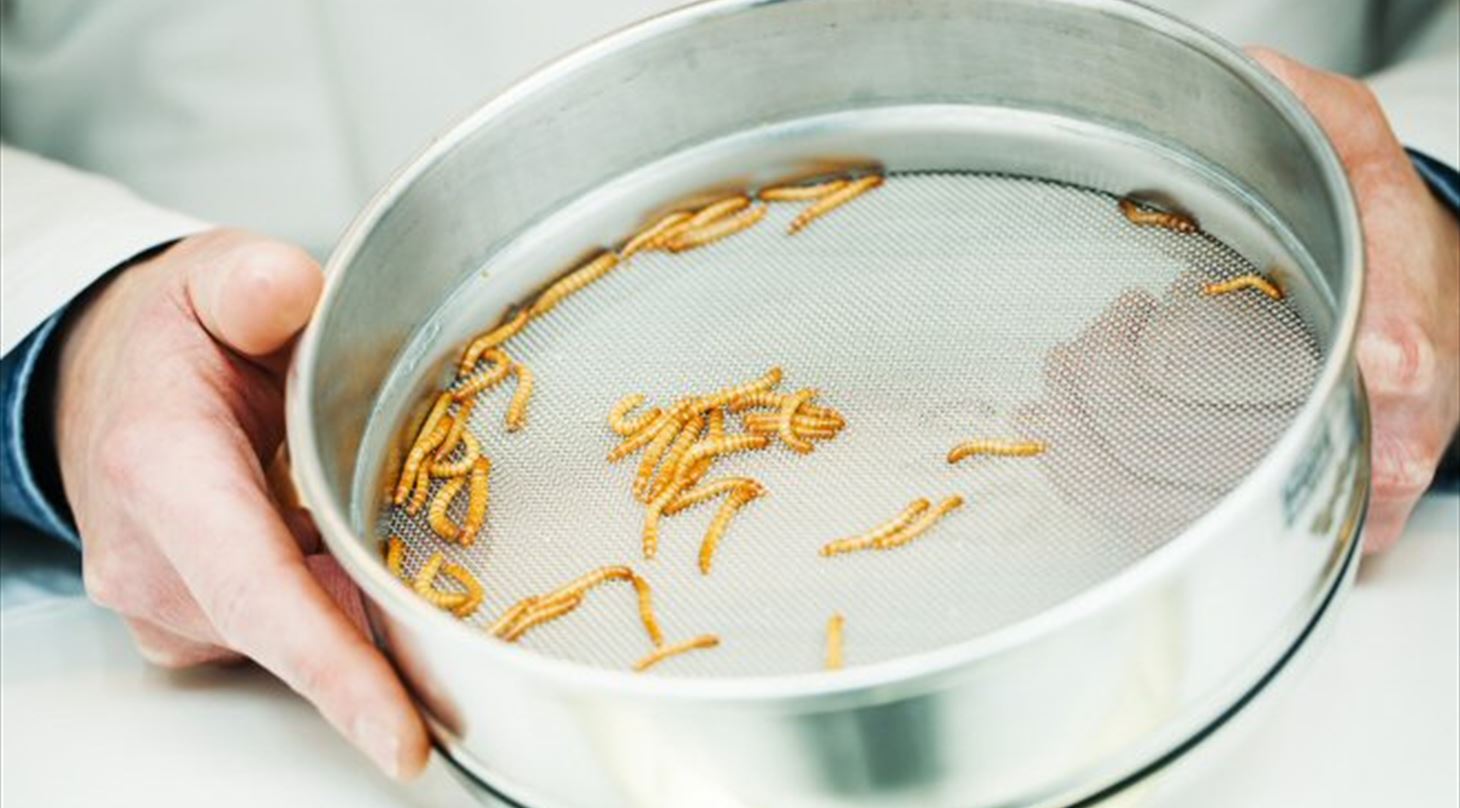 Project - Sustainable Mealworm Production for Feed and Food
SUSMEAL – Sustainable Mealworm Production for Feed and Food – EUROSTARS-project
Project start August 2015. Expected completion July 2017.
The purpose of the SUSMEAL project is to support an adequate and sustainable food production for the increasing global population, which is expected to increase from the current 7.4bn to around 9bn by 2050. That will require a significant additional production of feed and food; alone the meat consumption is expected to double. Protein production in the form of meat from poultry, pigs and especially cattle requires considerable resources in relation to energy and water consumption and feed per kg of meat produced. In the long term, it will not be possible to sustain 'conventional meat' as the main protein source for the population of the world. Therefore, insects will play an important part as they:
have a very favourable nutrient composition (50-60% protein and 15-20% fatty acids)
have a high utilization of the feed (e.g., 5-10 x higher than the coefficient of utilization of pigs and cattle)
require limited production space (> 10 x less space required than in the production of pigs and cattle)
require limited consumption of fresh water
Already, insects represent a natural part of the diet of >2bn people in, i.e., Asia, Africa and South America. In Europe, some regions are engaged in the production of insects as feed for animals and as food for human beings.

New production concept for insect larvae
In the project, a sustainable large-scale mealworm production will be developed; sustain­able in terms of environment as well as economy. It is important to develop a cost effective diet of approved organic residues and waste products coming from the feed and food industries (e.g., industrial bakeries). The diet should have the right balance of nutrients to boost the rapid growth of quality larvae with a high protein and fatty acid content. In addition, the current production unit that is based on manual labour will be scaled up and automated.

SUSMEAL has the following objectives, which will be addressed during the project:
Development of an optimized low-cost-feed formula based on organic residues and waste products for optimal growth and quality of mealworms (Alphitobius diaperinus). The selection process will be based on the nutritional value analysis and the availability and production cost of the feed. The biomass yield, and protein and fatty acid content of the larvae ready to harvest will be the success criteria for the feed mixture.
Expansion and automation of the existing larvae production system at Proti-Farm, including the development of a system that can handle the boxes and a digital monitoring system that can assess the health and growth of the larvae.
Participants
Proti-Farm
Hannemann Engineering ApS
Danish Technological Institute
Read more
The research project SUSMEAL is a Danish-Dutch cooperation between Proti-Farm, Hannemann Engineering and Danish Technological Institute. The project is carried out under the Eurostars programme and is co-funded by the Innovation Fund Denmark, the Netherlands Enterprise Agency (RVO) and the EU Commission.