Robot System Extracts Dangerous and Valuable Items From Waste Using Artificial Intelligence
A newly developed robot system protects both employees and the environment when batteries and electronic waste are to be sorted.

Danish Technological Institute (DTI) in collaboration with Swedish Refind Technologies has developed a new robot sorting system that, by means of artificial intelligence, recognizes and sorts batteries and electronics waste. At the same time, the technology will improve the working environment for employees in the waste industry.

- The potential for robotics in the waste industry is huge because robots can efficiently sort large volumes of waste and extract resources that we need, says section leader Jacob Kortbek, DTI.

- Our solution is based on several different methods - both visual methods for recognizing batteries and electronics waste, but also picking methods that enable the robot to collect these items and place them into the correct categories, he adds.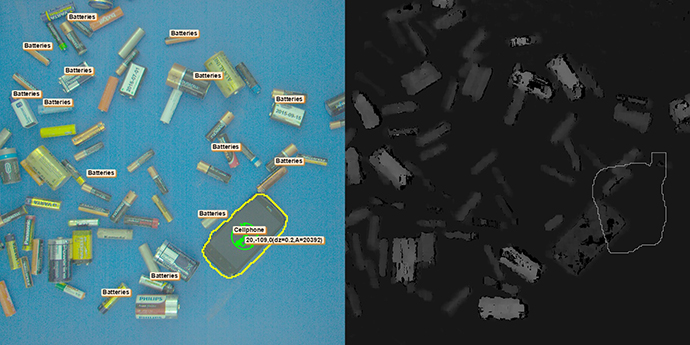 With the robot system - using advanced camera technologies and deep learning to recognize the different objects - it is possible to collect items containing significant value, for example, precious microchips or gold from mobile phones. When the system is able to distinguish between, for example, telephones and remote controls, the more expensive batteries from the phone are not thrown out with the less expensive batteries from the remote control.

This allows the robot system to create better resource utilization for society.
Needles among batteries
People throw anything out and you never know what dangerous and sharp objects are present when waste is to be sorted. The staff at Stena Recycling, which sorts hazardous waste such as batteries, know all about this. Stena Recycling is a partner in the project and contributing their extensive domain knowledge. The company is convinced that robotics can help improve safety and quality at their sites.

- This system will improve the working environment and well-being of our employees because many of the routine tasks will be replaced by robotics, so we can use our staff's competences for the more specialized tasks, says Gerd Engelbrecht, branch and production manager at Stena Recycling.

- The system - which is currently set up in Danish Technological Institute's robot innovation facilities in Odense - is unique, as we have not worked with these things in the same way before, says Rasmus Johansson, Machine Learning Engineer at Refind Technologies.

- I think it's hugely exciting that we are doing things that no-one else has done before. We combine the latest research with live product classification and robotics in industry. It is completely unique, he emphasizes.
AAWSBE1 - Adaptive Automated WEEE Sorting 1: Battery Extraction, as the project is called – is coordinated by the Danish Technological Institute with Refind Technologies and Stena Recycling as partners. The project is funded by the EU through ECHORD ++.