Combating bacteria infections
Each year, Denmark hospitalises 250,000 patients suffering from infections. But new molecular-biological technologies may potentially speed up seriously ill and debilitated patients' recovery and prevent serious consequences of infections. Patients may also spend less time in hospitals.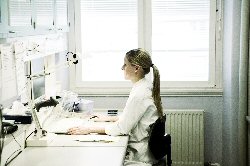 Danish researchers have now proven that when molecular methods are applied, most bacteria causing infections can be found in just one day. In future, this will enable doctors to make a micro-biological diagnosis much more rapidly than today and thus to initiate the optimum treatment in time to prevent the infection from becoming chronic or fatal. Ultimately, the new process will save Denmark a great deal of money, not least because treated patients will be able to return to the labour market quickly.
The Danish Technological Institute has joined Aalborg University and the Faculty of Health Sciences of the University of Copenhagen in applying molecular-biological methods to study various bacterial infections. The group published its research results in the British journal BMC Clinical Pathology.
The 2009 Finance Act allocates EUR 2.0 million for a three-year project aimed at upgrading and implementing the new methods in a partnership involving the Danish Technological Institute, Aalborg University and Copenhagen University Hospital. Early in the year, the methods will be implemented first at Copenhagen University Hospital and then at other hospitals. The participants expect state-of-the-art DNA analyses of bacteria to reveal the causes of many types of infection and also expect the methods to produce more accurate results than the conventional method, which cultivates bacteria in a specific growth medium over the course of four to five days.
Originally, the DNA analyses were developed for wastewater facilities requiring extremely exact microbiological descriptions.