Danish swimming pool technology for Norway
Together with the Danish companies KHR arkitekter AS and E. K. Jørgensen A/S, the Danish Technological Institute won the competition for designing a major swimming baths facility in Bergen, Norway.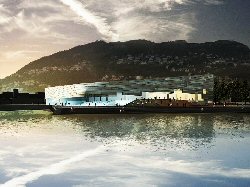 In addition to the swimming baths, the project also comprises a large upper secondary school. The architect's project unites school and swimming baths in one big building, which emerges in the landscape as a huge rock. Designed to accommodate major international swimming competitions, the facility will comprise a 25 x 50 metre swimming pool and a 20 x 25 metre diving pool with a 10-metre diving board. A separate section will hold a hot-water pool.
The City of Bergen and the Hordaland County Council arranged the competition. Six firms of architects participated in the competition, and - in January 2008 - the Danes won it.
The Danish Technological Institute will be responsible for planning and designing the water-treatment and ventilation systems for the facility. The plan is that the facility must be ready for inauguration in June 2012.