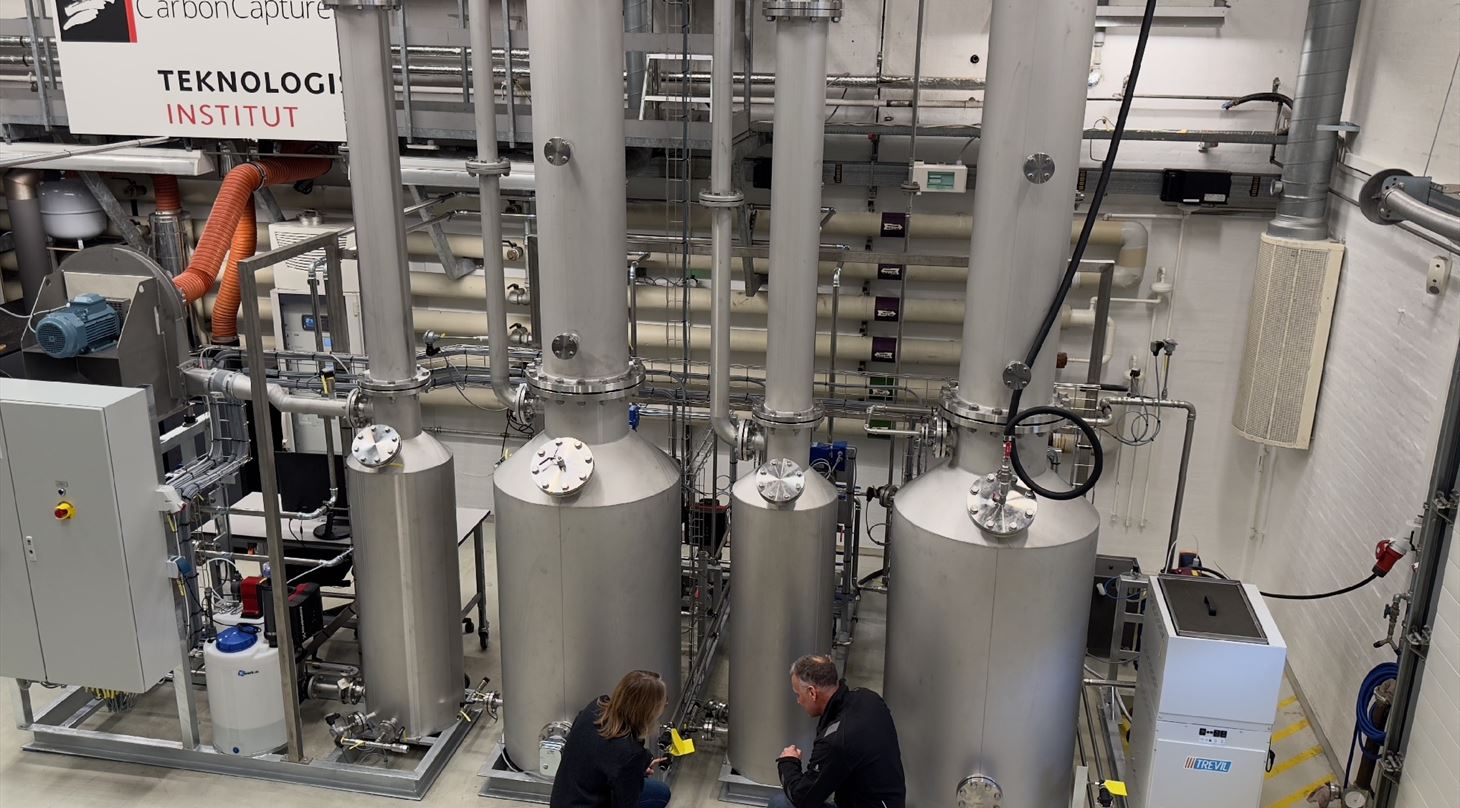 Danish Technological Institute opens Denmark's first flexible testing facility for carbon capture
Press release published on 16th. November 2023.
A new modular testing facility at Danish Technological Institute is to turbocharge the technological development of carbon capture, storage and utilisation and contribute to further mature carbon capture in Denmark.
The Danish Government has an ambition of capturing 34 million tonnes of CO2 over the next 15 years. As part of this, 3.2 million tonnes of CO2 need to be captured per year from 2029. However, according to the Teknologisk Udsyn report 'CCUS: Sådan bliver Danmark klar til det grønne erhvervseventyr' (in Danish), from October 2023 it will be necessary to test the technology in practice. Therefore, Danish Technological Institute is opening a new testing centre called the Carbon Capture Lab.
"There is a need to accelerate the technological development of equipment which can in practice capture, transport and store CO2. With our new advanced testing centre, Carbon Capture Lab, companies can get help to further develop and test and document whether new carbon capture technologies can work in practice under industrial conditions," says CCUS Market Director Jan Boyesen at Danish Technological Institute.
The testing centre will be a welcome addition for, among others, the energy company Ørsted who will begin working with carbon capture at Avedøreværket and Asnæsværket in 2025 and which will capture 430,000 tonnes of CO2 per year from 2026. Ørsted already has the technology in place for the two power plants via their technology supplier, Aker Carbon Capture, but it has also initiated several technological development projects related to carbon capture to build knowledge and find opportunities for optimisation.
"For Ørsted, this is a new technology where we still want to build and expand upon our knowledge. Testing facilities such as the one Danish Technological Institute have can work as a kind of 'sand box' where different technologies and processes can be tried on a small scale," says the Head of Plant Technology at Ørsted, Kasper Stefan Frederiksen.
The overall challenge involved with fulfilling the high Danish CCS ambitions that needs to be overcome is to further develop and mature the technology so that it works in a sufficiently energy-efficient manner.
"Our Carbon Capture Lab is focused on the next generation of carbon capture technologies where companies can have the opportunity to test prototypes at a scale that is both management and financially profitable. In the lab, projects and companies will be able to test technologies with a focus on reducing energy consumption and emissions and solving technological challenges. For example, by testing carbon capture for various types of emissions from, for example, industry and power plants," says Director Morten Gottlieb Warming-Jespersen of Danish Technological Institute.
Contact
Chief Consultant Niels Tradsfeldt, Danish Technological Institute, mobile (+45) 7220 2769, email: ntt@teknologisk.dk and Senior Media Relations Manager Carsten Birkeland Kjær, Ørsted, mobile (+45) 9955 7765, email: cabkj@orsted.com.
Facts
About carbon capture: Carbon capture is a process which is aimed at capturing CO2 gases before they are released into the atmosphere, typically from large emitters such as power plants and industrial processes. The captured CO2 can then either be stored underground (a process known as carbon capture and storage, CSS) or used for other purposes (known and carbon capture and utilisation, CCU). Carbon capture is aimed at reducing the amount of CO2 which is released into the atmosphere as part of fighting climate change.
About Carbon Capture Lab: On Thursday 9th. November 2023, Danish Technological Institute opened the Carbon Capture Lab, Denmark's first modular laboratory dedicated to testing and improving the technology for carbon capture and carbon cleaning. The laboratory is unique because it is built from flexible modules which allow for the testing of different technologies on many different sources of CO2 emissions. Companies can use this laboratory to test and improve their methods before they are implemented on a large scale at locations such as power plants. The goal of the laboratory is to develop energy-efficient solutions that match the energy system of the future. With a focus on the next generation of technologies, the laboratory can handle up to 100 kg of CO2 per day.