Drones and LED lights can move indoor logistics up in height
What do drones, green trailer nets and LED light strips have in common?
This may sound like the beginning of a complex literary plot, but these are actually the tools of a new kind of indoor logistics that the Danish Technological Institute (DTI) have investigated in their robot innovation halls over the past year.
- Often the space above traditional production facilities is unused, while logistics is carried out on the floor. By moving internal logistics tasks into the air, the facilities can be utilized more efficiently, says drone consultant Mathias Flindt from DTI.
Mathias worked with colleagues Jeshith Damsbo Anandasubramaniam and Tsampikos Kounalakis on a drone concept where the GPS is turned off and the flying robot navigates using a very simple LED strip.
An alternative to expensive navigation systems
The primary technical challenge of using drones indoors is control and navigation.
Drones outdoors navigate largely by GPS, but indoor drones must navigate differently. There are few commercially available indoor navigation systems suitable for drones - and often they have a very large price tag.
DTI has therefore investigated simple and inexpensive tools for transporting packages and other smaller items around the production facilities.
- Although the concept is not yet fully developed, we already see the potential in this alternative approach to indoor logistics – especially for companies with limited space on the production floor, says drone consultant Jeshith Damsbo Anandasubramaniam from DTI.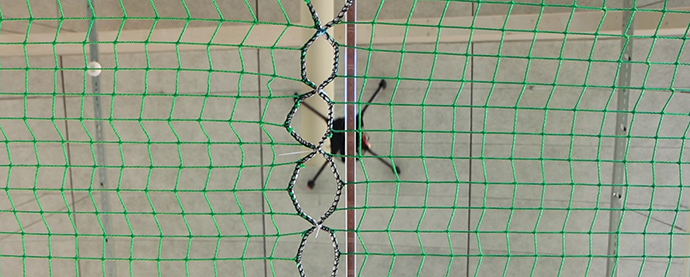 The drone flies along the light
For indoor flights in production facilities where people work, it is necessary to ensure the safety of the employees. To this end, a safety net has been fitted which is also used to navigate.
- LED strips are installed in a grid pattern in the safety net with individually controllable LEDs, and a camera on the drone detects the colour and location of the LEDs. By allowing the light to run along the LEDs, the drone can follow the light strip, says Jeshith Damsbo Anandasubramaniam.
At the endpoints, such as a production machine and a packaging machine, the drones can fly down vertical corridors made through the net. You can then set up visual markers that guide the drone to the exact landing point.
In the video at the top of the article you can get a sense of how the LED drone concept works.
Interested in hearing more about drone technology and its applications? Then contact consultant Mathias Flindt on 72 20 36 50 or mfl@teknologisk.dk.
The project is supported by the Danish Agency for Institutions and Educational Grants, part of the Ministry of Higher Education and Science.

​