- testing of concrete composition and production of test specimens for exposure site
Femern A/S, the Owner of the coming Fehmarn Belt Fixed Link, through an open tender process selected the Concrete Centre at Danish Technological Institute as its external concrete laboratory. As part of a testing program supporting the preparation of material requirements the Concrete Centre's HighTech Concrete Laboratory has produced 30 concrete blocks and a large number of small test specimens based on a series of possible mix designs for the construction. Fifteen large concrete blocks (400 litres – 2 x 1 x 0.2 m) each having different concrete composition have been placed partly submerged in the harbour in Rødbyhavn. They will be monitored at least until the end of the construction period, which is in expected to be in 2018.
For the production of the 15 concrete types, including 3 SCC mixes, the demands on batching accuracy have been very strict. Maximum 1 % weight deviation was allowed on any individual constituent. This requirement was met by the mixing station at the Concrete Centre by implementing special procedures for moisture control of the aggregate. The mixing station has 5 aggregate silos and 4 powder silos and a capacity of 250 litres concrete per batch.
An extensive testing program has been initiated comprising documentation of:
Workability, density, and air content
Setting time and bleeding
Strength development (compressive and split tensile)
Frost resistance and air void structure
Chloride ingress resistance
Microstructure (petrographic analysis)
The high batching accuracy achieved by using the mixing station at the Concrete Centre ensures that conclusions regarding the fresh and hardened concrete properties are based on a sound foundation. In this respect the mixing station has proven to be a valuable tool for documentation of concrete and constituent materials at the industrial scale.
The results from the testing program will be used in preparing the material requirements for the Fehmarnbelt Fixed Link construction.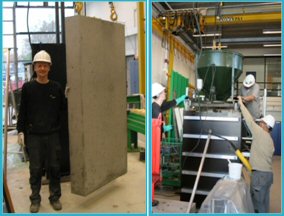 Left: Casting of large concrete block at the DTI laboratory.
Right: Martin with the first concrete block.

Left: Self-compacting concrete in the mixer.
Right: Measuring the slump flow of SCC after determination of rheological parameters by the 4C-Rheometer.