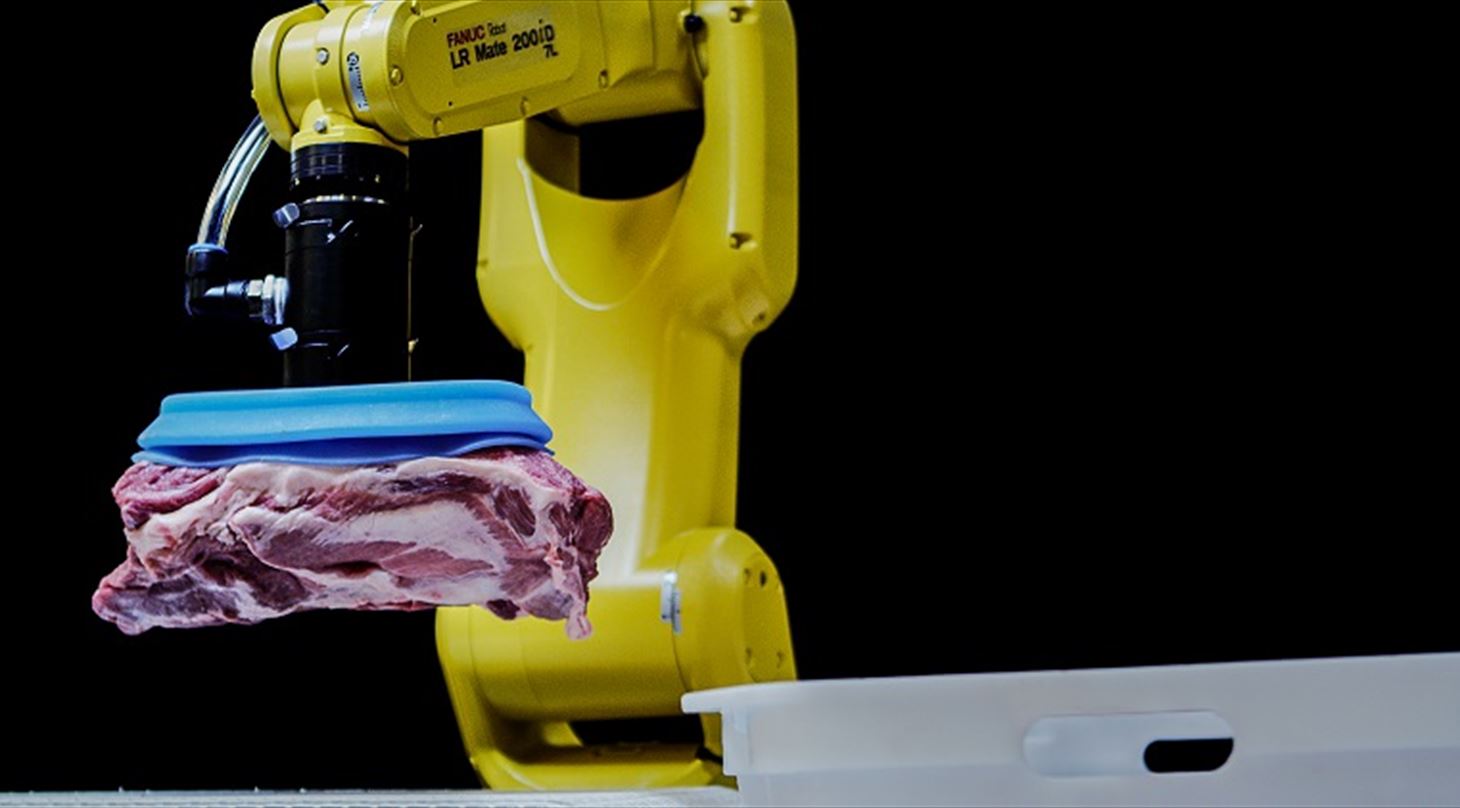 New robot lightens burden on slaughterhouse workers at Danish Crown in Ringsted
Meat Mover is the name of a new robot that can save slaughterhouse operators at Danish Crown in Ringsted from having to lift thousands of kilos of meat every day.
After six months of use, the slaughterhouse workers are convinced that it will lead to improved working conditions.
Every week, more than 35,000 pigs are slaughtered at Danish Crown in Ringsted, with approximately 850 employees cutting, pushing, lifting and packing from morning to afternoon as part of a highly efficient process.
Slaughterhouse work is physically demanding, and, according to the Danish Working Environment Authority, monotonous repetitive work performed at a fast pace is one of the major causes of occupational ill health such as osteoarthritis, back problems and muscle injuries. Therefore, the industry is currently working on improving occupational health and safety at the slaughterhouses, and assistant manager Allan Guldmann Blak at Danish Crown in Ringsted explains the industry's ambition in very simple terms:
"For us, a high standard of occupational health and safety means, among things, that when employees retire, they will still be capable of lifting up their grandchildren," says Allan Guldmann Blak, who is currently responsible for the daily activities at the slaughterhouse.
A part of the solution was installed in the slaughterhouse packing department at the beginning of 2020.
Meat Mover is a robot equipped with a vacuum gripper with a suction cup and a vision system that can instantly provide the robot with images of the product, enabling it to achieve optimum grip when picking up the product. The robot can be installed in different parts of the production line, but at Danish Crown in Ringsted the robot is located at the end of a conveyor belt in the packing area, where it is surrounded by a safety net.
Every hour, the fully automatic robot lifts up to 1,500 packed meat products such as pork loin and belly off the conveyor belt and places them in a box, which is then removed by an operator.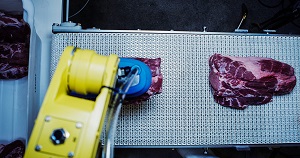 Performs the lifting work of five employees
Specially trained service operators ensure that the robot is operational during the entire production process, and, after a thorough commissioning phase, department supervisor Jesper Amby Jørgensen is fully satisfied with the performance of the robot:
"It functions exactly as intended. Before, five operators would take it in turns every day to stand and pack the products. Now the robot has taken over the lifting work performed by five employees."
Assistant manager Allan Guldmann Blak is confident that the Meat Mover will prevent wear and tear injuries among employees, and the slaughterhouse is already looking at other work tasks where similar robots can be installed.
"I would say that we need as much automation as possible. Some of our jobs involve heavy physical work, and it is difficult to speed up the process due to restrictions on the daily lifting quantity," he says, referring to the rules on how many tonnes an employee is allowed to lift per day.
The Meat Mover was developed for Danish Crown by DMRI (Danish Meat Research Institute), a part of the Danish Technological Institute, and was produced by Robot Norge. Allan Guldmann Blak predicts that, while the robot in Ringsted may be the first to be installed at the slaughterhouse, it will not be the last.
"The Meat Mover is one of the first in a series of a new generation of automatic systems based on industrial robots designed for this type of task. If we can automate processes so that more employees switch from performing manual work to operating a robot, it will result in a better working environment. It will also certainly be easier to attract new generations of operators to the industry," he says.