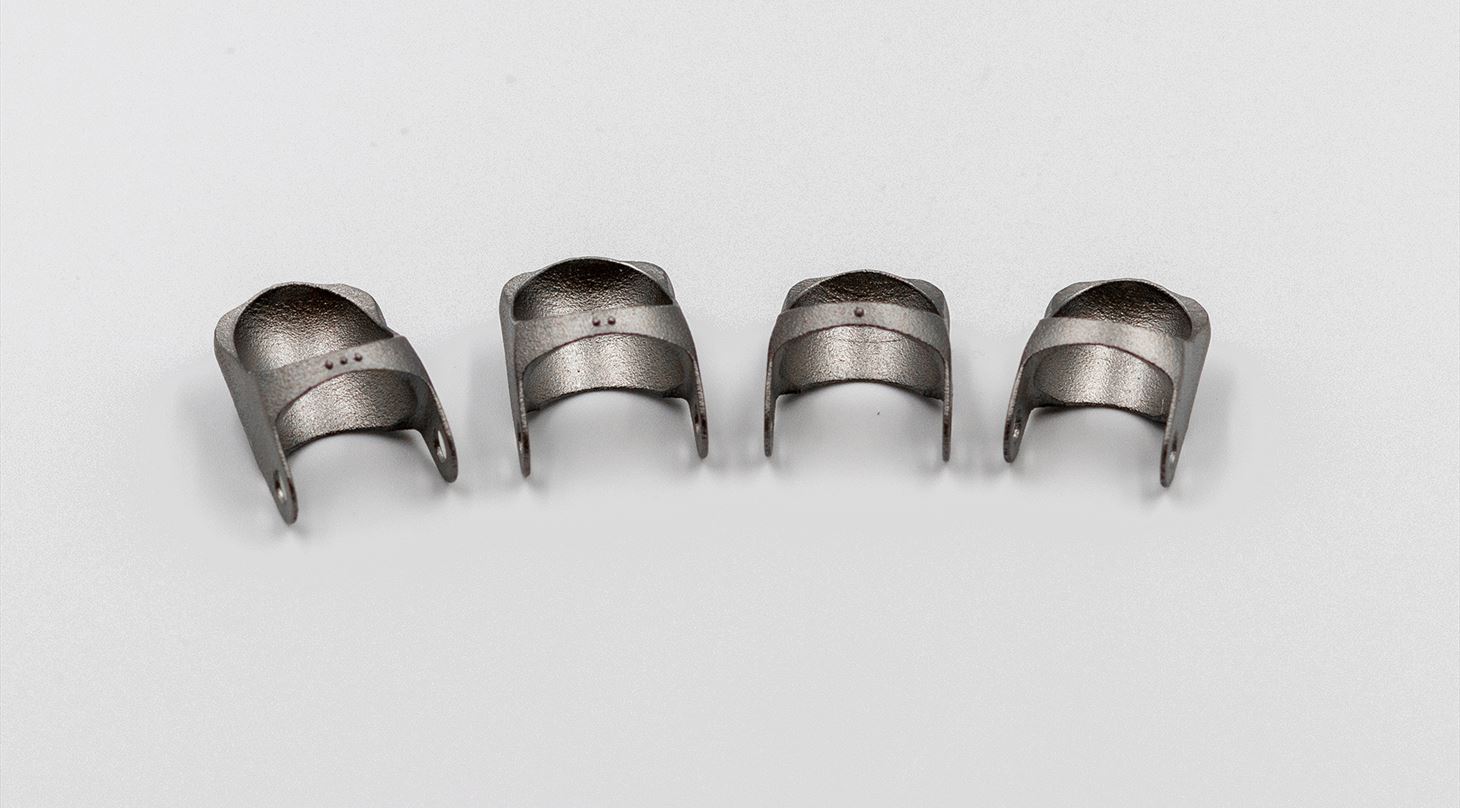 3D printing design process optimizes work gloves for super strength
The company High Precision Systems had high ambitions for their newly developed exoskeleton gloves when they entered the 3D printing design course, DfAM. Even so, the company was surprised that the technology managed to improve the 3D printed titanium gloves to such a large extent by cutting the thickness in half and thereby increasing both grip strength and reducing wear and tear on finger joints.
Most people know the Ironman films from Marvel studios, where Ironman gets superpowers when he puts on his robot suit. The reference to is obvious when it comes to the Danish start-up company, High Precision Systems, which develops and makes exoskeleton gloves - gloves that are a necessary and important tool in the industry, where daily and heavy lifting requires extra grip strength.

- In concrete terms, you can think of exoskeleton gloves as work gloves that you put on to significantly increase your grip strength from the wrist and through the fingers

- Niels K. B. Dahl, High Precision Systems
Lighter and stronger than current exoskeleton gloves
Prior to DfAM - a 3D printing design optimization course initiated by Danish AM Hub - High Precision Systems had already developed a new technology where they succeeded in expanding the use of the exoskeleton glove so that it also absorbs the compressive forces.
- The fact that our gloves absorb the compressive forces sets us apart from our competitors. Since the degree of strain on a joint during movement is one of the major factors underlying the development of osteoarthritis, we can - as the only ones, as far as we know - by removing this strain help ensure the future health of personnel, Niels K.B. Dahl, owner of High Precision Systems, explains.
Participation in the DfAM course cut the wall thickness in half
Although High Precision System's exoskeleton glove already had great potential prior to the DfAM course, the participation provided several significant inputs for further development. In particular, how far it was possible to push the limits of 3D printing technology in relation to wall thickness of the printed components. This happened in collaboration with the Danish Technological Institute, which is one of the partners in the design course.
- Participating in the DfAM course was interesting to me for several reasons, but especially because of the opportunity to investigate how small wall thicknesses it was possible to produce. Thicknesses are particularly interesting to us, as it is the difference between picking up a pen with big, thick winter gloves or thin fitted surgical gloves, says Niels K. B. Dahl.
In addition, it was important to produce some test parts. It is one thing to make simulations on a computer, but another thing is what is possible to produce. Also, in some cases it can be difficult to quantify the "feel" of an object. Here, there is nothing else to do but to test it in reality

- Niels K. B. Dahl, High Precision Systems
Natural and thin fit - without problems
The interest in challenging the material thickness of the parts was the starting point of the process - and it presented very positive results and renewed knowledge within 3D printing.
- From the start, we had settled on 0.8 millimetres in material thickness at the thinnest places on the part. The thickness was also what we investigated together with the Danish Technological Institute, where we very successfully got down to 0.4 millimetres despite the complex geometries. With the 3D printing technology, it did not cause any problems, even though it is incredibly thin, says Niels K. B. Dahl.
In addition to the fact that cutting the material thickness in half results in less material consumption, it also equals a more natural fit for the glove's current and future users.
"You have to dare to take some chances"
Niels K.B. Dahl points to one thing in particular that has been of great value with the company's participation in the DfAM course: The new attention to the possibilities and potential of 3D printing technology, which companies can benefit from in their development process and competitiveness.
- Before the DfAM course, we already used 3D printing, but I didn't know the limits of metal 3D printing, and that has been the main thing to find out: That there is a lot that can actually be done, says Niels K. B. Dahl and elaborates on the importance of daring to take chances when it comes to the new technologies:

What I would say to others who are considering participating in a similar course is that you must dare to take some chances and utilize the technology that is available if you want to remain competitive - and here, 3D printing is a solution that cannot be avoided

- Niels K. B. Dahl, High Precision Systems
Facts about the solution:
Material and technology: Titanium printed with med Laser Powder Bed Fusion
Wall thickness: Reduceret fra 0,8 mm til 0,4 mm
Weight reduction: 44 percent
Price reduction when 3D printing: 6 percent
About the DfAM course
During 2022, Danish AM Hub, in collaboration with the partners Danish Technological Institute, PLM Group, Hexagon and Wikifactory, has taken 15 Danish SMEs through a new innovation course with the aim of strengthening the companies to benefit even more from the technological and business potential within 3D printing. The course is called Design for Additive Manufacturing (or DfAM) and focuses on rolling out 3D printing to small and medium-sized companies as well as providing concrete support and help to work with the technology through design. The specific aim of the DfAM course is to re-design the participants' products or components, thus enabling these to be produced e.g. with greater strength, less material waste, new and better functionality, and on-demand.