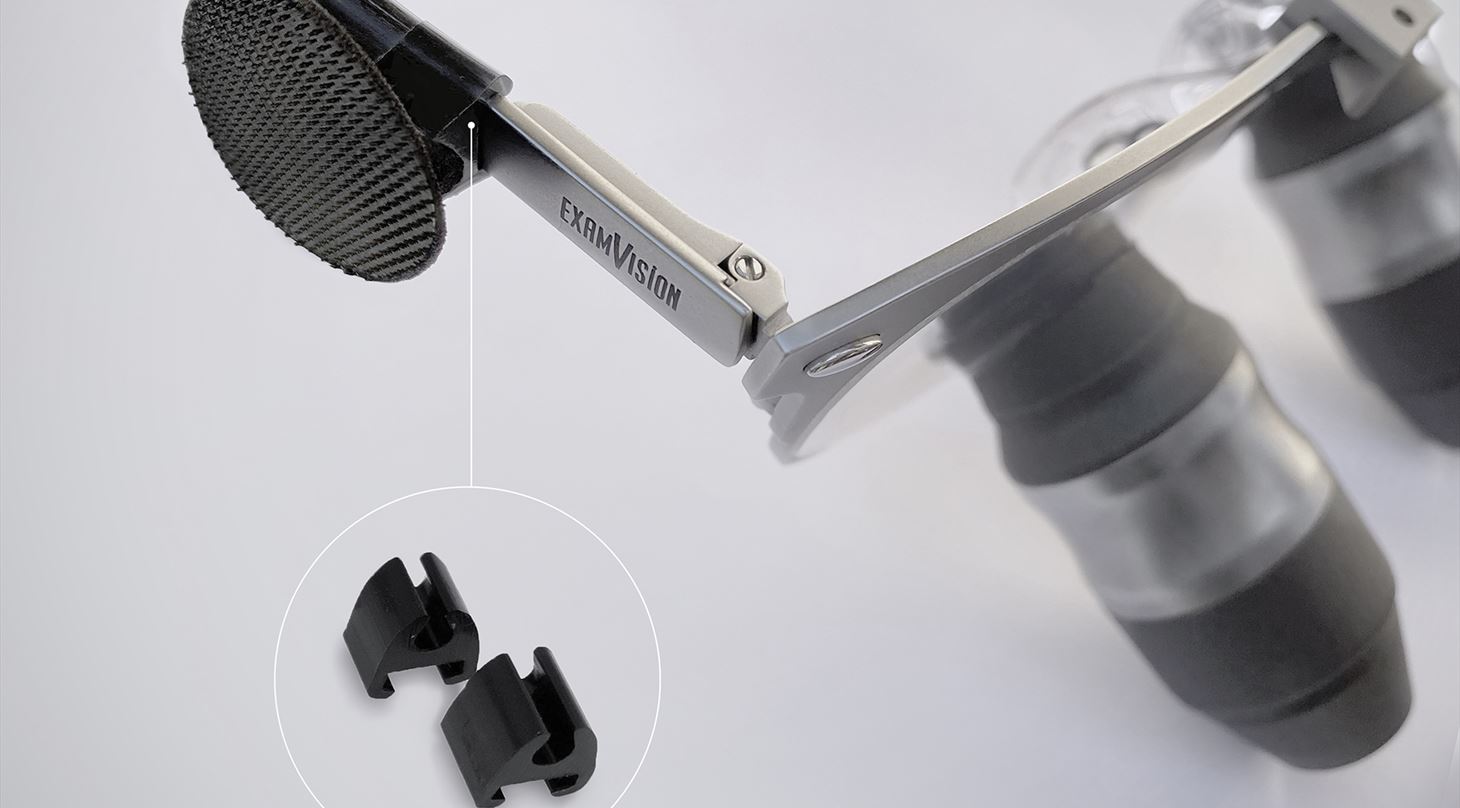 3D printing solved ExamVision's urgent need for visor holders
The Danish company ExamVision makes custom-crafted loupes, which doctors and dentists all over the world use in treatments and operations. After the first COVID-19 wave, ExamVision experienced a huge demand and a new challenge when canceled treatments were resumed - now with the requirement for face visors. But with 3D printing, they were able to meet the urgent need.
When the Danish company ExamVisions makes loupes for dentists and surgeons, the glasses are 100% tailored to the individual doctor's physique, vision and working position - and they are available with a number of options for extra equipment such as LED lights. In the past, ExamVision provided smaller visors as accessories, but COVID-19 led to a very high demand for a full-face visor. So when the dentists and surgeons in e.g. Denmark resumed work after the first COVID-19 wave with a requirement to wear a face visor, it was obvious to offer complete full-face visors as an add-on to the loupes. That way, the doctors would not have to carry an extra frame but could settle for the frame that had already been adjusted. But development and production of the new visor as well as the new adapter that attaches the visor to the spectacle frame had to happen fast. Therefore, ExamVision chose 3D printing, which could be produced at the Danish Technological Institute.
Knowledge of 3D printing from a previous project with the Danish Technological Institute
ExamVision had knowledge of the 3D printing technology from an InnoBooster project, which was made with the Danish Technological Institute a year earlier. Here, ExamVision made a new lightweight solution with battery pack and light for their glasses, as the existing solution could not hold battery for a whole day. This solution was made in a collaboration between the departments for Industrial 3D printing and Electrical Systems, and it ended up with ExamVision getting the finished specifications and electronics for a product that was ready to CE mark and put into production with e.g. injection molding.
Let us help you with 3D printing production
With the experience from back then, ExamVision knew that 3D printing is a powerful tool in the development phase - especially when it has to be fast - and they knew exactly where to turn at the Danish Technological Institute.
Extremely fast development and production process
Shortly after the news that dentists and surgeons in several countries were on their way back to clinics and hospitals after COVID-19, ExamVision contacted the Center for Industrial 3D Printing with the following message: "We are in a hurry - we need to have some items manufactured. "
- ExamVision's in-house designer quickly designed five different suggestions for clips to put on the glasses as a click-on solution, so you could mount the face visor directly on the spectacle frame with velcro instead of needing another visor frame on the outside, says Mads Østergaard, team manager and 3D printing expert at the Danish Technological Institute.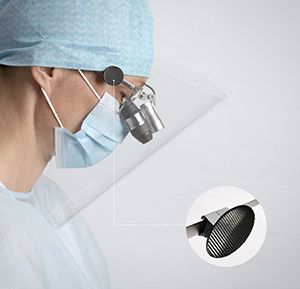 The design files for the five clips were sent to the Danish Technological Institute on Monday, and the same day a 3D print in nylon was started. On Tuesday, the printed items were sent to ExamVision who received them on Wednesday and tested on their loupes to see how the clips fit and whether they could hold. After this, two or three new designs were sent back to the Danish Technological Institute, where they were printed on Thursday, so they were ready on Friday. ExamVision then had the second design edition in hand on Monday, where they once again tested. The design then had the final adjustment and was sent to the Danish Technological Institute, where it was printed in 10 copies, which had powder removed and were dyed.
On Friday - less than two weeks after the first design line was drawn - the final versions were tested and approved, and ExamVision placed an initial order for 4,000 pieces, so there were adapters for 2,000 loupes.
The first 1,100 pieces were added to a build the same day so they were ready for blowing, dyeing and shipping on Monday afternoon. That way, ExamVision was able to get started with their production and assembly process on Tuesday - on Friday, an additional 2,500 pieces were produced and shipped, and on Monday the last 400 pieces were shipped.
- If all 4,000 items were to be printed at once, it would take approximately three days, but here the items had to fit into an ongoing production schedule. Nevertheless, the whole order was still delivered within a week, and in total the whole process took no more than three weeks including three design iterations, testing and finished production - and in fact the shipments were the biggest time consumers, as the files could be delivered immediately, says Mads Østergaard.
Cheaper and faster than injection molding
The great advantage of 3D printing in processes like this one is that time-to-market is incredibly short, which was also required due to the special circumstances and the resulting demand. Normally, injection molding would also be obvious for this type of item, but in this case, it would have taken too long to make the mold, and therefore 3D printing was necessary to meet the acute demand. Very often, 3D printing is an obvious choice in the ramp-up phase, and here ExamVision didn't have to think about manufacturing tools - and with batch sizes like this, 3D printing was actually cheaper than injection molding.
We were under a lot of time pressure to meet the many inquiries we received on a full-face visor for direct mounting on the loupes. So we realised that the fastest and most direct way to a quick launch of both visor and adapter was via 3D printing. And with the experience from the previous collaboration with the Danish Technological Institute, the choice of partner for this quick task was quite simple. Fast, efficient and good service. Thank you for that!

- Kim Jensen, CEO and head of R&D, ExamVision
To emphasize how fast the development went, ExamVision was actually in the process of advertising the product on their website already after one of the first design iterations - which is also the one seen in the product image.