How to make a 650-kilo robot safe? A robot company contacted DTI early in the development process
The technology company X-Drive Robots had to make sure that their large, mobile, and autonomous robot for the maintenance of riding arenas could be made safe. Therefore, they sought help and advice from the specialists at the Danish Technological Institute (DTI).

In the central Jutland town of Hampen in a riding hall, where only horses and horse-savvy people have left their mark, a large, black robot is currently driving around.
At first glance, it most of all looks like a cross between a futuristic, electric car and a turtle with its head tucked away under its shell.
The robot that can pull a large tool after itself is a heavy, four-wheel-drive, autonomous and battery-powered robot, which is intended for driving in all types of terrain. Perhaps just except for Mars and volcanic mountain slopes, which the creators emphasize with a twinkle in their eye.
It navigates using ultrasound, and then the company X-Drive Robots is behind it.
- We have invented and built a robot, which in this case is intended to run on riding arenas, and it of course has the safety that is needed when it weighs 650 kilos plus the tool, so it can avoid obstacles, and it in it can all take care of itself, says Klaus Kesje, who is Chief Commercial Officer at X-Drive Robots and together with CEO and civil engineer Bo Bøgh has founded the robot company.
Riding tracks must be maintained every day including trimming, leveling, and drumming so that they are ready for the horses.
With the tool behind it, the robot from X-Drive Robots can level the terrain completely automatically, so that the owner of the riding hall does not have to drive out with a diesel-powered tractor and a harrow mounted late in the evening or early in the morning.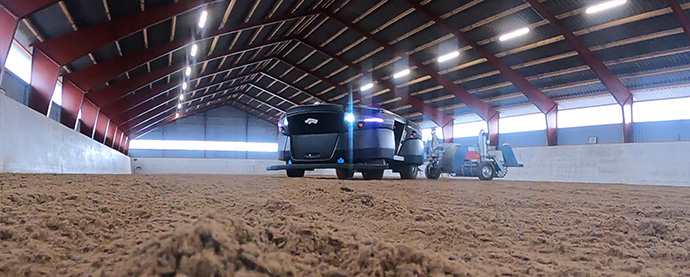 Security help
For the robot to be able to drive around automatically in, for example, a riding hall, where humans and animals have free access, the safety and choice of sensors down to the smallest detail must be considered.
X-Drive Robots sought help from DTI's specialists in the Autonomous Robotics Lab.
- For several years, we have gradually had a good collaboration with DTI. There is no doubt that DTI has the knowledge and experience with robots that we have greatly benefited from. In addition, they know a great deal about safety and navigation and have therefore also helped us choose the right solutions for the environment in which we drive, says Klaus Kesje.
Kasper Camillus Jeppesen is the specialist from DTI, who has advised the robot company and helped them in the right direction. He has been involved through most of the X-Drive Robots' process.
- X-Drive Robots have a very large robot, which is both heavy, can run fast and must be able to run on different terrain. It presents some unique security challenges that are very different from those we see in industrial areas for example. That is why we have helped them look at more innovative and unique sensors, which keep the safety parameters at the same level as for the indoor mobile robots, he says.
You can read more about what you as a company should be aware of when making your mobile robot safe here: Three tips for when you need to develop a safe robot product

Potential for more
Most people will probably think that the maintenance of covered riding arenas may sound like a small business area. But Klaus Kesje both disagrees and agrees.
- There are no riding halls on every street corner here in Denmark. But we look globally, and if we just take Northern Europe, then there are around 70,000 covered riding arenas, he says.
But even though, according to Klaus Kesje from X-Drive Robots, there are many indoor riding arenas in Europe, and there is therefore a market for the robot, the founding duo, Klaus Kesje and Bo Bøgh, see many more uses than just the riding arenas.
- Because the robot is made to pull any tool, it also opens the possibilities for the robot's use. We are looking, for example, at leveling artificial turf pitches for football in the future, says Klaus Kesje.

​