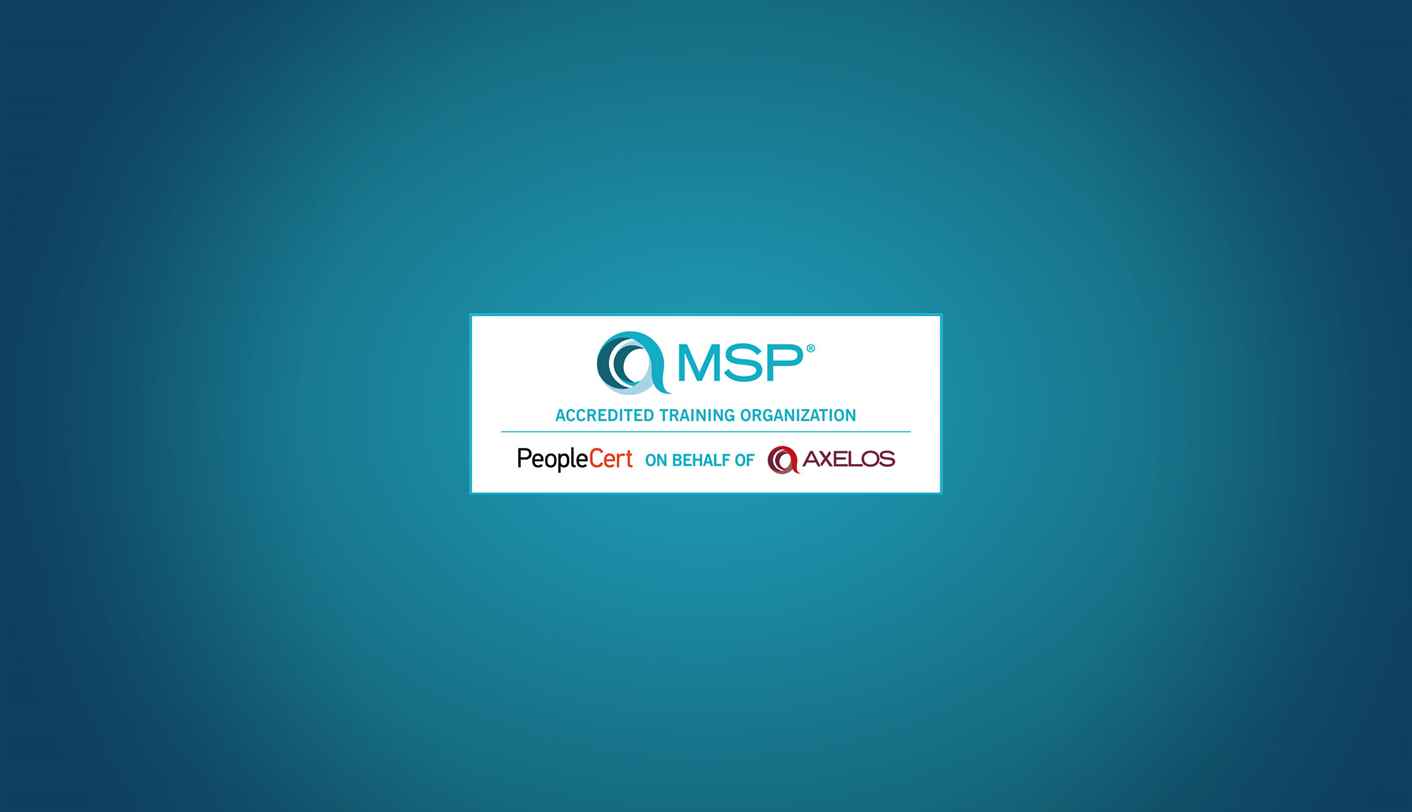 Managing Successful Programmes (MSP®) Foundation (Online)
MSP® 5th Edition Foundation E-learning
About the course
Managing Successful Programmes is a framework for successfully delivering large-scale, transformational change through a dossier of related projects and related activities. This elearning will help prepare you for the MSP 5th Edition Foundation examination. The examination is intended to assess whether you can demonstrate sufficient recall and understanding of the MSP programme management framework.
Target audience
This learning would be suitable for:
Programme managers and aspiring programme managers
Project managers/senior project managers
Business change managers
Other key staff involved in the design, development and delivery of projects, including project board members (e.g. executive), project assurance, and project support
Operational line managers/staff (e.g. process owners) operating within a programme environment
Portfolio management staff
Specialist programme staff
Prerequisites
There are no formal prerequisites for the MSP 5th Edition Foundation qualification.
Learning Objectivies
By the end of this learning, you should:
Understand key concepts relating to programmes and MSP
Understand how the MSP principles underpin the MSP framework
Understand the MSP themes and how they are applied throughout the programme
Understand the MSP processes and how they are carried out throughout the programme
Content
Introduction and key concepts
MSP principles
MSP themes – Introduction and organization theme
MSP themes – Design theme
MSP themes – Justification theme
MSP themes – Structure theme
MSP themes – Knowledge theme
MSP themes – Assurance theme
MSP themes – Decision theme
MSP processes
Exam simulator
Exam/certification
Exams are taken online via remote proctor. You will be sent an email invitation within 48 hours of your purchase to register on the Peoplecert portal. Once registered you will be able to book your online exam at a date and time of your choice. You are responsible for booking your own exam.
From 1 February 2022, this is the only examination form offered by the examination institute PeopleCert.
PeopleCert is responsible for everything related to your exam. These 2 guides (for Windows and MacOs, respectively) guide you through the process of booking your exam and describe the process for taking an Online Proctored Exam (OLP).
Exam Format
60 minutes
Multiple choice
60 questions
60% pass mark (36/60)
Closed book
Online MSP package from Danish Technological Institute
You will get a solid bundle of teaching material with the online course package from the Danish Technological Institute, which consists of:
This course includes the following:
12 months online access to our accredited MSP 5th Edition Foundation learning
Exam voucher for MSP 5th Edition Foundation examination (must be taken online via remote proctor within 12 months of purchase)
The official MSP manual (digital)
MSP Foundation exam simulator
MSP process map (digital)
Access to professional feedback with an advisor (in English)
Technical support (in English)
Finally, you have an exam voucher, which allows you to take the exam whenever it suits you.
You complete the modules via your PC or tablet with audio and access to the internet. You decide when you want to take the modules – and they can be paused along the way.
Access to demo
Demo link: MSPF
Duration
This course is expected to take approximately 18 hours.
Language
All materials and exam are in English.
MSP ® Foundation Online course on this page are offered by ILX Group an ATO of AXELOS Limited.
MSP® is a registred trade mark of AXELOS Limited, used under permission of AXELOS Limited. All rights reserved.
Do you have any questions please contact
Gitte Pedersen
Forretningsleder