Off-road robot will be tested in Denmark

The Danish Technological Institute (DTI) is the first to test the four-legged Spot robot in Denmark.
With its long legs and dog-like movements, the first four-legged professional service robot Spot has arrived in Denmark. DTI is now in the process of exploring how best to utilize the off-road robots from Boston Dynamics in Denmark.
- Unlike mobile robots on wheels, Spot with its four legs can move around in places where other robots cannot get. Spot can, for example, move around on very uneven terrain, walk on stairs and go into small spaces, says Director at DTI Kurt Nielsen.
- This technology has broad applications and can be used in industries where we do not see robots today – e.g. where humans perform gruelling or repetitive tasks, or where it is downright dangerous for humans to move. That is the potential we want to test and demonstrate and find out where it can create the most value, he adds.
Among the first practical tests of the four-legged robot, DTI will investigate whether the robot can help the Danish emergency services with a faster, more thorough, and safer response after a fire has been extinguished in a building.

Spot's first task
When a fire is partially extinguished, the emergency services often need to send personnel into the burned-out buildings -- to collect information on whether the fire has been completely extinguished, whether there is any danger of collapse, and often also whether there are any other danger elements inside the building.
- There are many risks in our industry. After all, we send our employees into places that other people usually run out or away from. So, it is well worth asking if we can get robots to do the risky work instead of us, says Casper Christensen, who is Chief Operating Officer at Trekant Brand.
- The robot can get into some places where we cannot. For example, there are toxic environments where it can provide some information where we would have a very hard time sending crew in.
The Danish Technological Institute is the first to test the four-legged Spot in Denmark.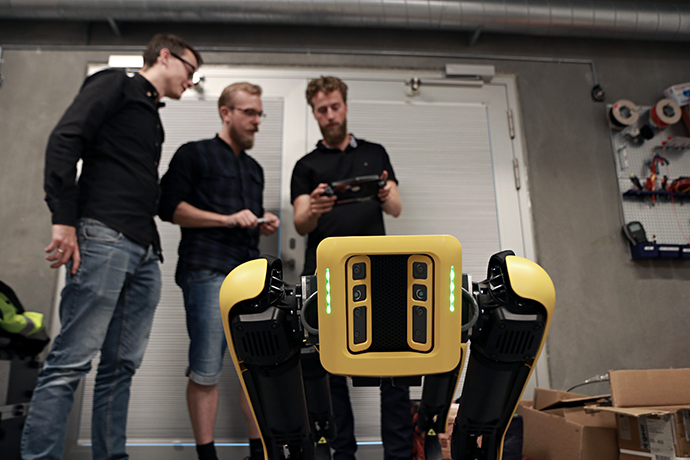 More than just a dog
Spot is a professional service robot - a market that the International Federation of Robotics (IFR) expects to triple over the next three years with annual growth of 41 percent from 2020 to 2022.
Spot is developed by the American company Boston Dynamics. DTI will take it further by e.g. adding additional camera and sensor technologies to develop specific solutions so that the robot can be used where it can do the most good.
Spot is already equipped with cameras all over its body so that operators can get a 360o view. In addition, the Spot has built-in sensors so it does not run directly into people or things, and it can navigate uneven terrain.
The robot can carry about 14 kilos while still being able to move at 1.6 meters per second. It can be equipped with a robot arm and additional cameras for use in special inspection tasks e.g. thermal cameras to help firefighters or search and rescue teams.

More potential
But it is not only the emergency services that can benefit from a four-legged robot-like Spot and the extra technologies that DTI can add.
- There are several different scenarios where this robot could potentially make a difference. Right now, we are investigating scenarios where it can move into places that are potentially dangerous to humans. But it may also make a difference in the workplace, where the robot can perform tedious work instead of the employees, says Kurt Nielsen.
Over the next year, DTI will investigate many different possible uses for this type of robot.