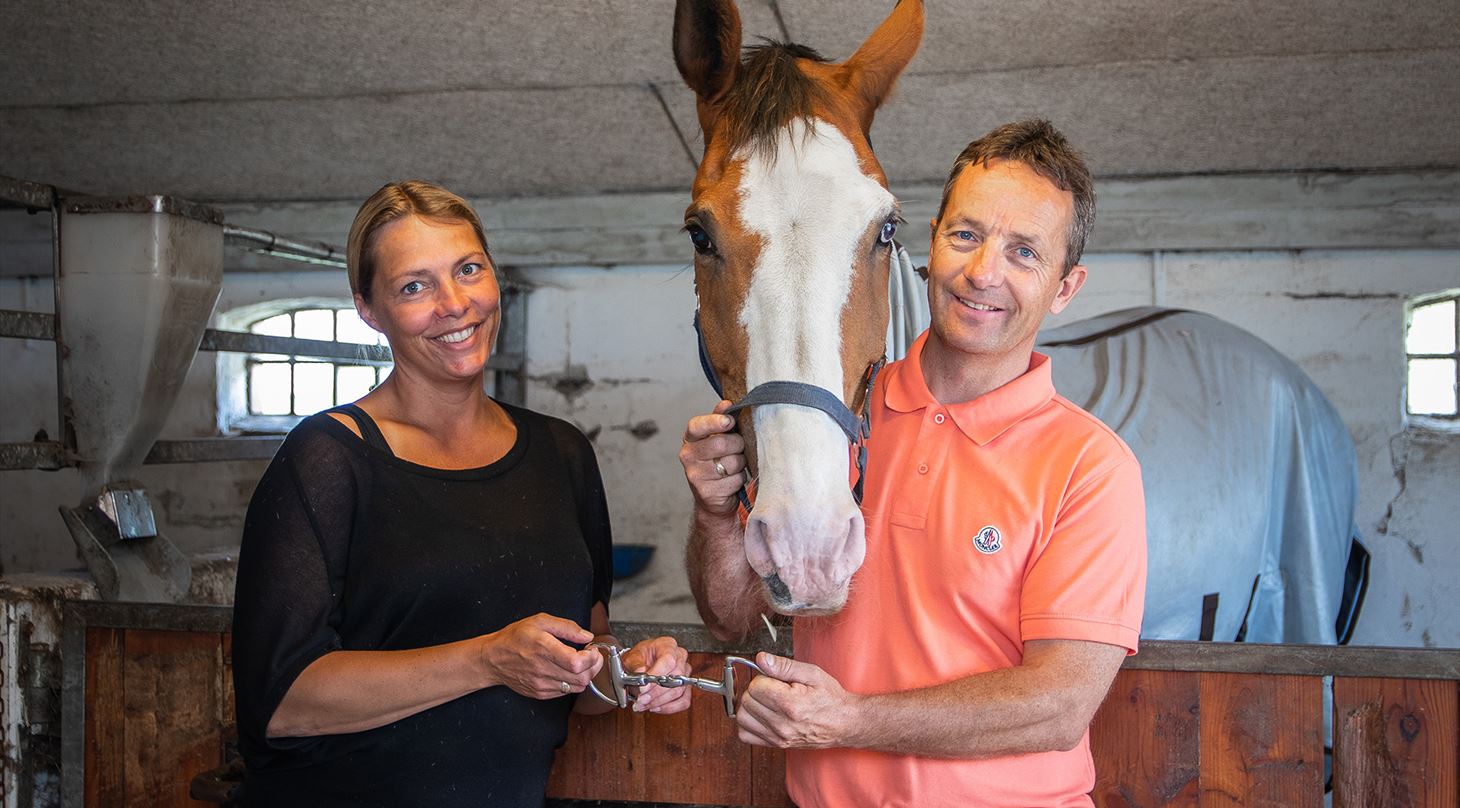 World's first adjustable horse bite was developed with 3D printing
As an equine dentist, Glenn Espensen has often faced the challenge of having to guide customers towards the right horse bite – it's difficult because it requires knowledge of both horse and rider. That's why the idea for Adjustbit was born - the world's first adjustable and modular horse bite. 3D metal printing at the Danish Technological Institute made it possible to realize the idea.
Adjustbit is a newly started entrepreneurial company that originated from Glenn Espensen's daily work as an equine dentist. When Glenn fixed a horse's teeth, he had great challenges in guiding the owner to find and adjust the right horse bite that would suit both rider and horse - it is difficult when you do not know horse and rider.
That's why Glenn had the idea to make a bite that can be customized and adjusted to fit both horse, rider and various riding disciplines - throughout the life of the horse. After tinkering with the idea for a few years, Glenn decided to make it a reality, and the result was Adjustbit - the world's first adjustable and modular horse bite.
Let us help you with AM production
Adjustbit is made up of a type of rings as well as the bite itself, which can be two-part, three-part or rotatable. So, you can customize and change the individual modules and build the bite according to the types of horse and rider you have. At the same time, the bite can be adjusted in width to accurately fit the mouth from pony to horse – i.e. from 9.5 to 13.5 cm in width.
In the video below, Glenn Møller Espensen talks about the collaboration with the Danish Technological Institute. The case continues below the video (video is in Danish)
Development process with Additive Manufacturing
Shortly after initiating the development process, Additive Manufacturing came into the picture. Glenn started by making some simple drawings on paper, which he then had made into 2D in AutoCAD to get the measurements - but here the first challenge arose.
- I had the drawings, but what should I do to advance from there? I wanted something to touch and feel to see if the width of the bite would fit and what it's like to adjust and work with. 3D printing turned out to be the solution, and I had the drawings made in 3D and printed out in plastic. Here, I was reassured that it was a good idea, and then I was hooked, says Glenn Espensen.
With the 3D-printed plastic prototypes, Glenn got a feel for the product, and he was able to experiment with it too. But physically, the prototype could not be tested on horses as it was not strong enough, so there was a need for a prototype in metal, and at the same time some design changes had to be made.
Metal printing and sparring from the Danish Technological Institute
Through his network, Glenn discovered that the Danish Technological Institute could 3D print in metal, but he also heard that it was a little expensive. He was therefore pleasantly surprised when he found out that 3D metal prints were far cheaper than the alternatives.
- When I received the first offer of what it would cost for the Danish Technological Institute to make 3D-printed prototypes in metal, I can only say that compared to having something made in a metal workshop with milling and molds, this was much more affordable, and the prices of 3D printing in metal were really good, says Glenn Espensen.
Additive manufacturing has some obvious advantages in a development process like this, where you quickly need to get from idea to physical product, and with 3D printing in metal it is also possible to make prototypes that can be tested under heavy loads. With the 3D-printed metal prototypes from the Danish Technological Institute, Glenn Espensen was given the opportunity to test Adjustbit on horses and thus find out if the bite was annoying to them and whether it could be adjusted properly - and the price was way below the alternatives.
- Adjustbit is designed in a way that requires many work processes if it is to be manufactured in the traditional way. There would be a need for both milling, grinding, welding and polishing, and for a prototype it would simply become too expensive. With Additive Manufacturing, it is possible to cut away these processes as the item comes out of the printer in one piece, so no machining is required to assemble it. Therefore, the price will be much lower, says Mads Østergaard, who is a section manager at the Danish Technological Institute and has handled the work with Adjustbit.
See what we offer in terms of AM production
Initially, Glenn was only supposed to use the Danish Technological Institute for 3D printing of a few prototypes in two different metal materials, so that he could start testing the bite on horses, but as he gained insight into the institute's expertise in the field, the Danish Technological Institute ended up playing a major role in the development process.
- In addition to printing in metal, the Danish Technological Institute helped me make entirely new drawings, so that it was technically easier to 3D print the bite. In addition, they did strength tests, so I found out what the bid could withstand, and so I could document it to the customers. So, the institute's know-how has been really good in this project, and I have been able to utilize expert knowledge from several different departments, says Glenn Espensen.
Great future potential for Additive Manufacturing
Adjustbit is now being put into production, and for this Glenn Espensen has had the bite 3D-printed in nylon, which is a relatively inexpensive process. He has sent these items to his suppliers in addition to the production drawings, so that they have a better understanding of what the finished product should look like. But the journey does not stop here for Glenn Espensen, and he also sees great potential for using Additive Manufacturing in the future.
- Right now, I have a product that is ready to come on the market, but I have lots of ideas for new options to add on. Here, it is a great advantage to be able to contact the Danish Technological Institute and have new versions 3D-printed with new features. You could say that I have just developed a soapbox car, and in the long run it should develop into a Ferrari, Glenn Espensen concludes.
In the video below, Anne-Dorthe Møller Espensen, an international Military rider, gives her assessment of the 3D-printed horse bite (video is in Danish).