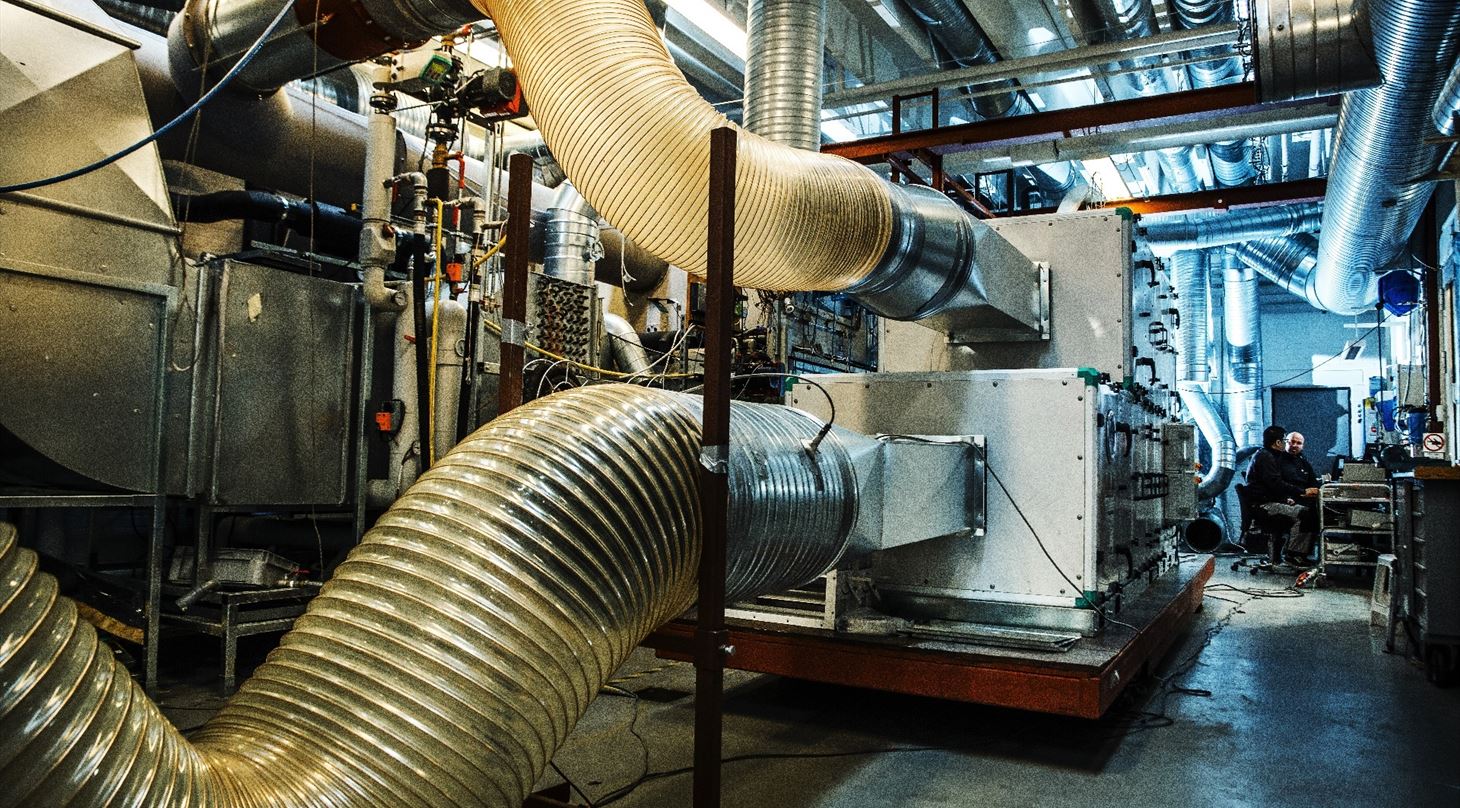 Air Handling Unit Laboratory
Our AHU-Lab has test facilities, which enable the testing of the efficiency, performance and sound power level of a Residential Ventilation units and Air Handling Units (Non Residential Ventilation Units).
We offer a wide range of testing services of Air Handlings Units, Residential Ventilation Units and ventilation components:
The laboratory covers all requirements in accordance to Ecodesign regulations No. 1253 and 1254 is certified to perform Passive House tests and tests regarding the Eurovent Certification program for Air Handling Units
Accreditation
Our laboratory is accredited by both ILAC, the International Laboratory Accreditation Cooperation, and DANAK, the Danish Accreditation and Metrology Fund, (ISO/IEC 17025) to carry out tests according to internationally recognized accreditation standards.
Our test facilities comply with the latest EU regulations and requirements, and they are accredited to measure SFP, SFPint, SEC, temperature efficiency and capacity. SFPint and SEC sets the standard for the minimum and energy labelling requirements for Air Handling Units and Residential Ventilation units in Europe
In addition, our AHU-Lab is a certified ECC (Eurovent Certita Certification) test center, which means that we are able to test Air Handling Units according to the standards and requirements of the Eurovent Certita Certification programme.
Capacity
Our maximum capacity in the accredited test rig for ventilation units are 10.000 m3/h, but for a ad-hoc assignments, single air stream is an air flow at 75000 m3/h possible.
Cooling capacity 200 kW
Heating capacity 45 kW
Lab services
Our experts and specialists have built up an extensive expertise on technologies, standards, market conditions and potentials for ventilation units, Air Handling units and other ventilation components. The tests are always carried out by engineers with relevant experience and in continuously correspondent with the customer. We offer consultancy and various types of testing including:
Accredited Air flow measurement according to ISO5801
Accredited testing according to EN 13053 - Testing of Air handling units
Accredited testing according to EN 13141-7 - Testing of residential ventilation units
Accredited testing according to EN 308 – Heat Exchangers
Accredited testing according to EN 1886 – Air Handling Units - Mechanical Performance
Accredited testing according to EN 1216 – Air-cooling and Air-heating Coils
Accredited acoustic testing
Laboratory testing of ventilation units and components
Model box test
Consultancy on regulations and low regarding ventilation
Consultancy on the development of design and new technology
R&D project cooperation and partnership
Other documents
www.Danak.dk
http://www.eurovent-certification.com
https://op.europa.eu/
Links to other labs