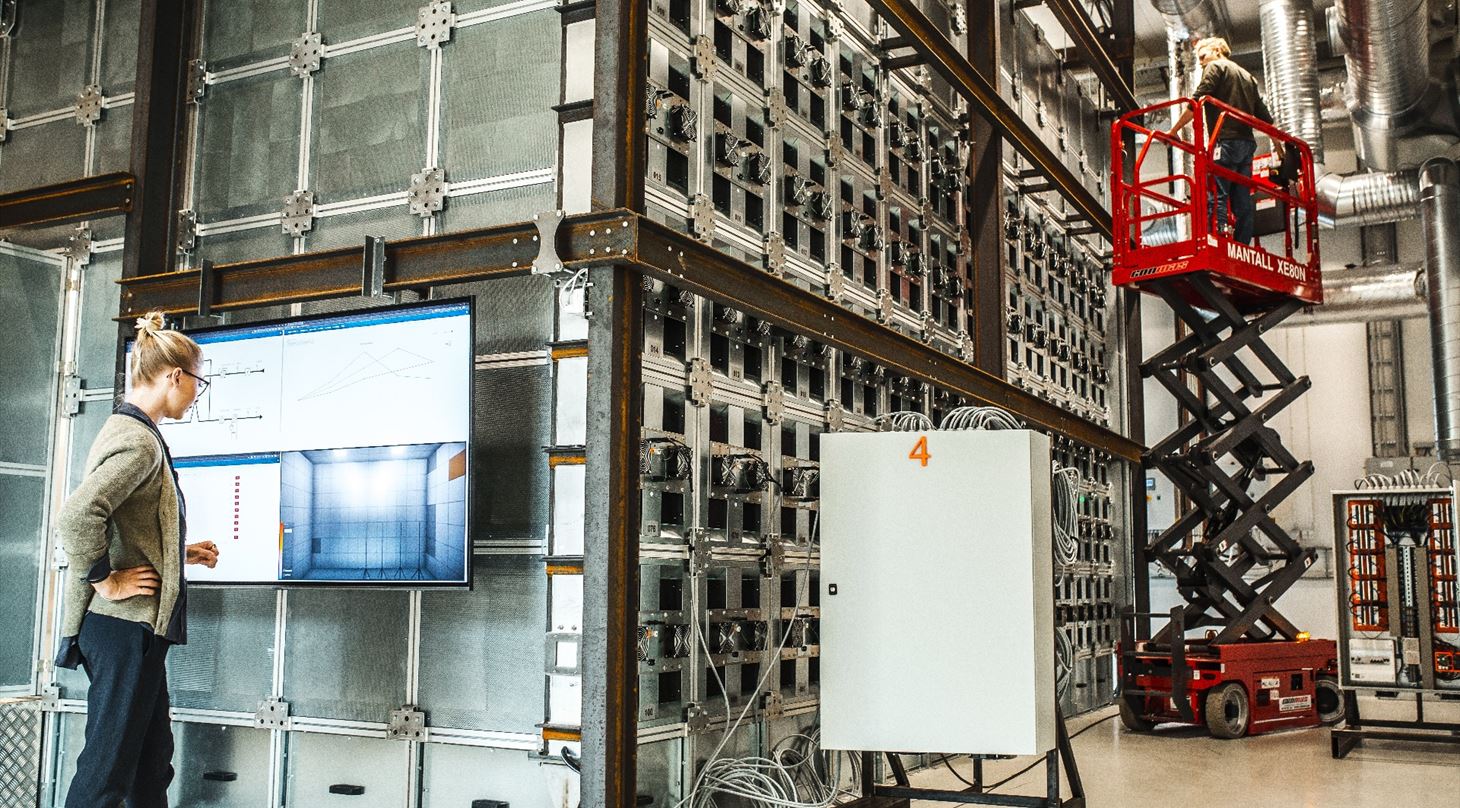 Indoor Climate Laboratory
In 2021, our new indoor climate laboratory is ready to use, and our ambitions are huge. The laboratory is an experimental facility that with its great flexibility is customized for development and test of HVAC-components and systems. It addresses to Danish and international manufactures and developers who focus on sustainable, energy efficiency and comfortable solutions.
We image that our laboratory for example can be used for:
Investigate the relation between ventilation principles and room sizes.
Document the link between energy consumption and indoor climate.
Test the capacity and abilities of HVAC-components.
Measure air technical properties: Measure air change, air mixing, airflow, and airtightness.
Simulate the impact of the thermal loads that occur in a building.
Determine how air quality is influenced, including CO2, air humidity, particles, and temperature.
Develop of HVAC-product prototypes.
Laboratory design
The laboratory is constructed as a room within a room, that can be handled and connected from all six sides. The huge flexibility of the construction is the main quality. It provides the opportunity to built-in test subjects and simulates typical loads. All surfaces are constructed of a grid of aluminum profiles filled with 600×600 mm isolated elements. They can be moved individual as needed and are covered with a thick aluminum plate to ensure a smooth surface and a uniform temperature distribution. A part of these elements can individually generate heat or cooling after a given temperature- or power setpoint.
A movable partition wall and two motorized ceiling sections allows the room size to be adapted and fitted to the specific test scenario. To supply the laboratory has two air handling units with massive heating and cooling units been installed.
Capacity and properties
One large test room at 72 m2 or two identical at 36 m2.
Active elements, which can provide an average surface temperature in the range between 10 oC and 60 oC.
Adjustable room height between 500 and 4600 mm.
Simulating floor heat temperatures up to 70 oC.
Two supporting air handling units provide respectively up to 2000 m3/h and 8000 m3/h.
Air supply temperatures between 8 oC and 50 oC.
More than 800 placement opportunities for 600 * 600 mm test components.
The use of the laboratory is supported by a control platform and data collection system, whereby all conditions are documented. Additionally, we have a huge range of measurement equipment and instruments like temperature sensors, anemometer, fog smoking machine, gas analyzers, pressure- and flow meter at our disposal, which continuously becomes calibrated.