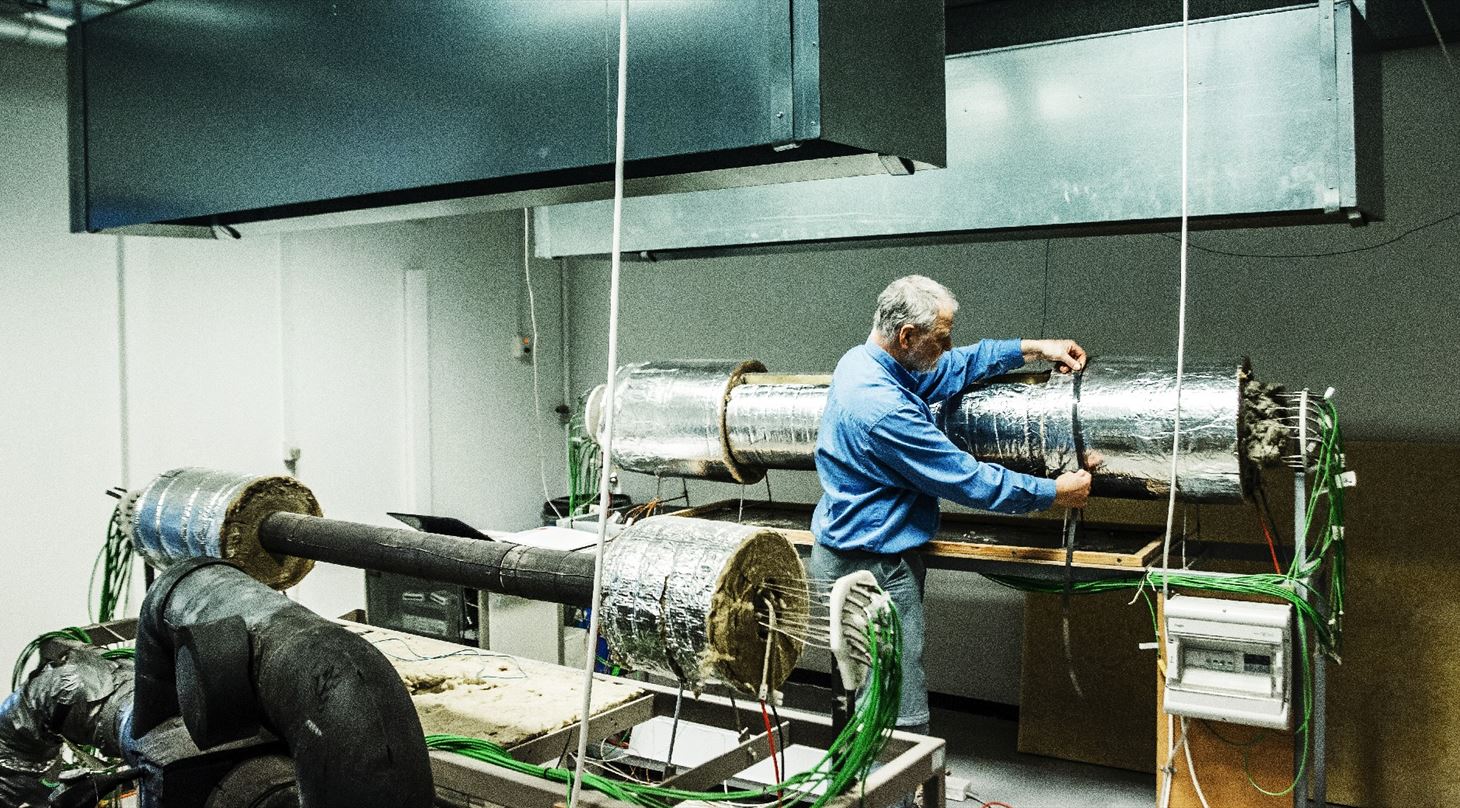 Thermal Laboratory - Insulation materials
The thermal laboratory at Danish Technological Institute have been national reference laboratory for insulation materials since the 1950's.
We offer lab testing services in the area building and construction products, EU No.: 305/2011 in the following categories: Thermal insulation products, radiators, and heat allocators.
For insulation materials we offer several accredited tests including but not limited to:
Testing building insulation for thermal conductivity, dimensions, and compressive strength
Testing building materials and industrial insulation, slabs, and pipe sections
Specially trained engineers perform all the tests and the fully automated data acquisition software, TI-DOP, provides input to the final reports which is handled, finalized, and confirmed by second opinion.
For any special requests, we find a solution.
Equipment in thermal lab
Three pcs., Guarded – End (GE), Pipe sections Ø60, Ø89, Ø219 mm after EN ISO 8497
One pc., Guarded - Hot-Plate (GHP), for industrial insulation. (50 -800°C) after EN 12667
Two pcs., Guarded - Hot-Plate (GHP), for building insulation after EN 12667 and EN 12664
Capacity
The capacity of the laboratory is in the range of:
200 pcs. λ10
45 pcs. λhigh-temperature slabs
45 pcs. λhigh-temperature for pipe sections per each of the 3 diameters
Thermal conductivity 0,04 to 2 W/mK
Scope of temperature: 0 to 800 °Cw
All stated capacities depend on the temperature range

Accreditation and approvals
The laboratory is accredited by both ILAC, the International Laboratory Accreditation Cooperation, and DANAK, the Danish Accreditation and Metrology Fund, (ISO 17025:2017) to carry out tests according to internationally recognized accreditation standards.
The laboratory is notified body (NB 1235) for all relevant product-standards for thermal insulation products for building equipment and industrial insulation, so EU marking can be done based on the test results.
The laboratory is assessed after relevant parts of EN 1946 and based on the registered laboratory for Thermal Conductivity Testing under key-mark (www.key-mark.org),
The laboratory takes part in all proficiency-tests and moreover the laboratory runs informal comparative testing with several manufacturer laboratories for verification of accuracy and general test quality.
Lab services
Our experts and specialists have built up an extensive expertise on technologies, standards, market conditions and potentials for insulation materials. We offer consultancy and various types of testing including:
Accredited compliancy testing to EN 12667
Accredited compliancy testing to EN 12664
Accredited compliancy testing to EN 822
Accredited compliancy testing to EN 823
Accredited compliancy testing to EN 826
Consultancy on the development of design and new technology
Consultancy on Energy optimization
R&D project cooperation and partnership
Prototype testing
Software development for insulation materials