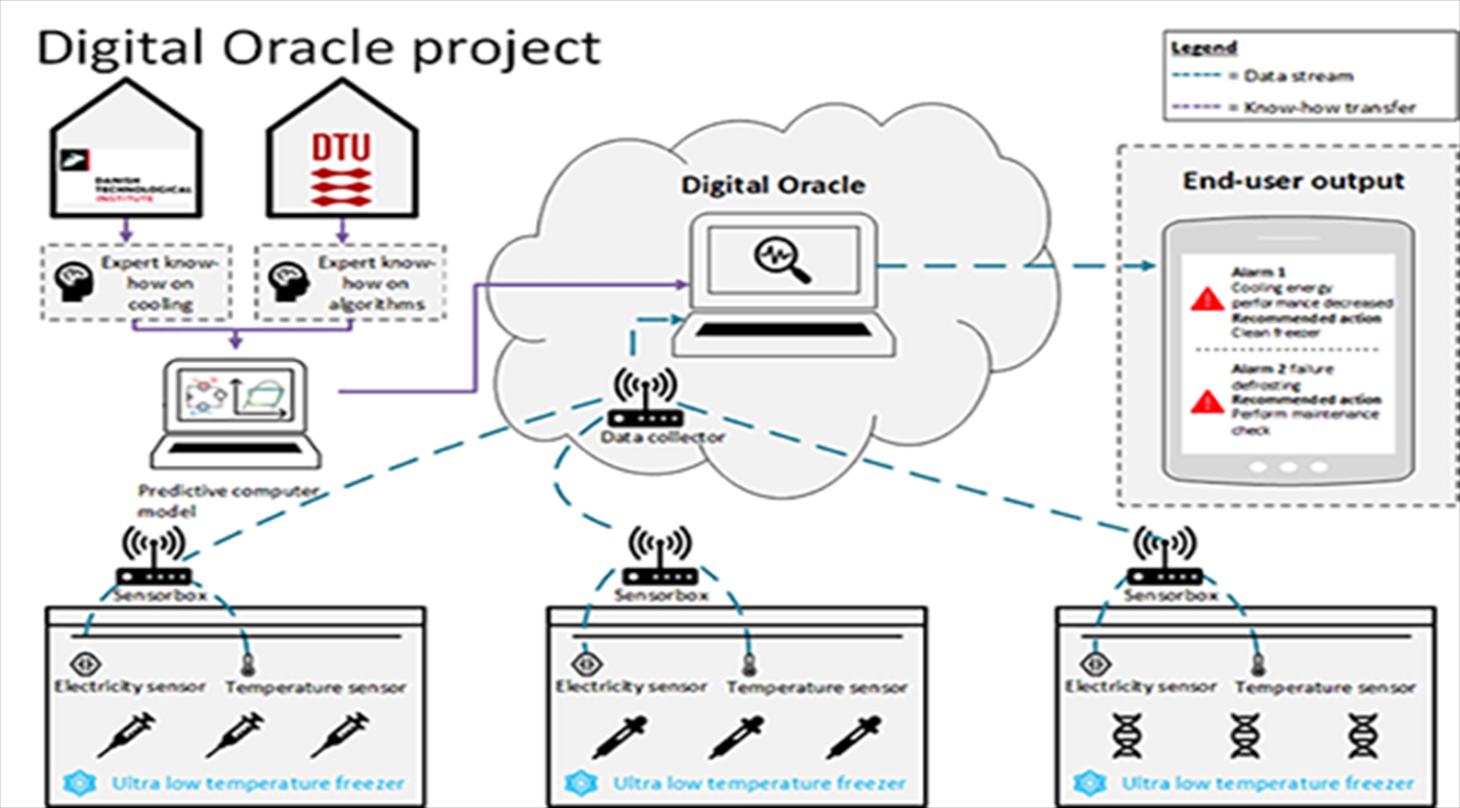 Digital Oracle for Ultra-Low Temperature Freezers
Project start August 2021. Expected completion date November 2024.
Purpose of project
The project will develop a cloud-based surveillance software model for Ultra-Low Temperature Freezers – also called a Digital Oracle – that can convert large amounts of temperature and electricity data into simple recommendations in order to save energy, avoid inappropriate use of the freezers, or detect the need for proactive maintenance.
The Digital Oracle will be developed for Ultra-Low Temperature Freezers used in i.e. pharmaceutical companies and in biobanks. A surveillance model for Ultra-Low Temperature Freezers is extremely relevant, since this kind of freezers is characterized by having a significant energy consumption and since the value of the contents of the freezer is usually very high. Thus, there are large energy savings to be achieved and a need for high security.
Project objectives
The underlying machine learning algorithms of the Digital Oracle will be researched and developed by DTU Compute and Danish Technical Institute by utilizing the learnings from a previous project on walk-in cold rooms as well as from new analyses conducted on ULT-freezers in both a controlled environment and in operation in the field. By using state of the art machine learning technology and expert know-how on refrigeration systems, the Digital Oracle will provide significant end-user value by providing increased surveillance compared to existing systems and by providing recommendations for advantageous changes in operation and maintenance.
Activities
The project is divided into the following phases:
Definition of a framework for the Digital Oracle and preparation of hardware and software
Performance characterization of pilot ULT-freezers
Development of data-driven models
Development of methods for fault detection and performance diagnosis for ULT-freezers
Demonstration and application to field installations
Dissemination of results.
Participants
Danish Technological Institute (Project manager – Per Henrik Pedersen)
DTU Compute
Statens Serum Institut, Danish National Biobank
Biobank of Region Zealand (Region Sjællands Biobank)
Elcold Frysere Hobro
Schneider Electric Denmark
Novo Nordisk
LH Laboratorie Service.
Funding
The project is funded by EUDP.