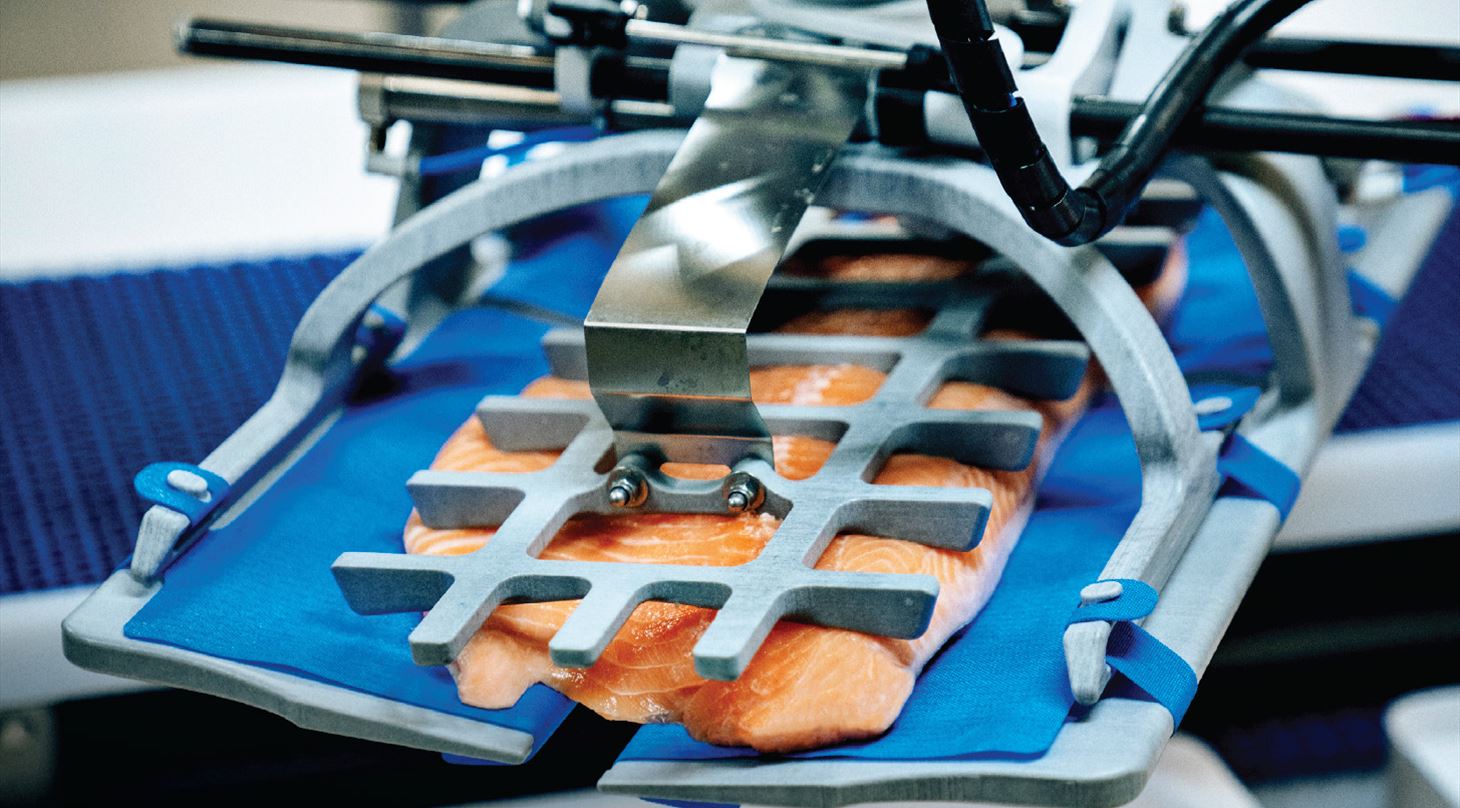 3D printing for food contact - Get the best result from us
Additive Manufacturing - or 3D printing - holds an enormous potential for the food industry, and printed materials such as nylon, titanium, stainless steel and aluminum can already be used for food contact. The Danish Technological Institute is ready to 3D print your parts.
The Danish Technological Institute are the only ones in Denmark to have an Additive Manufacturing production that complies with food regulations for these materials - and our printed items have full traceability. We are constantly working to develop new material properties and create improved surfaces on 3D printed parts for food contact.
Try our online price calculator
The properties and geometries that can be obtained with Additive Manufacturing can be widely used in the food industry, but are also interesting in e.g. the medical industry.
The following materials are approved as food contact material:
316L stainless steel

Ti6Al4V titanium grade 5

AlSi10Mg aluminium

PA12 nylon

Metal detectable nylon

Blue metal and X-ray detectable nylon


The advantages of 3D printing include:
Design freedom - With internal channels in the parts, you can design e.g. extrusion nozzles for ice cream, chocolate and cakes with great freedom, as the nozzles can be made without joints - and re-designed without large tool costs.
Production Flexibility - It is easy and cheap to switch production to seasonal variants.
Simplified constructions - You can assemble a number of functions and reduce the number of parts - with fewer joints, the bacterial accumulation is reduced.
Fast development and short production times - and thus faster time-to-market
3S surface treatment
3S stands for 'super smooth surface' and is a refinement of 3D printed nylon items which makes the surface extra smooth and thus easy to clean. It is a process where all surfaces of the 3D printed item are treated - including internal channels. Dimensions, strength and color of the item remain unchanged, and only the texture and shine changes.
The 3S treatment is fragrance- and flavor-free and has passed the same food compliance tests as untreated nylon. Measured on residual bacteria, 3S provides a cleanliness that is 12 times better than untreated nylon - and in fact at par with stainless steel. The treatment also means that the material - unlike untreated nylon - does not absorb water at all.
Metal detectable nylon
Metal detection is a requirement from several customers in the food industry. Therefore, the Danish Technological Institute has developed metal detectable nylon, which is accepted as food contact material. The metal detectability is achieved through a refining process where the nylon powder is mixed with metal in the right ratio, enabling the 3D printed nylon parts to be traced in metal scanners. Furthermore, metal detectable nylon can be treated with 3S, giving it an extra smooth and more easy-to-clean surface.
SEE EXAMPLES OF ADDITIVE MANUFACTURING IN THE FOOD INDUSTRY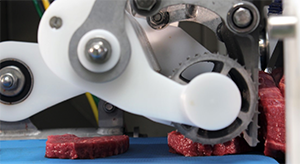 Marel - support element
Marel had an effective Additive Manufacturing development process with DTI concerning a support element for industrial cutting of meat. Where the product previously consisted of 40 loose parts, AM reduced this to one part - reducing bacteria and increasing food safety.
​ Read more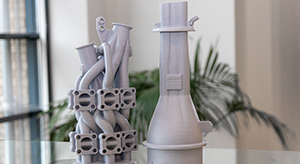 Tetra Pak - ice cream nozzle
Among other things, Tetra Pak makes systems for ice cream production. Here they have designed a nozzle where you can mix several colors of ice cream and place them on the production line in a number of different shapes. It is 3D-printed at the Danish Technological Institute.
​ Read more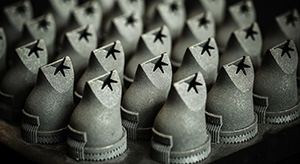 Bühler-Meincke - cookie nozzles
Bühler-Meincke's nozzles used to be welded together by several parts, and it was both complicated and time consuming. Now, they are 3D printed at DTI, resulting in freedom of design and simplified production, as the nozzles can be made in one piece with a smooth surface.
​ Read more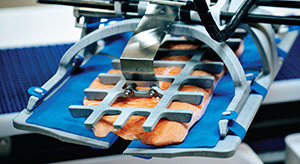 Marel - salmon side gripper
For a one of their food processing setups, Marel needed to develop a new gripper for handling entire salmon sides of 40-50 cm. Therefore, they contacted the Danish Technological Institute to find out if it was possible to 3D print in that size - fortunately it was.
​ Read more
See the control report for the Danish Technological Institute, Product Development