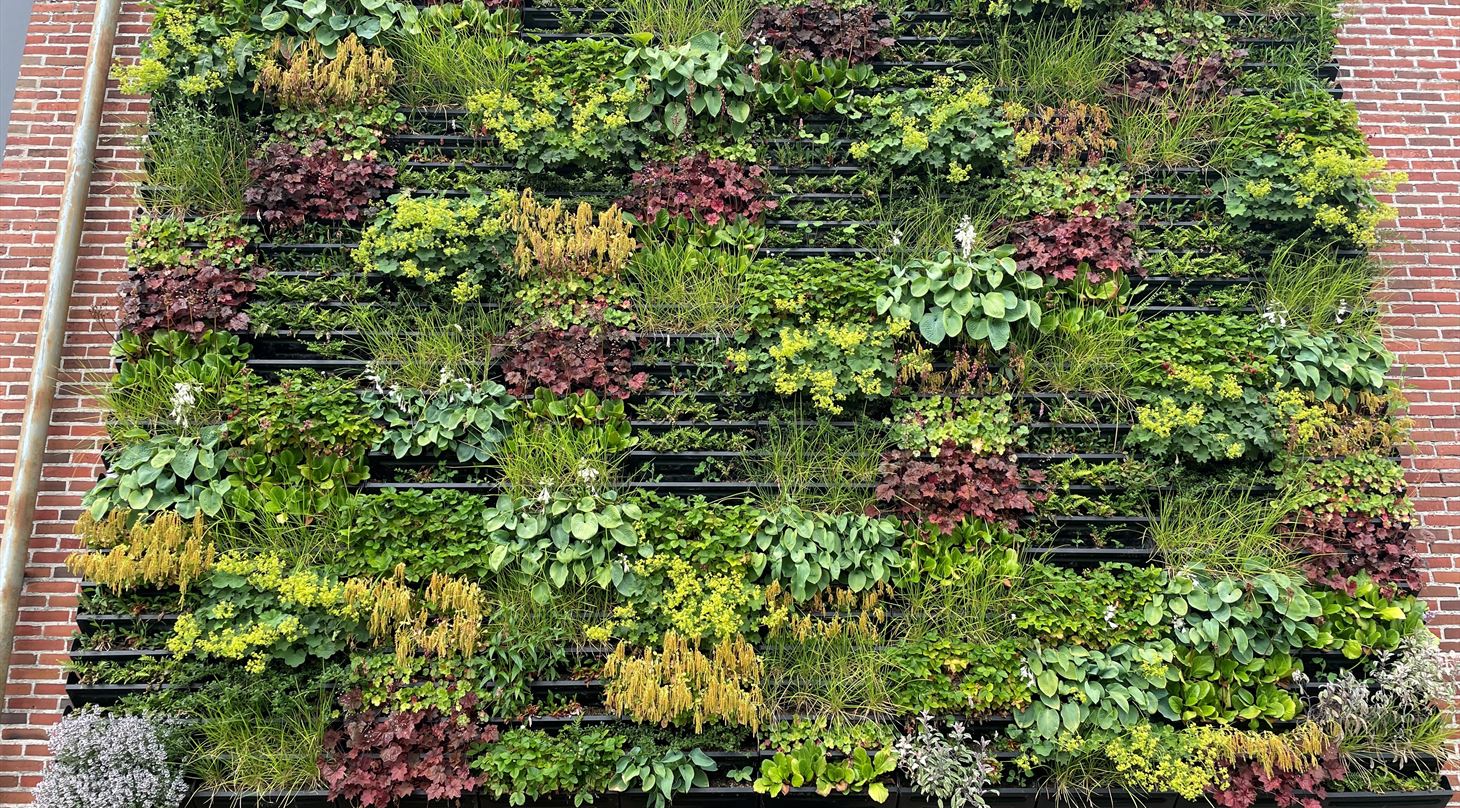 Nordic Green Climate Wall
Project start March 2020. Completion date March 2023.
In a new project, Danish Technological Institute is developing a concept where a heat pump combined with a green plant wall for buildings optimizes the growth of the plants and at the same time produces domestic hot water.
Purpose of project
In the cities, it is becoming more and more popular to establish outdoor green walls - i.a. because they are architecturally beautiful and because they create green and social urban spaces where horizontal planting is not possible. However, plants in a green wall experience more and greater temperature fluctuations than plants in terrain - both when it is hot and in winter and in early spring, when the weather can change between thaw and frost. The 'small' thermal mass in the plant wall causes the wall to be more easily heated or cooled by sun, air and precipitation. The plants may experience these more extreme and varying conditions as stress and this will affect their growth.
In the project 'Nordic Green Climate Wall', we investigate whether we can optimize the growth conditions in a green wall by reducing the fluctuations and thereby achieve conditions that are more similar to the growth conditions in terrain.
Objectives
The new concept will be developed by combining the green wall with a domestic hot water heat pump. The heat pump will cool the green wall so that the plants only wake up when the season allows it - and not when the wall is heated by the sun. Furthermore, the heat pump can produce enough domestic hot water to completely or partially cover e.g. the consumption of an apartment block. The combination of a green wall and a heat pump will thus contribute to spreading and optimizing the establishment of green walls in residential areas as well as to achieving energy savings in connection with the production of domestic hot water.
In addition, a green wall combined with a heat pump can replace several other individual solutions. For example, it can replace a green area, it can work as a noise barrier (absorption of sound), it reduces particle pollution, it insulates the building, and it can be established so that it can handle larger rain showers - all technical solutions that are usually challenged by lack of space.
The green test wall with a built-in heat pump is established at Danish Technological Institute in Taastrup.
Project participants
Danish Technological Institute (project manager – Esben Vendelbo Foged)
Byggros
Combibyg
Vølund Varmeteknik A/S
DEAS
Coast to Coast Climate Challenge, Region Midtjylland (Central Denmark Region)
Fremtidens gårdhaver med LAR, Københavns Kommune (The Capital Region of Denmark)
Frederiksberg Kommune (Municipality of Frederiksberg)
Frederiksberg Forsyning.
Bevilligede midler
The project is funded by Realdania.
You can read much more about the project here www.nordicgreenclimatewall.dk