Project – Molecular Biological methods of diagnosis
Reduction in hospitalization time due to faster and better diagnosis
Project starts January 2009. Expected completion 31st. December 2011.
The project is completed.
Bacterial infections are costly for our society and often require lengthy hospitalization, which in turn requires large numbers of employees within the health sector.
In hospitals, where patients showing signs of serious infectious illness are often on a broad treatment of antibiotics, a better diagnosis could pave the way for a more resolute and frequent treatment, often speeding up the transition to tablet based antibiotic treatment, which could in turn lead to a reduction in the length of hospitalization for the patient.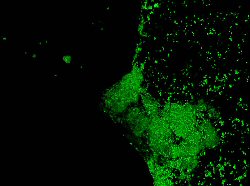 The project will examine economics and potential possibilities for reducing personnel levels by using molecular biologic methods to diagnose the bacteriologic reasons for infection.
The analytic platform is PCR techniques, which can identify bacteria from their DNA contents.
Project Objectives
Implementation and documentation, to include aspects of health sector economics regarding molecular biological methods for reducing lengthy diagnosis and treatment of infections.
Demonstration cost-saving by shortening infection related hospitalization
Reduction in use of antibiotics due to resolute treatment of patients with false-negative cultivation tests
Assurance for utilization of the projects results within the health care sector.
Widespread understanding of methods, for example, through The Danish Association of Clinical Microbiology and Young Microbiologists.
Participants
Niels Høiby and Claus Moser, Rigshospitalet, Copenhagen University Hospital
Per Halkjær Nielsen, Aalborg University Centre