Project - Future Nordic Concrete Architecture
Individuality in Future Concrete Architecture; Development and Continuation of the Nordic Concrete Tradition. The project is completed.
Project start 01.01.2008. Expected completion 31.03.2010.
The Nordic project "Future Nordic Concrete Architecture" gives new imputs to development. With background in the Nordic concrete tradition, this project will determine the look of future Nordic concrete architecture. It includes robotics, foundry sand and art, among other things.
Project Objectives
The project's overall objective is to screen the possibilities and challenges in developing the Nordic concrete architecture of the future. It includes following the intermediate aims:
Overview of utilisation of high-tech solutions in construction.
Setting up a hypothesis for the concrete architecture of the future.
Testing of new technologies that enable industrialised production of individual architecture, including the use of new form materials like foundry sand.
Integration of works of art into the architecture.
Participants
University of Lund (SE)
Swerea Swecast AB (SE)
Giben Scandinavia A/S (DK)
Norwegian University of Life Sciences – UMB (NO)
Esben Klemann (DK)
Danish Technological Institute (Project manager) (DK)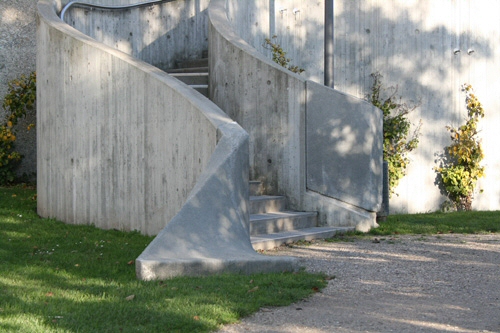 Activities
Preliminary experiments have shown the potential for pouring concrete in moulds made of foundry sand which have been manufactured by robots. This opens up brand new possibilities, with regard to new form materials, surface expression, mould principles and recycling of form materials.
Another of the project's interesting approaches is the fusion of art and architecture. It has so far led to two interesting concrete sculptures by the artist Esben Klemann. The sculptures were designed digitally, and subsequently created by a robot in the High-Tech Concrete Laboratory at the Danish Technological Institute. The two sculptures are exhibited in Eventyrhaven in Odense, where they serve as an addition to the existing stair installations. The sculptures are an innovative example of how robotics can be used to create art, and how architecture and art can fuse into new compositions.
Workshop marking project completion
The partners behind the project "Future nordic concrete architecture" invited to a workshop concerning automation and industrialization in the future nordic concrete architecture.
The workshop took place March 17, 2010 at Danish Technological Institute, Gregersensvej 3, room 36, DK-2630 Taastrup.