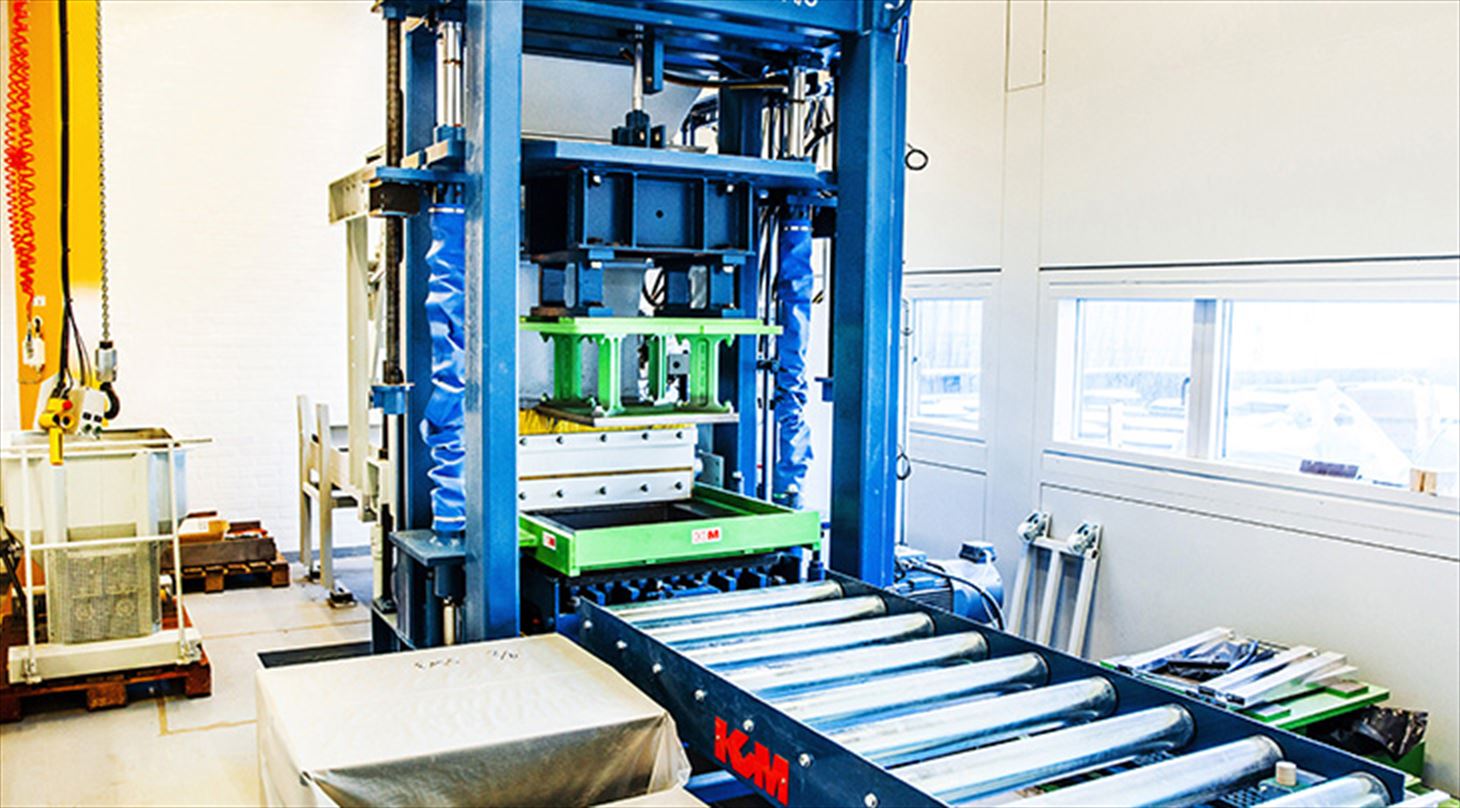 Concrete production and execution - DTI Zero Slump Concrete Laboratory
A Laboratory Dedicated to Zero Slump Concrete
Let Danish Technological Institute assist you in developing concrete products, optimizing the concrete composition or trouble-shoot and solve whatever challenge you are currently facing with your products using our state-of-the-art zero slump concrete laboratory.
Zero slump concrete products, e.g. paving stone, pipe and hollow core slabs, account for about one third of the total concrete production in Denmark and many other countries. With our investment in full scale industrial production equipment comprising a Haarup 375/250 mixing station and a KVM series 750 62/62 block machine supplemented by a gyro-compaction unit (IC-Tester), DTI is able to offer the concrete industry access to a state-of-the-art facility dedicated to zero slump concrete – research and development, product development, prototyping and documentation.
Developing, optimizing and testing in an industrial scale environment with the assistance of DTI's material technology specialists allow our clients to obtain results of superior validity that are easily implemented in their own production lines.
Existing and potential topics of product development include multifunctional concrete product such permeable paving stone combatting climate change induced monster rain, paving stone incorporating photocatalytic TiO2 capable of reducing air pollution (NOx) in urban environment, increased resource efficiency by incorporation of secondary raw materials (e.g. incinerator sewage sludge ash) into paving stone, concrete pipe with increased resistance to hydrogensulfide induced acid attack, and reuse (circular economy) of demolition waste (crushed concrete) in new concrete products.
How can Danish Technological Institute assist you?
In developing new product
In optimizing your concrete mix design and production process
In establishing proof-of-concept of your idea(s) including manufacture of full-scale prototypes
In documenting the performance of new constituents, additives, admixtures, etc.