Dynello had fast and flexible production with 3D printing
When Dynello had to develop and produce a pocket hook for their belt reels, they chose 3D printing, which was both a faster, cheaper, and more flexible solution than traditional manufacturing methods. The hooks are printed at the Danish Technological Institute.​
The Danish company Dynello makes different solutions for load securing in connection with transport, and the primary products are belt reels, which are used for winding lashing belts.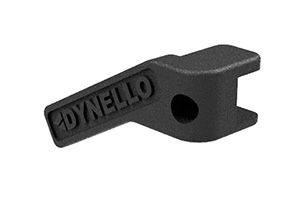 One of the products - Dynello Rewinder - is a power tool that rolls up the lashing straps, but when you have to take a strap off after winding, you have to put the tool away.
Consequently, Dynello developed a small pocket hook that can be mounted on the Dynello Rewinder, so you can hook the reel to your pocket and have both hands free to handle the straps - without having to put the tool down.
Cheap development and flexible production with 3D printing
The pocket hook is a small, simple add-on for the belt reel and at the same time a product that only a few customers need. Therefore, it was simply too expensive to make a plastic molding tool for this add-on alone.
Instead, 3D printing was chosen, and it was produced at the Danish Technological Institute. As a result, Dynello achieved a huge saving in casting tools, just as the prototypes were both fast and cheap to develop.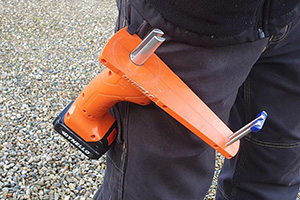 - With 3D printing, we can almost get the pocket hook made-to-order. Of course, we always have to have a few in stock, but unlike plastic injection molding, we can order small batches without expenses skyrocketing. In addition, we have greater freedom of design with 3D printing, and we can adapt the product continuously, which is a huge advantage, as trouser pockets are also different, says Jens Kjærulff, owner of Dynello.

Extremely fast development processes, ultimate freedom of design, and the ability to continuously make product adjustments without the use of new tools or molds are just some of the great advantages of 3D printing, and often the price is competitive with - or even cheaper than - traditional manufacturing.
The pocket hook for Dynello is 3D-printed in nylon, which is subsequently dyed, and it fits all Dynello Rewinder models.