Healthier liver paté with less salt
Danes can look forward to spoiling their palates with healthier liver pâté with less salt added - and other healthier foods are also in the offing, thanks to new food research.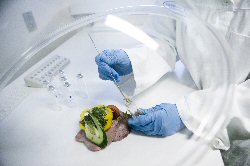 The Danish Technological Institute has analysed test liver pâté with differing contents of salt and salt substitutes as an aspect of an extensive project run jointly with Tican Foods Scandinavia A/S.
The analyses results show that liver pâté with lowered saline contents does not change the aroma profiles of spice-related substances. Furthermore, sensory analyses involving an experienced tasting panel show that a lowered saline content tones down the salt flavour, the overall taste and the duration of aftertaste. Tican Foods Scandinavia A/S is looking to preserve the product safety achieved through the preservative effect of salt. To this end, microbiological tests were made on the new pâté.
The project is focusing on finding new solutions that will optimise flavour and preserve microbial food safety and process-technology quality. The aim is to develop methods to reduce saline content in a range of food preparations and thus improve consumer health. The Danish Food Industry Agency supports the project.