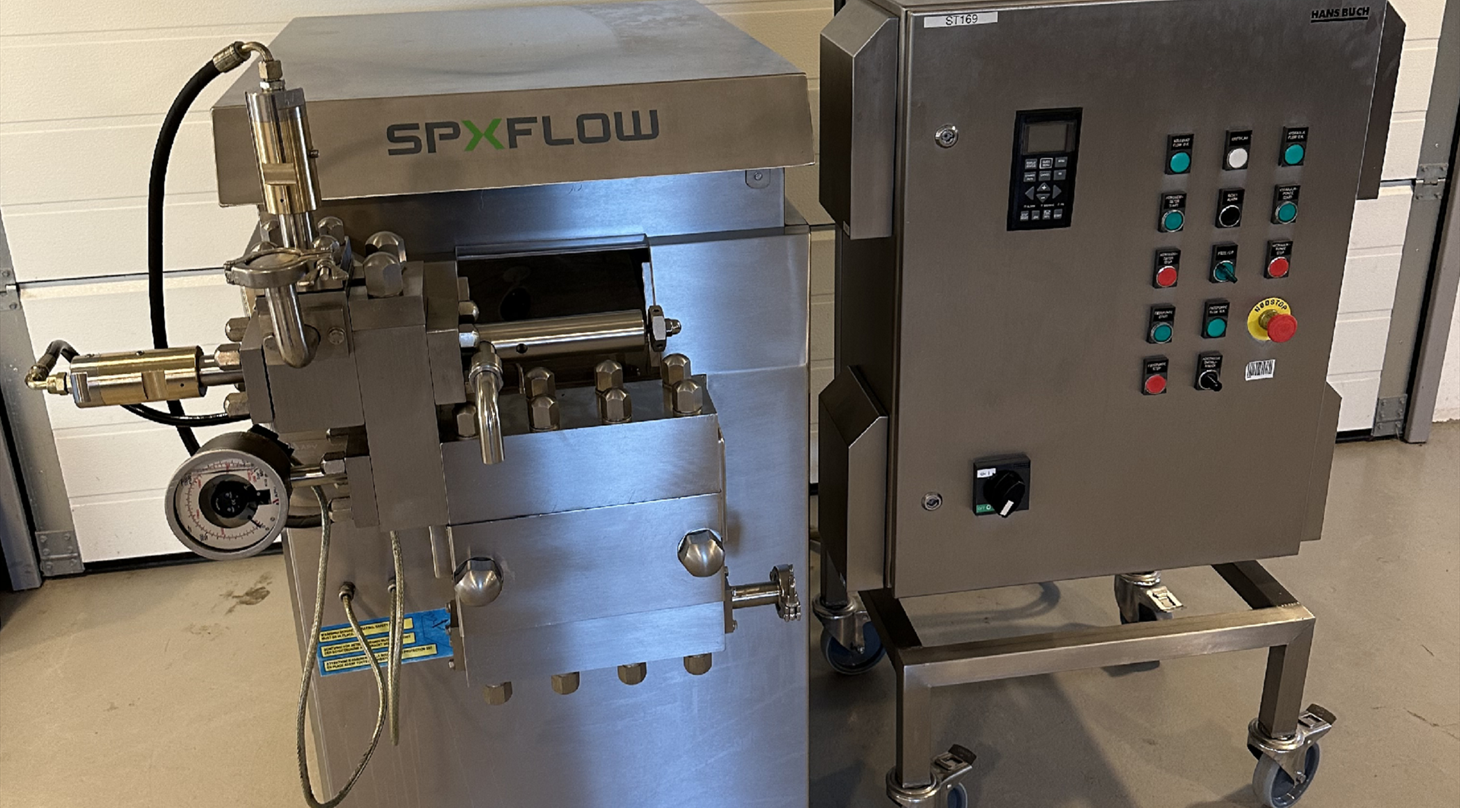 Homogenizer in pilot scale
The homogenizer is an essential process technology that can help companies produce intracellular, uniform, and homogeneous products.
A homogenizer is often used after fermentation, when producing intracellular products. Additionally, a homogenizer is also used to uniformly blend liquids and products from biomasses, especially within the following applications: food, dairy, by-products, cosmetics, and biotechnological products.
Our homogenizer: Aseptic Rannie 5 10.38
Danish Technological Institute has a pilot-scale homogenizer. The homogenizer is food-grade approved but can also be used for non-food products.
Technical specifications:
| | |
| --- | --- |
| Scale | Pilot Model |
| Model | Rannie 5, 10.38 |
| Capacity | 80 L/h (adjustable) |
| Pressure | 14,500 PSI / 1000 Bar (adjustable) |
| Minimum batch volume | 20 L* |
| Hydraulic Valve Activation (HVA) | 2-phase |
| Cylinder design | Ceramic |
*For volumes less than 20 L, please contact us for more information.
How can Danish Technological Institute help you?
The homogenizer is a part of Danish Technological Institute's Biosolution Technology Center, where we offer laboratory and pilot testing in the field of biorefining and biofermentation. Our equipment is often involved as a subprocess in the development of innovative products - either in research and development projects or in direct collaborations with companies.
Offer and prices
If you are interested, you can contact business manager Lise-Lotte Schmidt-Kallesøe.