The Danish Robot and Automation Expo 2022: No shortage of relieving robot hands
More than 2,700 enthusiastic people filled the robot innovation halls and a large, red, four-cornered circus tent when the Danish Technological Institute (DTI) together with the Danish Industrial Robot Association (DIRA) opened the Danish Robot and Automation Expo 2022.

Every corner of DTI's three halls and the outdoor areas in Forskerparken were used during the Danish Robot and Automation Expo 2022 (also know as ROBOTBRAG) to showcase the main characters - the robots.
More than 100 robot technologies with arms, legs, wheels and rotors were on display on 5th and 6th May, and while some of them are already on the market, participants also got a sneak peek at what tomorrow's robot technology looks like. And there was ample opportunity to have a chat with DTI's many independent specialists.
DTI was not alone in welcoming people to the party - the event is arranged in collaboration with the Danish Industrial Robot Association (DIRA). DIRA members exhibited in a four-pole circus tent where visitors could dive into a sea of ​​automation solutions displayed by the 77 DIRA Business exhibitors.
As something new, the robot party also moved outside this year, where outdoor robots and drones were free to move around on the grass.
The Danish Robot and Automation Expo 2022, including DIRA Business, was officially opened by technology enthusiast and TV host David Guldager, Director at DTI Kurt Nielsen, and DIRA chairman Kim Reeslev.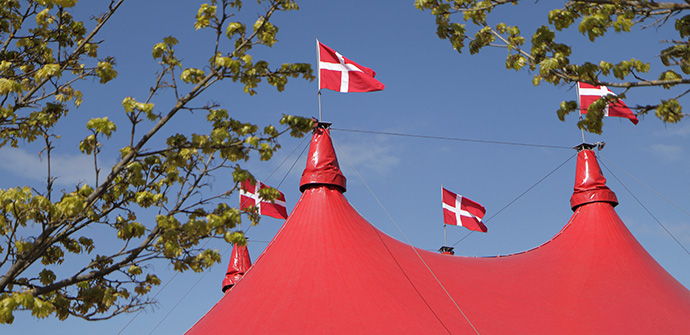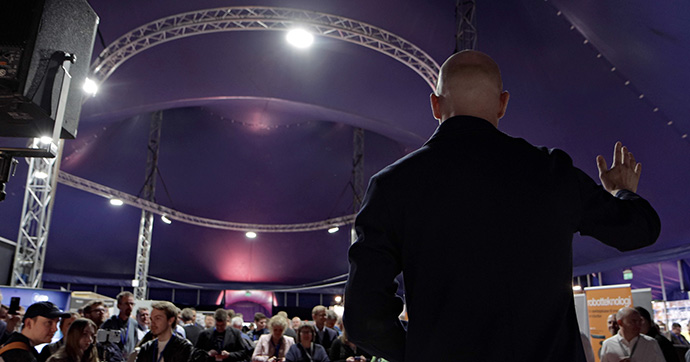 Technology as part of the solution
As something new this year, there was a recurring theme for the Danish Robot and Automation Expo 2022 - the lack of manpower.
This was expressed around the halls, where DTI's independent specialists were ready to advise the many visitors on what future robots can offer them, and in the four conference tracks that ran over the two days for those guests looking for more in-depth knowledge.
Conference themes provided insight into subjects such as: how to get started with automation projects, which robot trends to keep an eye on, and how artificial intelligence can create value for the individual company.
There was also an opportunity to participate in a think tank, which invited brainstorming and discussion about how robots can be a possible solution to the missing hands of the present and the future.
Many visitors took part in the think tank including a Vice President of Production and Innovation, two of Denmark's leading production companies, a representative of Danish SMEs and journalist and moderator Nynne Bjerre Christensen.
40, flags and local cake
With squeaking robots, buzzing drones, lots of cameras and a Funen 'brunsviger' cake in hand, the scene was already set for a really exciting robot event.

But it was not just the robot technologies everywhere - in tents, halls and on lawns - that created a party atmosphere. DIRA also celebrated its 40th anniversary with a flag and a sponge cake.
On the second day, the Danish Robot and Automation Expo 2022 was attended by over 1,000 students and teachers looking for new knowledge, inspiration and future employers.
This Danish Robot and Automation Expo 2022 learning day was arranged by DTI, DIRA and the Knowledge Centre for Automation and Robot Technology (North & South) in collaboration with the University of Southern Denmark, Odense Municipality, Akademikerne, Akademikernes A-kasse and RIMA.
How can the Danish Technological Institute help you?
Our goal to get the latest and most appropriate technology working in real-life applications for the joy and benefit of Danish companies and citizens. If you saw something at the expo that piqued your interest, or you are facing a specific automation challenge - then we are ready to help you further.
Read more about our services here or contact Jacob Kortbek at jkk@teknologisk.dk or 72 20 11 52.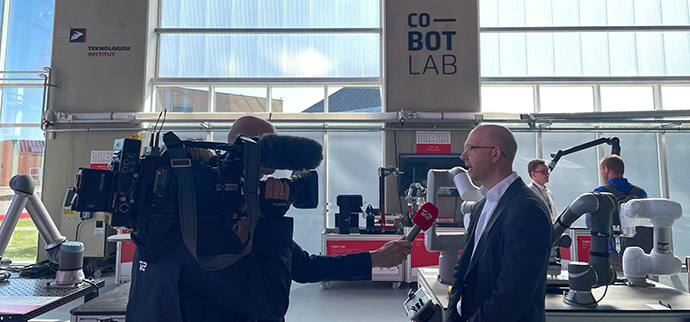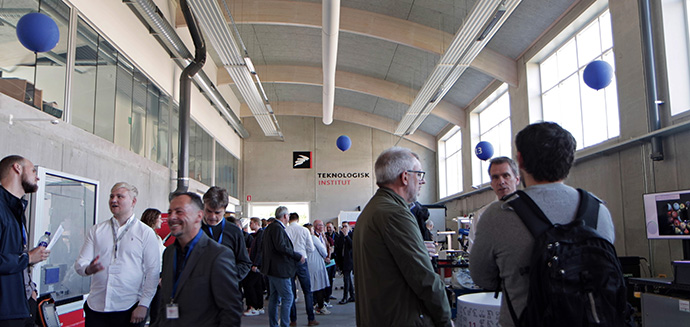 ​