Plasma nitriding – an alternative, environmentally friendly surface hardener
Plasma nitriding is now well-established in the metal industry thanks to the Danish Technological Institute. A growing number of companies are getting help from the Tribology centre at the Danish Technological Institute to use the environmentally-friendly plasma nitriding process for hardening the surfaces of steel and cast-iron pieces, including production tools and a number of grinding parts and machine components. The size of the treated pieces ranges from a few grams to several hundred kilos.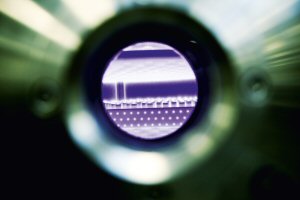 Plasma nitriding is a diffusion process in which nitrogen heated to temperatures of between 450 and 580°C diffuses into the metal surface forming a hard and durable layer.
There are many advantages in using plasmanitriding rather than other surface hardening processes.
First and foremost using this method means that the treatment can typically be carried out at lower temperatures than with the more traditional methods. At the same time, it is possible to surface-treat a greater spectrum of materials. Finally, it is easy to carry out more local treatments.
The process itself is environmentally friendly in that only non-toxic process gases like nitrogen (N2), hydrogen (H2) and the inert gas argon (Ar) are used.
Furthermore, there are large environmental gains to be had from the fact that the surface-treated pieces last longer and the proportion of scrap and amount of
re-working necessary are minimal. This in turn means that there is less energy consumption, increased productivity and reduced maintenance costs
– important competition parameters on a global market.