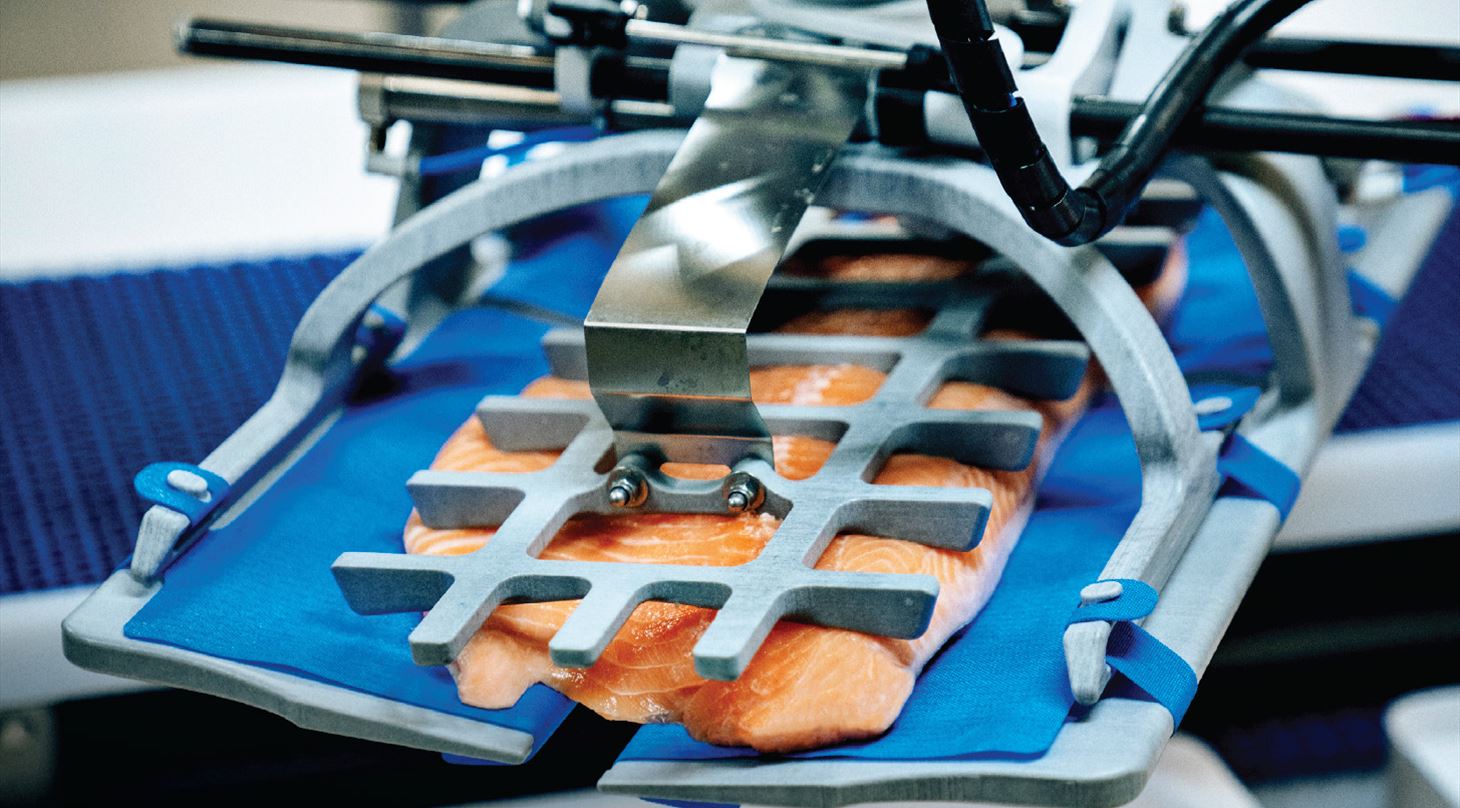 Salmon side gripper was 3D-printed in metal-detectable nylon
The company Marel makes processing equipment for the food industry. For one of their setups, they needed to develop a new gripper for handling entire salmon sides of 40-50 cm. Therefore, they contacted the Danish Technological Institute to find out if it was possible to 3D print in that size - fortunately it was.
Next, Marel used the knowledge they had from their other 3D-printed grippers to make a design that the Danish Technological Institute could print a prototype of. The prototype was tested for use on the production line, among other things to see if the gripper was strong enough. Once this was confirmed, small design adjustments were made and then the finished gripper was ready for production.
​​ Let us help you with AM production
The gripper is 3D-printed in metal-detectable nylon, so it is traceable throughout production if a piece should break off. The design is made without joints in the food contact areas, and there are soft roundings with a large radius. Together with the 3S surface sealing, this means that the gripper is very easy to clean.

Due to the design, 3D printing is the perfect manufacturing technology. Since the part is made in one piece, you would alternatively have to mill it out of a large block of plastic, and this would be more expensive - and more troublesome.

- Kristian Rand Henriksen, Danish Technological Institute
The video below is from Marel, and it shows the gripper - also known as Robobatcher Box - in action.
Benefits of 3D printing for this case:
Rapid development processes and easy transition from prototype to production - parts that are tested have the same quality as the finished product.
Printing in both metal and plastic materials that are approved for food contact - including nylon, metal-detectable nylon, titanium, aluminium, and stainless steel.
3S surface treatment on the 3D-printed metal-detectable nylon - this seals the surface and smooths it out, and it increases the ease of cleaning.
Great design freedom and the opportunity to continuously optimize the design - for example, gather more functions in one part, so that there are fewer contact surfaces.
Avoid large inventory - only the 3D files need to be in stock. The parts can be produced as needed and with a short delivery time.