Three questions you must ask yourself when you want to translate manual processes into automation

Many companies are thinking about automating manual processes with the help of a collaborative robot – a cobot.
Are you one of them? Then you might also be thinking that you don't know where to start.
You can start here.
Here are three questions that, according to senior consultant at the Danish Technological Institute Karsten Thornø Ahrentsen, you must ask yourself if you want to translate a manual process into automation.
1. Are our topics suitable for automation?
Big, small, round, square, soft, or hard.
There is a big difference in which subjects are handled in the companies. Therefore, you have to ask yourself right from the start whether the topics being handled are suitable for automation.
- Some topics are easy to handle because they are simple and uniform. Others can be very complex in design and can be difficult to place correctly, says Karsten Thornø Ahrentsen.
- Other subjects may lie in a messy pile, which is difficult in an automation process. It will therefore - if possible - be an advantage if you can get them arranged in a way so that they stand in patterns, he adds.
2. Can our processes be automated?
Just as there are many different subjects that can be automated, there are also many processes. But it is important to consider which processes are involved before starting to automate the manual process with a cobot.
In some cases, you can use the same process for the automation as you did for the manual work.
- It could, for example, be for grinding or polishing, where you might be able to use the same sandpaper and grain size. You can get the operators to tell you something about their experiences with grinding patterns and speeds, and how hard they press, and then you can transfer that to a robot, says Karsten Thornø Ahrentsen.
But it is not always that the manual process can be transferred directly to a process that a robot can perform.
- Sometimes it can be an advantage to replace the process with another one. For example, to replace the classic grouting gun with some special equipment on a robot, which provides control over the process, dosage amount and speed. You can thus also achieve a significantly better quality of your process, he adds.
There are also some processes that have not been attempted to be automated before. According to Karsten Ahrentsen, here it can be advantageous to do some different experiments to find out which process works best with a cobot.
3. Is our organization ready for automation?
When a company chooses to automate a manual process, it is important that there is agreement on this.
- It requires support from management, but it also requires support from the people who have to work with it on a daily basis, says Karsten Thornø Ahrentsen and continues:
- And of course, it requires the right skills. Not only for the employee on the floor, but also upwards in the company hierarchy, he emphasizes.
As important as it is to upskill the "employee on the floor", it is just as important to upskill those who can think strategically, motivate employees, see synergies, and show the patience that is often needed to get automation projects off the ground, drive them and lead them to the end.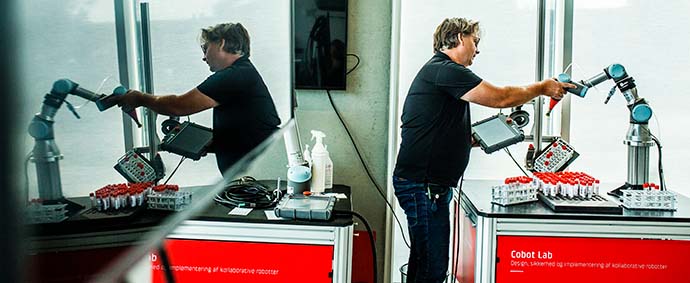 The Cobot Knowledge Lab – which is a partnership between the Danish Industry Foundation, the Danish Technological Institute, Implement Consulting Group and the Knowledge Center for Automation & Robot Technology (North & South) – aims to equip the workforce of today and the future to become innovative cobot users.
The video at the top of the article is the first in a series of several learning videos, which will be part of a future knowledge bank on cobotlab.dk.