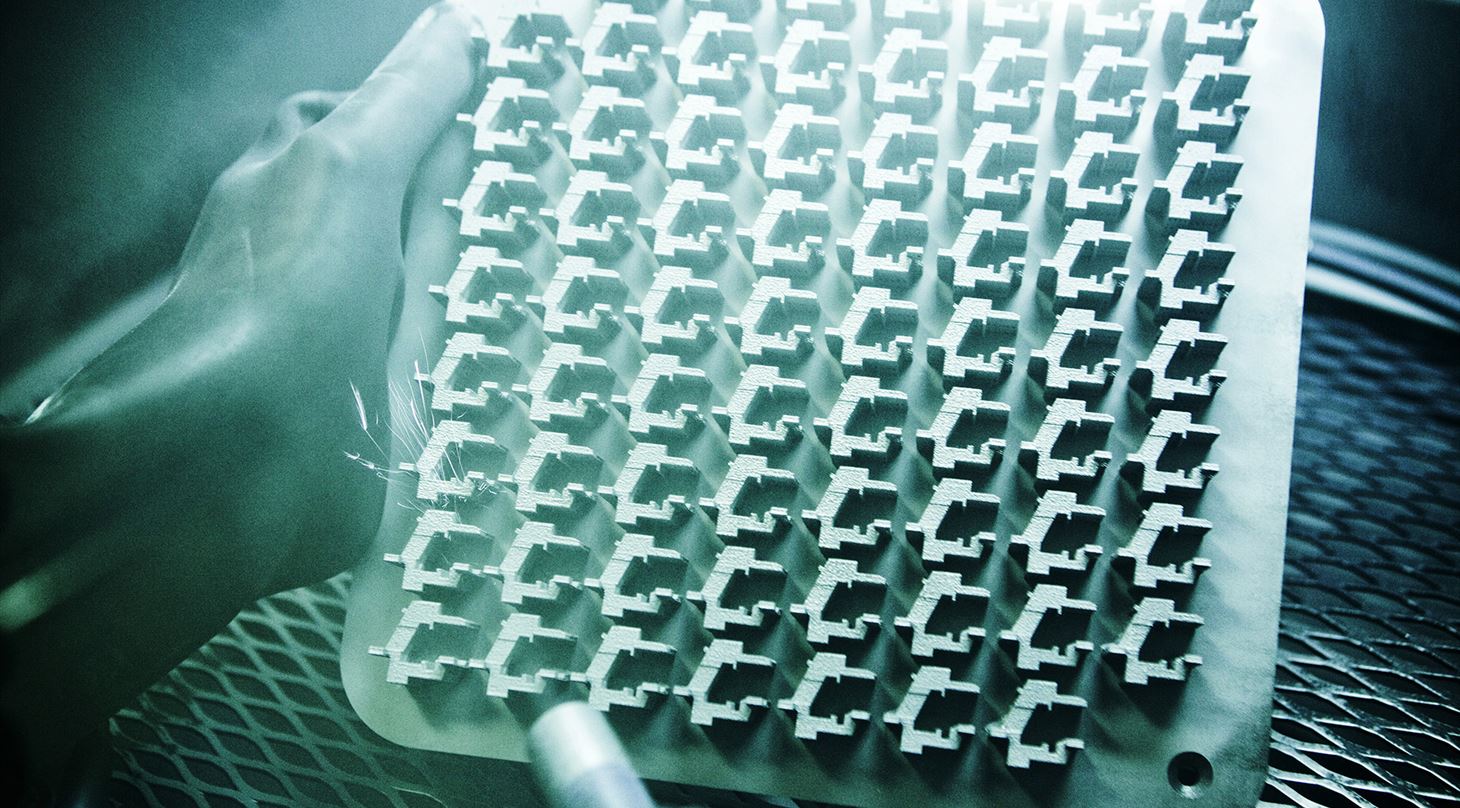 3D printing Production
Do you want to optimize product features, reduce development time, or do you need greater freedom of design to create new innovation? Additive Manufacturing could be the solution. At the Danish Technological Institute, we offer to 3D print your items in both metal and plastic materials, including titanium, aluminum, stainless steel and nylon.
You've probably heard of Additive Manufacturing – or 3D printing - but you may not realize how many different options the technology offers today - or how to get started with them. This is where we enter the picture. The Danish Technological Institute has Denmark's only Center for Industrial 3D printing with a complete production line - and we are ready to print your metal and plastic items and offer advice about the technology.
Freedom of design and rapid development
Today, customers are increasingly demanding flexible and individualized products as well as short delivery times, and traditional manufacturing methods have difficulty meeting these demands. With Additive Manufacturing, you are able to adapt to this new market - and the price is competitive.
With Additive Manufacturing in metal or plastic, where items can be printed from a digital CAD drawing, your products will quickly reach the market, and you can achieve an extremely high degree of customization without major tool investment.

Additive Manufacturing is extremely suitable for producing small series with high complexity. Compared to traditional manufacturing technologies, Additive manufacturing offers an unprecedented freedom of design and enables intelligent designs that reduce the number of parts and offer unique functionality. It is also possible to make geometries that were previously impossible, such as items with freely designed interior cooling ducts.
We offer a range of products and services within Additive Manufacturing
ADDITIVE MANUFACTURING PRODUCTION
Is your company ready to produce 3D printed items? Replacing parts of the company's production chain with 3D printed components can be an easier and more cost-effective solution than traditional production methods, since you can go directly from 3D drawing to production. We provide complete solutions with full quality assurance in both metal and plastic.
Case: Haas-Meincke
Haas-Meincke's grommets used to be welded together by several parts, and it was both complicated and time consuming. Now, they are 3D printed at DTI, resulting in freedom of design and simplified production, as the grommets can be made in one piece with a smooth, beautiful surface.​ Read more
PILOT PRODUCTION WITH ADDITIVE MANUFACTURING
Do you have an idea for a new product, but are you not ready for a big investment? Investing in new technology and new production facilities is expensive, and the process prior to the production of new products is often lengthy - and may stall completely due to uncertainty. We can help you bring your product from prototype to pilot production so your products can generate revenue and be tested in the market - without major investments.
Case: 4TECH
4TECH has utilized the freedom of design in Additive Manufacturing to make a tool changer for collaborative
robots that cannot be manufactured in the traditional way.
The Danish Technological Institute prints the tool changer
on demand, so 4TECH has no need for a large inventory.​ Read more
MATERIAL DEVELOPMENT WITH ADDITIVE MANUFACTURING
The material possibilities for Additive Manufacturing are constantly evolving, and through research projects and customer collaborations, we are working on 3D printing in new materials. For example, we are working with several customers on printing in materials such as copper, as well as X-ray and metal detectable nylon. We are also able to deliver 3D prints in a variety of materials in addition to the ones we have in production.
Case: Marel robotic gripper
At Marel's request, the Danish Technological Institute developed metal detectable nylon for 3D printing as well as a dipping process whereby 3D-printed nylon is easier to clean - in fact, it's 118 times better measured on residual bacteria and on par with stainless steel.
​ Read more
3D PRINT DEVELOPMENT PROCESS
Is Additive Manufacturing new to your business? Production development through Additive Manufcaturing offers a number of possibilities - from developing new products to optimizing parts of the company's production chain. We help you through the entire process - from design, optimization and simulation to 3D printing of prototypes and pilot production. READ MORE
3D PRINTING OF PROTOTYPES
Do you have a finished 3D drawing that you want to produce as a prototype? Send us the drawings, and we will print a finished prototype and offer sparring on the design. With 3D-printed prototypes, your company can easily and quickly test new ideas and concepts as well as gain a better technical understanding of the product - and clarify whether all the conditions for starting a real production are in place. READ MORE See more exciting customer cases
Additive Manufacturing in a variety of materials
At the Danish Technological Institute, we are able to 3D print in a variety of materials. We always print in:
Titanium (Ti6AI4V)
Aluminum (AISi10Mg)
Stainless steel (316L)
Tool steel (H13)
Nylon (PA2200)
Furthermore, we are capable of delivering in a number of other materials. Read more or contact us to hear about the possibilities. As the only manufacturer in Denmark, we have been approved by the Food Authority to 3D print items for food contact in both metal and plastic.
We customize the solution for you
At the Danish Technological Institute, we offer both complete solutions that include the entire Additive Manufacturing process as well as customized services to match your needs. We have four metal printers and machines for all post processing.
Our goal is to provide our customers with a maximum of strategic benefits from using Additive Manufacturing, which is why we master the art of precisely matching technology to each task and customer. Contact us, and together we will figure out how best to help you.

Do you have any questions?
Do you have a need that is not covered by the list above - or do you have questions about some of our services? Feel free to contact us, so we can identify the solution that is right for you.
Follow us on LinkedIn to get relevant updates on Industrial 3D printing
Below you can take a look inside our Additive Manufacturing production where we produce for a number of Danish and foreign companies on a daily basis.