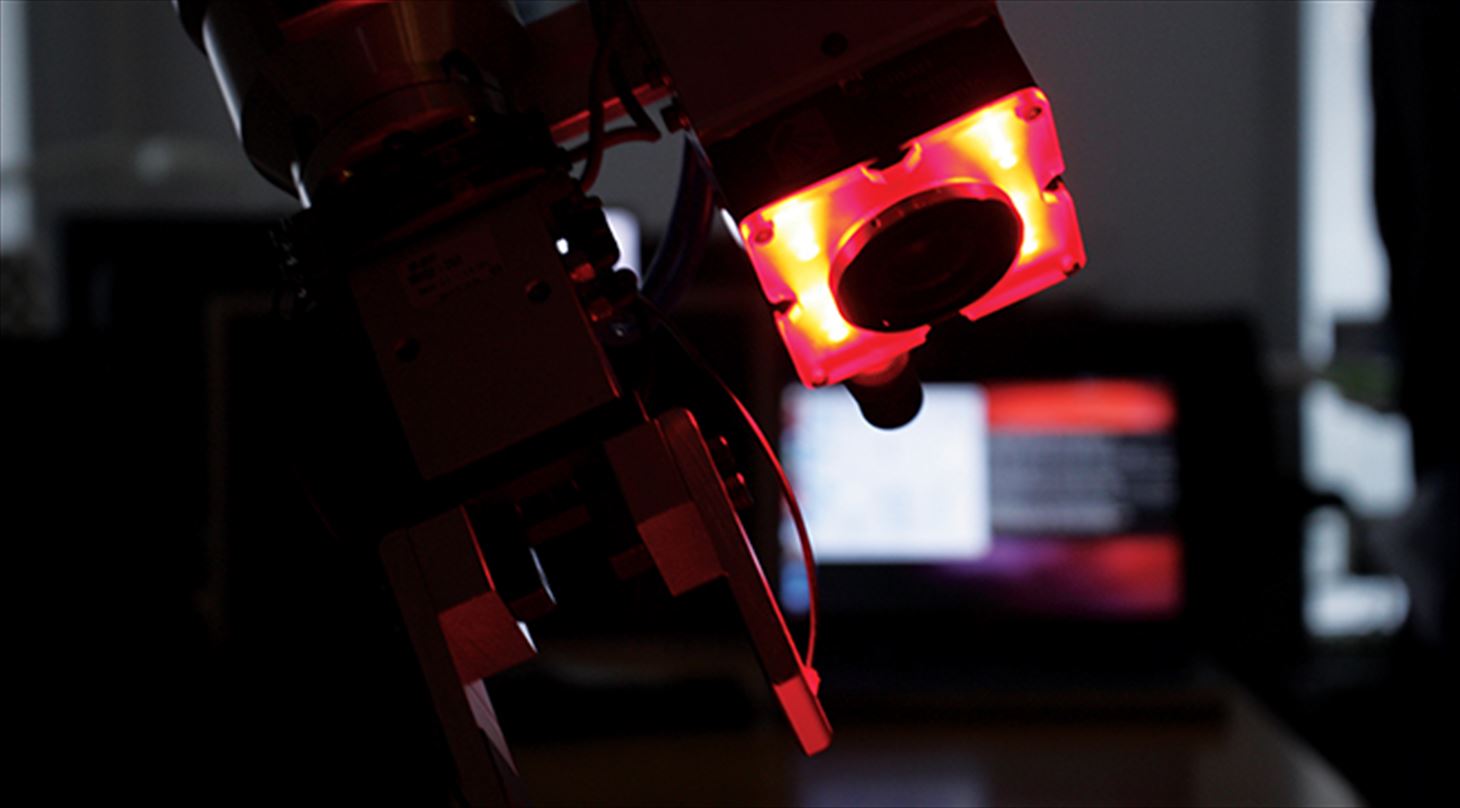 DTI Vision Box - Quality Control and Inspection in 2D and 3D
Industrial quality control and sorting
We have experience with various industrial quality and sorting solutions that are too complex to be solved using standard methods. Especially metallic and transparent items often cause problems so end up being given to us, also when the customer wishes for more flexible processes than standard solutions can offer.

Detecting optimal gripping points
Depalletising robots often struggle when items are disordered. DTI's Vision Box can give the robot confirmation that everything is as it should be and help find the correct grasp point.

Cleaning animal pens
We have developed algorithms for the detection of dirt, which are improved by clever use of the manipulator. In this way we avoid situations where e.g. persistent dirt causes the robot to clean indefinitely.

Monitoring pigs
To reduce the mortality rate among piglets, a camera monitors the farrowing sows and tells the farmer if there might be something wrong.
Vision box - competences
We act as a subcontractor for integrators to provide advanced machine vision solutions. Our vision box consists of a base system with a powerful solid state PC, which is easy to integrate with digital input-output and OPC communication to the PLC and HMI.
The Vision Box supplies power to the cameras and can itself use 24V DC as supplied by automation lines or 12V DC from a vehicle. The software we program ourselves, so solutions including DTI Vision Box are very flexible and based on the customer's requirements. This also makes it easier to update the system later with new items and features.
A Vision Box can handle more than one line at a time and you can have multiple applications running on the same vision box. One could, for instance, find grasp points at station 1 and inspect packaging at station 2. Or you want to remove one type of item from station 1 and another item from station 2. One vision box can normally handle 4 stations.
The solution does not have to settle for normal cameras. We also work with advanced imaging sensors that can see things humans cannot see with their own eyes.
DTI's Center for Robot Technology develops and constantly improves their expertise in machine vision through research and development. This advantage can be yours through DTI Vision Box.
Vision box - experience
Your case may be the next innovation for Vision Box. Either using a completely new configuration or an existing configuration, where only the data processing needs to be adapted to your automation process. We tackle challenges with an innovative development that goes hand in hand with our research activities. This ensures that the resultant product is state-of-the-art. If your case is currently too complex for solution, it will be used to guide research in the right direction.
Many manual processes rely on our most excellent sense: our eyes. Errors in robotic systems occur almost always because the robots are pre-programmed with strict assumptions about its environment. When the real world varies from these assumptions, the robots can not handle it. Therefore vision components play an important role in many robotic innovations. There is constant development in vision systems, closely associated with improvements in processing power, and considerable research. DTI's Center for Robot Technology works with both industry and research - so we are an ideal innovation partner because we can shed light on both worlds and create new implementations to solve your complex tasks.
Experience gained through research and development is included in the Vision Box Portfolio. Technological advances are those which go beyond picture libraries such as Cognex and Halcon and can run in real time, unlike many research solutions. As well as these upgrades, some of the applications are themselves news and part of the solution may be a novel combination of cameras, filters, and lights in a new domain.