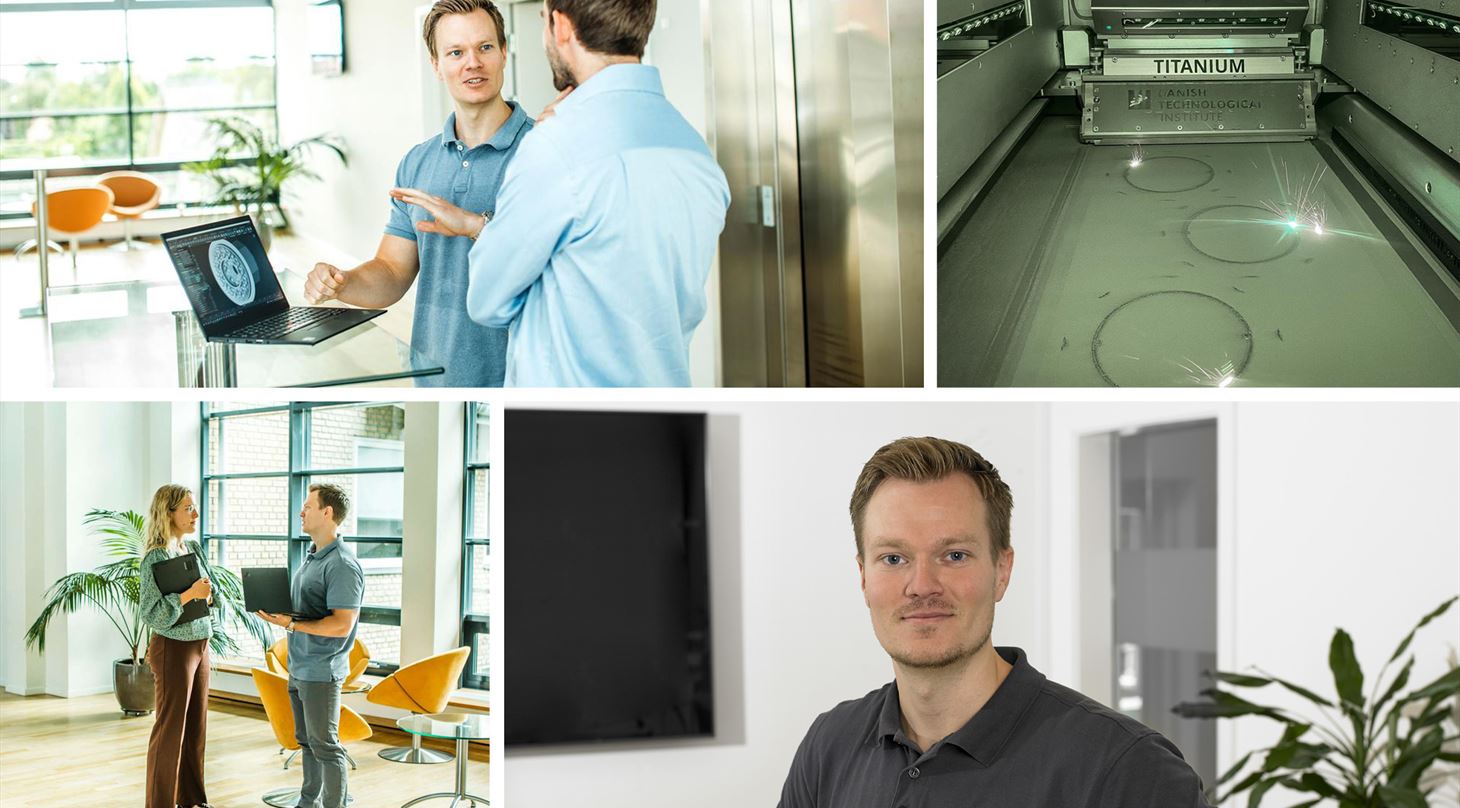 Meet Christopher – he ensures pan-European collaboration within 3D printing
Research and development within 3D printing is moving at fast pace. To support this development, Center project manager, Christopher Klingaa, is responsible for creating and leading pan-European technology projects within 3D printing with the aim of bringing Danish companies into play and increasing their competitiveness and networks.
Christopher has a civil engineering degree in materials and process technology and, prior to his job at the Center for Industrial 3D-printing at the Danish Technological Institute, he completed a PhD where he researched how to develop digital twins of metal 3D printers. Digital twins are a digital representation of reality, which is based on data from the machines and uses mathematical and physical models to predict potential problems that could arise during the printing process.
I was already in contact with Center for Industrial 3D-printing during my PhD studies, and among other things I visited to do experiments with the machines. Therefore, it was also the right place to continue, as the work I had done in during the PhD could be transferred to the centre. At the same time, I was also interested in working more with the technical aspects of the 3D printing processes

- Christopher Klingaa, Danish Technological Institute
Based in the Research and Development team, Christopher's everyday life is filled with both national and international projects. At present, Christopher has a particular focus on international projects, including Horizon Europe.
New learnings across laser technologies
One particular focus in Christopher's work is to involve Danish companies in pan-European collaborations. Among other things, he brings together a larger consortium revolving around local production and repair with advanced laser technology within Horizon Europe. Horizon Europe is the European Commission's flagship initiative for research, development and innovation in Europe aimed at increasing the EU's growth and competitiveness.
Here, Christopher and his colleagues in the Research and Development team are working on bringing together 12-15 pan-European partners to investigate the possibilities of further developing and improving laser technologies within 3D printing and surface treatment with lasers.
Among other things, we will investigate how the technologies Laser Powder Bed Fusion, Directed Energy Deposition and Laser Surface Texturing can be better understood, so that we can carry out production and repair under suboptimal production conditions, e.g. on an oil rig or at a waterfront

- Christopher Klingaa, Danish Technological Institute
- This will also make technology run-in easier for smaller companies that are interested in introducing 3D printing systems in their own production. In addition, we will also investigate the opportunities that lie in improving these technologies across the board by learning more about how the laser technologies interact with the materials. Here, our expectation is that by looking at three laser technologies, we can learn something new from each of them, which can also be used across the technologies, Christopher Klingaa explains.
The future holds more commercial projects and larger EU projects
If you ask Christopher what the professional future holds, his guess is more commercial research and development tasks. In addition, it is also in the pipeline to focus on the larger EU projects.
- We are experiencing great success in the research and development team, which is why my guess is that within a relatively short time there will be significantly more of us in the team to be able to keep up with the many new and exciting projects that we have won. So if you as a company are interested in learning more about the projects and how we can help companies develop and expand their networks or participate in pan-European projects and test new technologies, we are ready to help, Christopher Klingaa concludes.