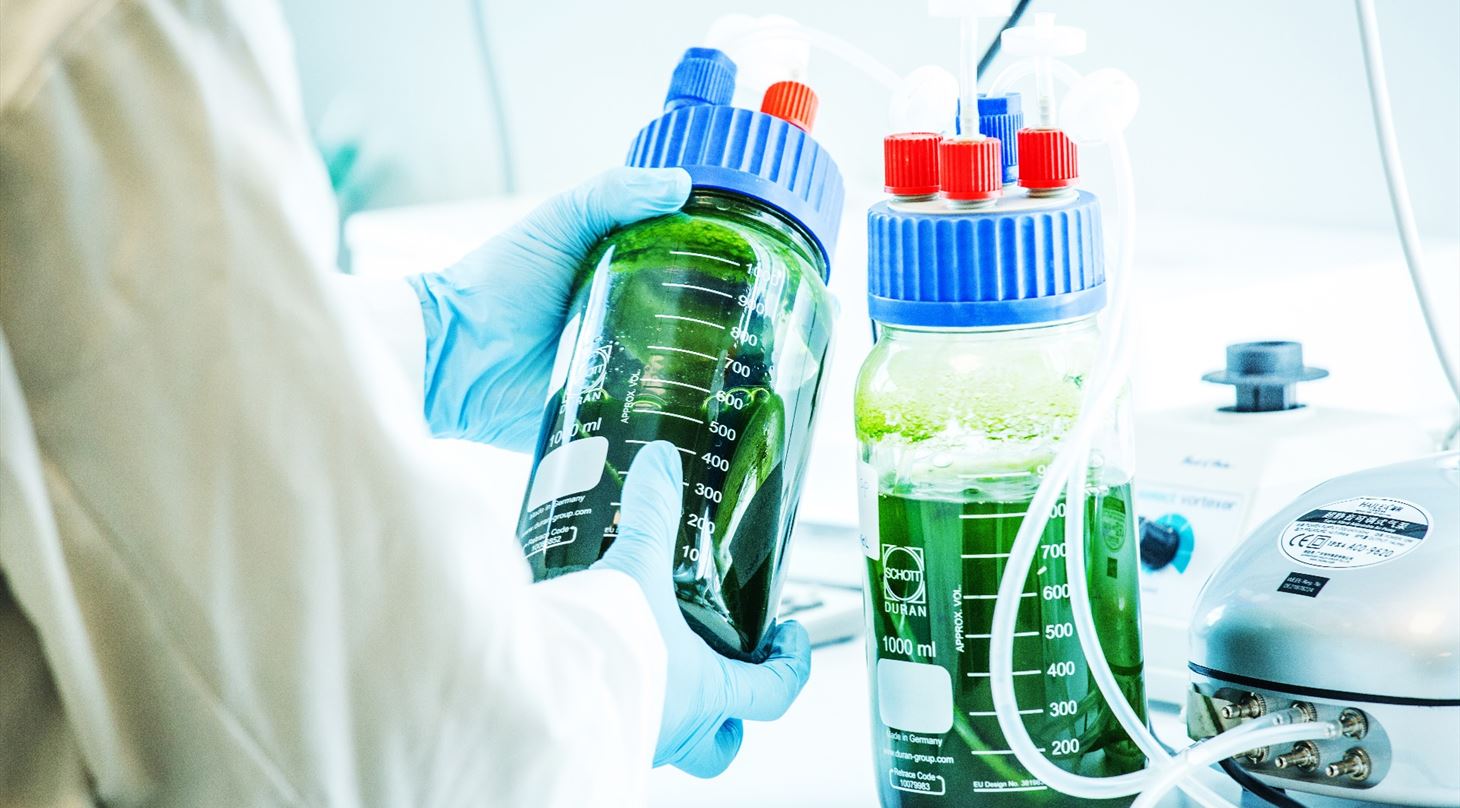 Microalgae Services
We are both cultivation and downstream partners.
Over the last many years, we have built up laboratories and knowledge regarding testing, characterization, upscaling, and optimization of microalgal process for bioproducts. Our upscaling facilities cover microalgae production from single cell to continuous production in pilot scale photobioreactors and therefrom the biomass processing.This allows us to advise and help you with moving microalgae from the research scale to pilot production and harvest.
If your company is looking at the possibilities involved in establishing a microalgae production or products, DTI can help you! You can consult us regarding commercial algae production, bioremediation, downstream processing, and we have a variety of facilities available.
How can Danish Technological Institute help you?

Analysis and test of a specific algae cultivation and remediation potential
Characterization of optimal growth conditions for microalgae
Demonstration of algae production upscaling to pilot scale photobioreactor
Microalgae propagation for commercial production
Advice on commercial algae production, hereunder:
Design of cultivation systems
Nutrition levels, pH, CO2, O2, temperature, light requirements
Start-up and propagation for own operation
Harvest and stable production management
Hygiene, contamination and disinfection
Screening of side-streams for nutrient content
Analysis and test of algal cultivation and remediation potentials
Microalgae cultivation system design
Start up and scale up for actual operation
Harvest and management to stable production
We have hands-on experience with microalgal remediation of:
Degasified pig slurry and raw slurry
Bilge water from biological and acid-based air purification
Urban wastewater
Brewery side streams
Downstream processing (both technical and food grade processes)
Continuous centrifugation
Flocculation
Membrane filtration
Lyophilization
Spray drying
Lipid and pigment extraction – Supercritical CO2
Protein hydrolysis
Biomass extrusion/co-extrusion
Evaluation for food ingredients: Quality and shelf-life analysis
Life cycle and techno-economic analysis