Robots and people flock to the Danish Robot and Automation Expo 2023
More than 3,000 participants were transported to the future when the Danish Technological Institute (DTI) together with the Danish Industrial Robot Association (DIRA) opened their doors to show current and upcoming robot technologies.

A two-day journey into the future with roots in the present, where robots, chat and a lot of technology got plenty of space in the calendar.
This is the best way to describe this year's Danish Robot and Automation Expo (ROBOTBRAG), including DIRA Business 2023, which the Danish Technological Institute and the Danish Industrial Robot Association (DIRA) organised on 3 and 4 May 2023 in Odense.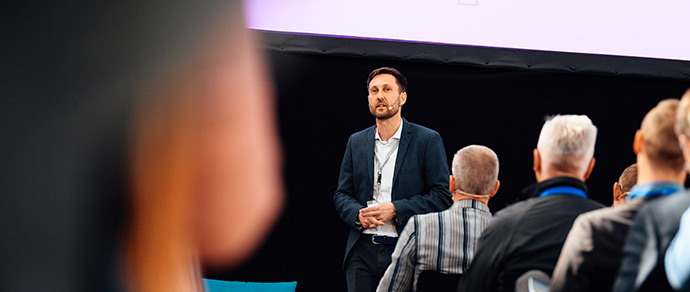 Director at DTI Jacob Kortbek, together with DIRA's chairman of the board, Michael Nielsen, opened the Danish Robot and Automation Expo 2023 with speeches, after which they passed the floor on to journalist and moderator Nynne Bjerre.
She chaired this year's think tank session, which was based on a new analysis published by DTI about the potential and spread of robots in Denmark.

The many fascinated guests quickly spread to the three robot innovation halls at DTI and to the 69 DIRA exhibitors, where they could all experience robots and other technologies of today and look into the future.
- There is a large untapped potential for robots in Denmark. Several companies directly say that there are opportunities in automation that they are missing – and one of the reasons given is that they lack knowledge about the actual possibilities. And that is what the Danish Robot and Automation Expo, with so many robotic technologies, specialists and robot enthusiasts gathered in one place at once, was created to change, says Jacob Kortbek.
- We gather all the excitement that robot-Denmark has to offer in one place, then invite thousands of Danish companies, researchers, and students inside so they can have a look into the future. And most importantly, we offer to help them on their way to it, he adds.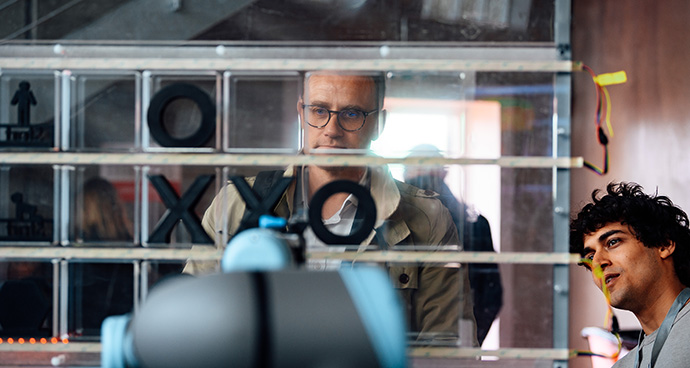 Record numbers came
You had to watch out when you moved around among the more than 100 robotic technologies that had gathered in Odense for a blast of a robot party.
In addition to the many robots and technologies that were lined up for the occasion, the Danish Robot and Automation Expo 2023 was also well attended by people who were curious, chatty and inspired. In fact, over 3.000 participants found their way to Forskerparken.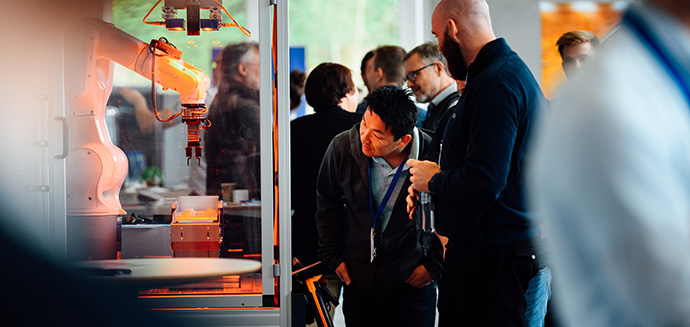 On the Danish Robot and Automation Expo's first day, which was for people from industry, both the halls, the circus tent and the lawn were well filled with conversations all day.
But this year the second day of the Danish Robot and Automation Expo – also called the learning day – actually had more participants than ever before. Here it was the workforce of the future that was invited to come and smell the technologies that may come to shape their working life, and they could meet the companies that are recruiting for their workforce.
And that pleased Michael Nielsen from DIRA, among others.
- It is fantastic that so many students, teachers and job seekers showed up at the Danish Robot and Automation Expo learning day. This gives us hope that the workforce of the future is ready to take over when it comes to technology and robots – and this will be necessary, says Michael Nielsen.
The learning day was organized by DTI and DIRA in collaboration with the Knowledge Center for Automation and Robot Technology North & South, Dansk Metal, Akademikerne, Akademikernes A-kasse, Odense Municipality, DTU, SDU, AAU, Universal Robots, and DACAS-Rob.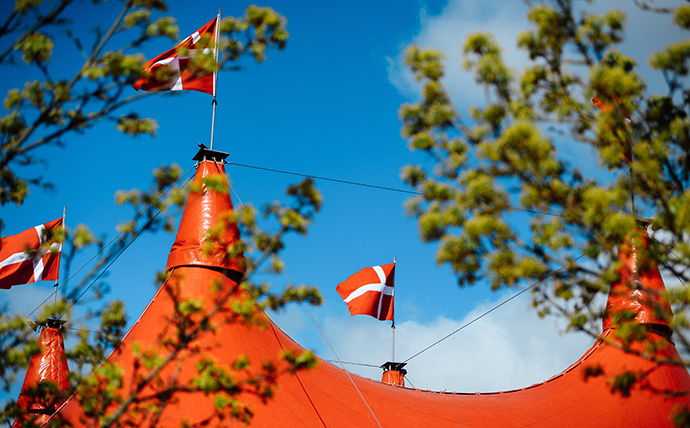 How can the Danish Technological Institute help?
DTI is an independent non-profit company, which was created to put the latest technology into use for the joy and benefit of Danish companies and citizens.
If you saw something at the expo, which piqued your interest, or you face a concrete challenge that could perhaps be solved by automation - then we are ready to help you further.