Project begin: 1st of October 2012. Project finish: 30th of September 2015
The project has finished
Find project results here
Danish Technological Institute is the coordinator and project manager at the large EU project, Biowaste4SP which is a project with the aim of transforming biomass waste to sustainable products as bioethanol, biogas, fertilizer, lactic acid, protein and amino acids in developing countries.
The task is to find the simplest and most effective ways to put this into practice in five African countries: Ghana, Morocco, South Africa, Kenya and Egypt.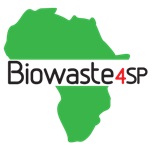 Background:
Despite the fact that there is great demand for food in Africa, there is a big waste of especially food products in both agriculture and at plantations due to heat, poor harvesting- and storage methods.
In Ghana up 30 % of the produced cassava ends as waste. This type of biowaste is especially rich in starch, which is a highly suitable substrate for fermentation processes for the production of ethanol, lactic acid and amino acids.
A project at eye level
Biowaste4SP is a project at eye level between European and African partners.
The project will provide the basis for knowledge exchange between Europe, Africa and Malaysia in terms of how biowaste can be converted into biogas and fertilizer from lignocellulosic biomass and ethanol, lactic acids, amino acids and protein from the starch-based waste products.
In the project 6 PhD and Postdoc students are trained in the used methods and technologies.
Objectives in the project:
Identify and characterize biowaste streams with a significant sugar or nutrient content in five African countries: Morocco, Egypt, South Africa, Kenya and Ghana.
Developing pre-treatment processes for an efficient conversion of biowaste into fermentable substrates and upgraded polysaccharide fraction (sugar platform) that can ferment.
Developing the most appropriate bio-conversion methods for converting pretreated sugar solutions from biowaste into ethanol, lactic and amino acids.
Recovering and upgrading DDGS (protein fraction from ethanol and lactic acid production) by solid state fermentation.
Deriving the best technologies for downstream processing.
Conversion of all unconverted waste streams to biogas and CO-production in a compost facility.
Evaluating the whole process chain of producing biobased energy carriers, chemical amino acids, proteins, and fertilizer from biowaste in terms of sustainability and economic viability.
Disseminating the results to industry and stakeholders and providing guidelines for using biowaste as a resource for production of bio-based sustainable products.
Project partners:
DTI : Danish Technological Institute, Denmark
IVL - Swedish Environmental Research Institute
TUBITAK - The Scientific and Technological Council of TURKEY (TUBITAK), Marmara Research Center (MRC)
SIRIM Berhad, Malaysia
CSIR-GH - Council for Scientific and Industrial Research – Institute of Industrial Research – CSIR-IIR, Ghana
CSIR-ZA, South Africa
Agricultural Research Centre (ARC), Egypt
University of Siena – UNISI, Italy
Hassan II Institute of Agronomy and Veterinary Medicine Morocco
The Technical University of Denmark
ETHEKWINI MUNICIPALITY (ETM), South Africa
Myagri Group of Companies, Malaysia
BIOVELOP BV, Denmark
MOROCCAN ASSOCIATION OF SOLID WASTE (AMADES-Morocco)
African Institute for Capacity Development (AICAD), Kenya
World Association of Industrial and Technological Research Organizations (WAITRO)
Read more about project partners HERE
Read more on www.biowaste4sp.eu