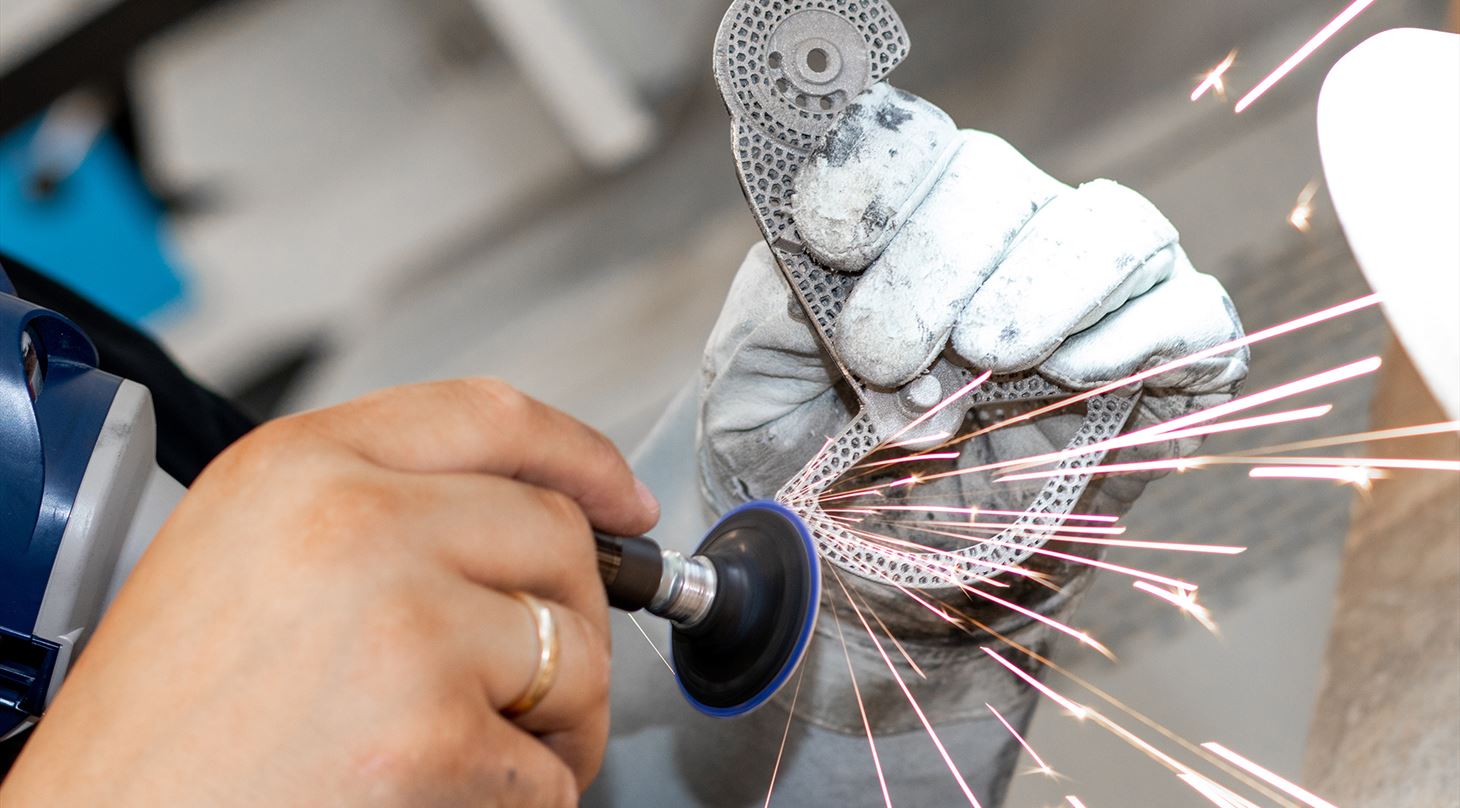 3D printing design course speeded up development for CeramicSpeed
In cycling, every gram on the bike counts. CeramicSpeed, which specializes in bearings for bicycles, knows this. Therefore, the company chose to participate in an innovation process, where they investigated whether one of their components could be optimized with 3D printing.
With the bikes permanently parked in Holstebro, CeramicSpeed has since 2004 ensured speed and accuracy with their specialty in ceramic ball bearings for cycling. Here, they already had good experience with the 3D printing technology – for instance, they use 3D printing for their titanium gears, the so-called pulley wheels, which are the lightest in the world. With these experiences, it was an easy decision for CeramicSpeed to agree to participate in the 3D printing design optimization course DfAM - Design for Additive Manufacturing – that is initiated by the Danish AM Hub.
CeramicSpeed was interested in working with a component, namely a holder on the bike's rear derailleur, which is used in conjunction with the gear change, where it holds the two aforementioned pulley wheels.
- Today, our holder is pressure moulded in carbon fibre reinforced polymer, while our pulley wheel is 3D printed when it needs to be extravagant and look really good. It was precisely for this reason that the idea to 3D print the holder arose - at the same time as the opportunity also arose, says Carsten Ebbesen, R&D Manager at CeramicSpeed.
Use of new material
As part of 3D printing the holder, CeramicSpeed wanted to investigate whether it was possible to change the material. The holder is cast in carbon fibre reinforced polymer because it is a light and strong material, but in the DfAM process they wanted to try to replace carbon fibre with titanium. The titanium holder was printed at Danish Technological Institute.

The two primary reasons for 3D printing the holder were that we wanted to try to see if we could print it in titanium to investigate if we could make it even stronger and smarter with a lattice structure - and at the same time make it lighter

- Carsten Ebbesen, CeramicSpeed
Potential for further development
In the process, it was possible to print a strong holder with a lattice structure, which at the same time reduced the amount of material. But in order to reach the goal with a new holder, the weight will have to be adjusted.
- During the project, we found out that the weight is problematic when we 3D print the holder in titanium. Therefore, further work will consist of investigating whether we can reduce weight with titanium by making various design changes, Carsten Ebbesen explains.
3D printing can make the development process more concrete
Although there is still development work to be done with the 3D printed titanium holder, Carsten Ebbesen has no doubt that 3D printing has many advantages.
- 3D printing has given us the opportunity to have the holder tangibly in our hands, and it has been something completely different than making drawings. In addition, we have been given the opportunity to make lattice structures on the holder, which are only possible with 3D printing, says Carsten Ebbesen.

It has also been of great value that I have been able to concretely show my colleagues what we have done during the process. This has allowed us to more quickly sense where the opportunities were

- Carsten Ebbesen, CeramicSpeed
No limitations on design
Carsten Ebbesen particularly highlights the freedom of design as one of the biggest advantages when it comes to CeramicSpeed's experience with 3D printing in the DfAM course:
- Our impression and experience with 3D printing is that it is a fantastic technology because there are no limitations when it comes to the design possibilities. At the same time, our products are very much driven by design, and the appearance means a lot to both us and the customers, so the products must have a "bling" effect - and we can achieve that with 3D printing.
Facts about the solution:
Material and technology: Titanium printed with Laser Powder Bed Fusion
Weight increase: 188 percent
Reduction of volume: 43 percent
Design freedom: High
About the DfAM course
During 2022, Danish AM Hub, in collaboration with the partners Danish Technological Institute, PLM Group, Hexagon and Wikifactory, has taken 15 Danish SMEs through a new innovation course with the aim of strengthening the companies to benefit even more from the technological and business potential within 3D printing. The course is called Design for Additive Manufacturing (or DfAM) and focuses on rolling out 3D printing to small and medium-sized companies as well as providing concrete support and help to work with the technology through design. The specific aim of the DfAM course is to re-design the participants' products or components, thus enabling these to be produced e.g. with greater strength, less material waste, new and better functionality, and on-demand.