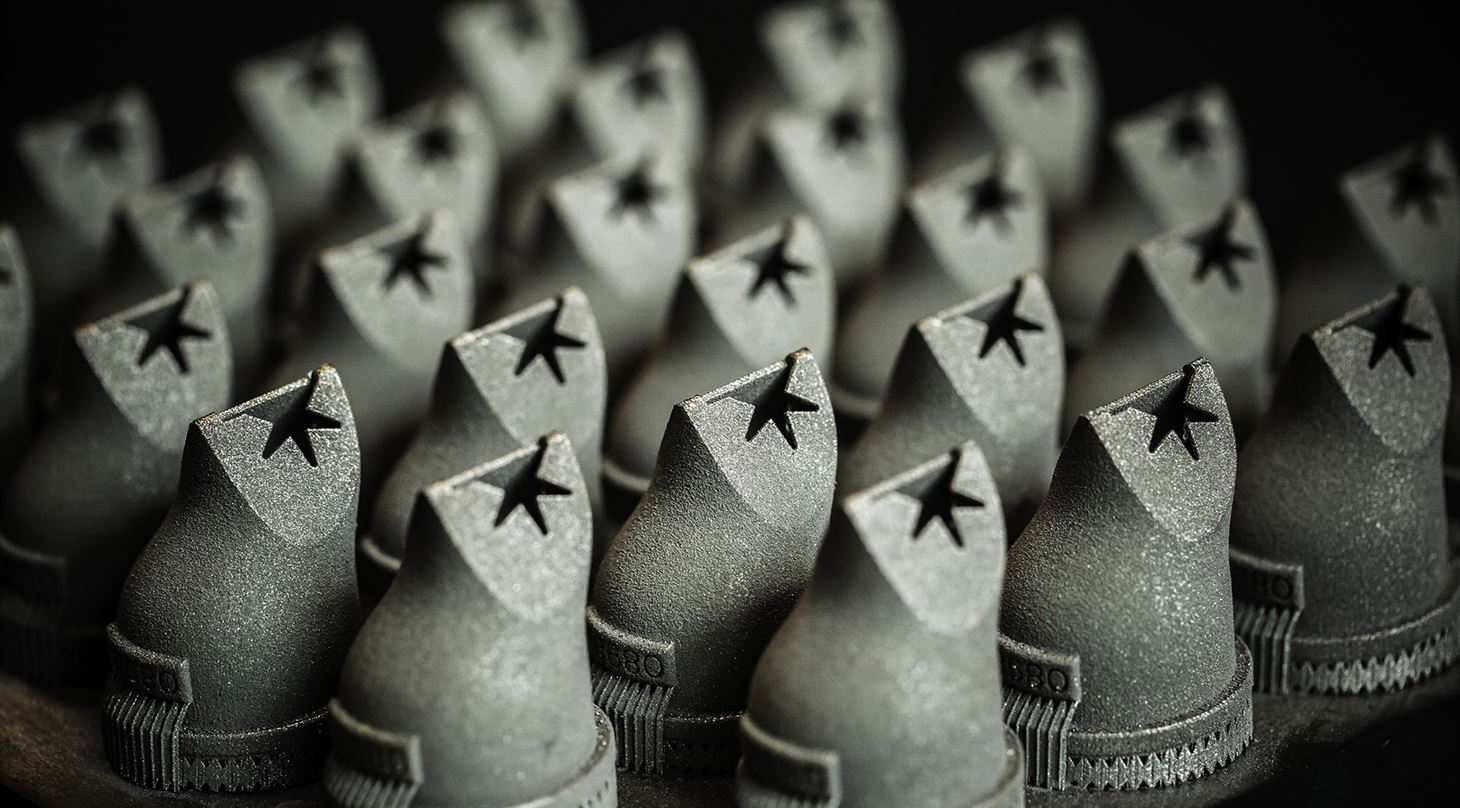 Freedom of design and fast production made Bühler Meincke focus on metal 3D printing
Bühler Meincke discovered 3D printing when they had some parts where they couldn't achieve the desired geometry with traditional manufacturing methods. The technology offered an enormous freedom of design, and since then they have taken the step to metal 3D printing, which was initially used for the company's cookie dough nozzles. Today, metal 3D printing is used for series production of several different items, which are manufactured at the Danish Technological Institute.
Bühler Meincke develops and manufactures machines for cookie and biscuit production worldwide, and their journey with 3D printing started when they needed some special geometries for cookie dough nozzles. Traditional manufacturing methods fell short, and therefore Bühler Meincke investigated the various possibilities, and here they came up with 3D printing in plastic, which provided an enormous freedom of design.
​ Let us help you with 3D printing production
This was the start of a new era for Bühler Meincke, who a few years ago took the leap onward to metal 3D printing, where they could achieve the same freedom of design with a significantly greater durability - in materials that are approved for food contact.
Based on MADE demonstration project
The first steps with metal 3D printing took place in a so-called demonstration project from MADE - Manufacturing Academy of Denmark in 2017, where Bühler Meincke investigated the possibilities of implementing 3D-printed metal items in production. This was done with the help of the Danish Technological Institute that has four metal printers in the Center for Industrial 3D Printing.
The MADE demonstration project focused on the small nozzles, which give the cookies the desired shape when the dough is pressed through. For these nozzles, Bühler Meincke needed a hygienic design with organic shapes, and therefore 3D printing was an obvious match.
- Previously, the nozzles were soldered together by several parts, as the shape could not be achieved with milling. It was a complicated and time-consuming job, which at the same time yielded some unwanted joints where bacteria could accumulate. Moreover, Bühler Meincke had only one man employed to carry out this work, so they were extremely dependent on this person. But with 3D printing, it became possible to make the nozzles in one piece with a smooth and easy-to-clean surface, says Kristian Rand Henriksen, Business Manager at the Danish Technological Institute.
Watch the video about Bühler Meincke's nozzles below:
Furthermore, the reproducibility of the nozzles is be higher with 3D printing, and the production process will be simplified and more person independent.
- The nozzles were better than I had ever imagined when we started, and we are at a point where we can already use them in our production. And in addition, there are many other items that have the potential to be produced with 3D printing, said Per Bjerrum, Technology Expert at Bühler Meincke immediately after the demonstration project.

The Danish Technological Institute 3D-printed the nozzles in stainless steel 316L and titanium for Bühler Meincke, and the project exceeded all expectations - so much in fact that Bühler Meincke today produces most of their nozzles with 3D printing at the Danish Technological Institute. Another important detail of the 3D-printed nozzles is that both stainless steel and titanium are approved food contact materials - something that was a requirement on Bühler Meincke's part - and the Danish Technological Institute has complete traceability on each printed item throughout production.
- The demonstration project has shown that metal 3D printing is especially interesting for the food industry. It can be companies that manufacture bakery products, ice cream or dairy products, but the technology is also interesting for pharmaceutical companies and for manufacturers of pills and medical equipment, says Mads Østergaard, section manager and 3D printing expert at the Danish Technological Institute.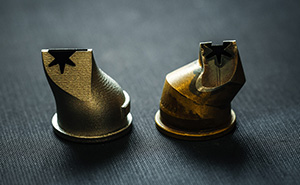 Increased focus on 3D printing in production
In the wake of the MADE demonstration project, Bühler Meincke has moved on with 3D printing in metal. This is not least due to the freedom of design, which means that they can be much more free in their thinking and make numerous shapes that cannot be done with traditional manufacturing.
- Thanks to the freedom of design with 3D printing, we have been able to solve some of the challenges with organic and hygienic design, where we can now get rid of the joints and corners from traditional manufacturing. In addition, the actual production of the nozzles was previously a complex affair, but with 3D printing we just send a STEP file to the Danish Technological Institute, and they manage the production - and then it is suddenly pretty easy for us, says Kennie Larsen, Head of Cookie Feed & Forming at Bühler Meincke.
Subsequently, Bühler Meincke has looked at several items in production that could be optimized with 3D printing. For example, it could be items that could be made better, cheaper, or more weight-optimized - and the results have been positive. Among other things, Bühler Meincke has started to 3D-print a so-called cutter roller, which was previously a tube on which e.g. six cups were welded to cut out the dough.
Now, we make the cutter roller directly with 3D printing, and it is actually much better than traditional manufacturing. When you weld, you have a lot of heat and the parts deform, but 3D printing has proven to be able to solve these challenges

- Kennie Larsen, Bühler Meincke
Moving forward, Bühler Meincke sees great potential in 3D printing. Until now, the focus has been primarily on smaller items - also because there are some limitations on how large items you can print. But there is a desire to be up to date with the technology to be ready to take advantage of the new opportunities as they arise.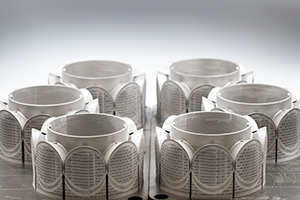 A new tool in the box - with a short delivery time
Today, Bühler Meincke considers 3D printing as a manufacturing method on a par with more traditional methods, as they can see the potential in the technology and as it offers a number of new possibilities that they did not have before. In addition to freedom og design, there is also a short delivery time for the 3D-printed items, which are also available in the desired materials - stainless steel and titanium. Also, Bühler Meincke experiences a particular advantage of metal 3D printing in the prototype phase as well as in the transition from prototype to end product.
- It is easy and fast to produce a part that can be tested directly in the machines, so you can see if it all works. Afterwards, it is the same quality we get in the final production, so we do not have to test with 3D printing and then produce in another way - we actually test the finished product as it will look, and that is a huge advantage , says Kennie Larsen.

He also praises the collaboration with the Danish Technological Institute. In addition to 3D printing production, Bühler Meincke also uses the institute for testing and ongoing sparring around the possibilities with 3D printing.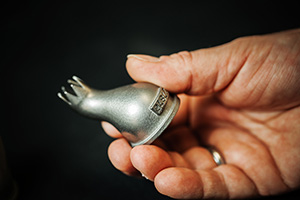 - When we have joint workshops, the Danish Technological Institute has been really good at subsequently testing the possibilities with our products to see what can be done. That way, we work together to find out if there should be an undiscovered potential for 3D printing among our components, Kennie Larsen concludes.
Facts:
Bühler Meincke is part of the Bühler Group, which is a global producer of e.g. plants and equipment for food processing. The company has their headquartered in Switzerland, and in Skovlunde, Denmark, they make equipment for cookies and cakes - it is for this division that the Danish Technological Institute 3D prints e.g. cookie dough nozzles and cutter rollers in titanium and stainless steel.