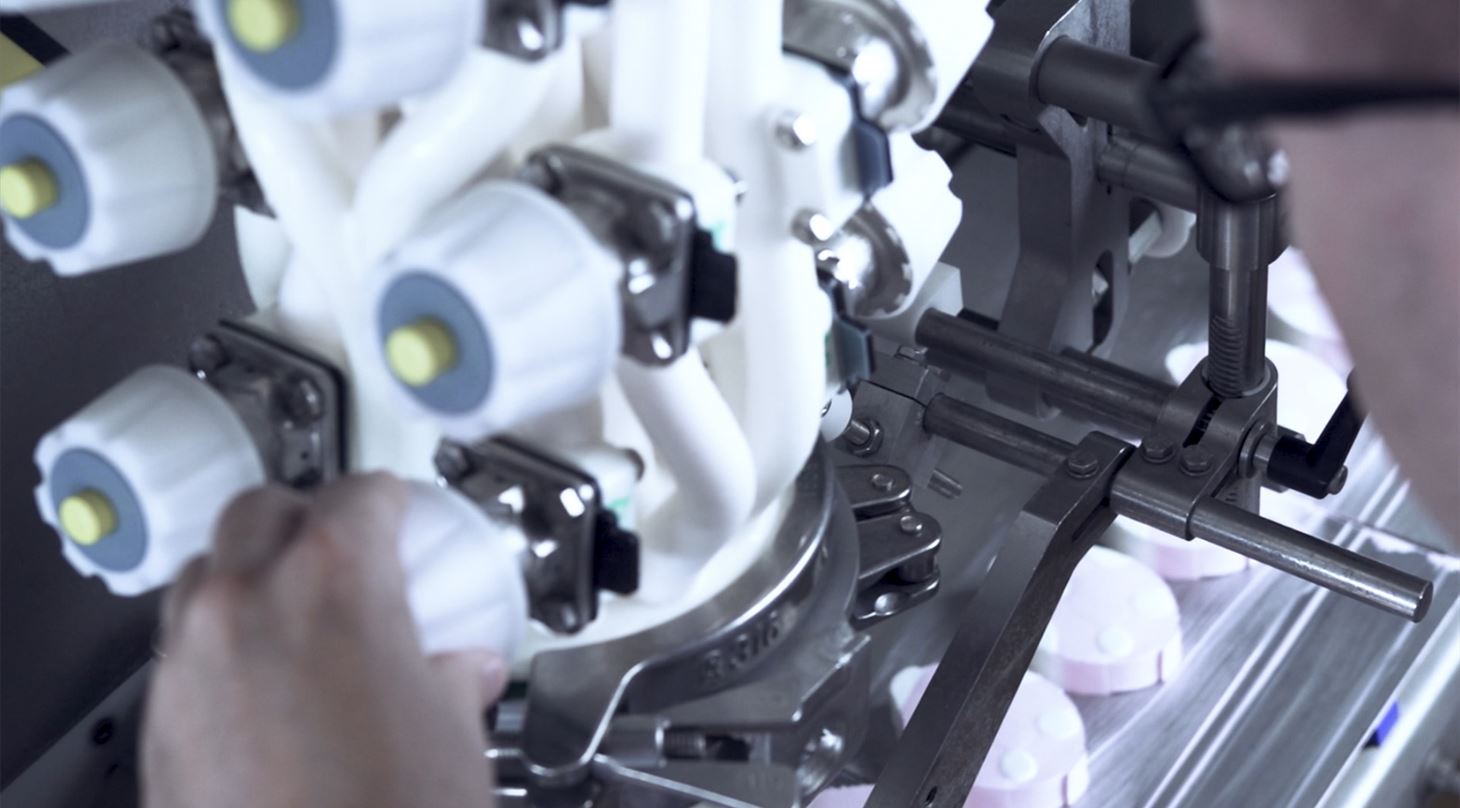 Tetra Pak uses 3D printing to make panda ice cream
Tetra Pak Processing Systems is part of the worldwide Tetra Pak group, and here they make systems for ice cream production - with 3D printing as an important ingredient.
At Tetra Pak Processing Systems in Aarhus, they specialize in equipment for ice cream production. Here, they make production equipment for ice creams across the globe. They had a challenge with a piece of equipment that was very heavy, very expensive and at the same time did not meet the hygienic requirements. Therefore, they decided to try 3D printing.
In the video below you can see the result of the collaboration between Tetra Pak and Danish Technological Institute regarding 3D printing.
3D printing course was the starting point for collaboration
Before Danish Technological Institute was contacted, Tetra Pak had already looked at 3D printing, as they had previously attended a 3D printing course - at Danish Technological Institute. Subsequently, they started experimenting with printing prototypes and mock-ups.
Therefore, Tetra Pak had no hesitation in acquiring the help of Industrial 3D printing at Danish Technological Institute to solve the problem with the ice cream nozzle.
This was the start of an interdisciplinary collaboration, where Tetra Pak, together with Danish Technological Institute, developed a 3D printed nozzle that could mix ice cream in several colours - and thus deliver ice cream in a number of different shapes. That way, it is e.g. possible to make ice cream that is shaped like a teddy bear, a panda, or a ladybug.
The perfect solution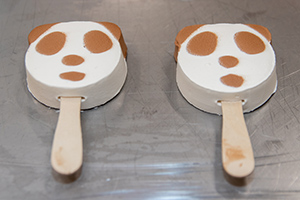 Before Tetra Pak switched to a 3D printed nozzle, the previous nozzle had been welded and assembled from 3 large parts, as it consisted of 33 small stainless steel parts. In addition to the difficult cleaning process, where the parts had to be separated, the welded nozzle was both expensive and heavy, so it was far from an optimal solution for Tetra Pak.
Fortunately, 3D printing turned out to be the perfect solution, as it also allowed the nozzle to be designed as a coherent component. The 3D printed nozzle is printed in metal detectable nylon and now consists of only 3 parts: A manifold, a nozzle, and a small titanium tip.
Today, the nozzle is 3D-printed in metal-detectable nylon at the Danish Technological Institute, and it now consists of three parts - a manifold, which is always the same, and the nozzle itself, where the internal channels can easily be re-designed when Tetra Pak has to make a new ice cream. Finally, a titanium tip is printed, which protects the nozzle where the ice cream is cut off.
- It is the same type of manifold that is used for all types of ice cream. The manifold is located at the top and ensures that the ice is mixed correctly into the nozzle. The nozzle can be easily re-designed when Tetra Pak needs to make a new type of ice cream. Finally, there is a small titanium tip that protects the nozzle where the ice is cut off, says Kristian Rand Henriksen, business manager at the Danish Technological Institute, and adds:
- On the manifold, there are valves where you can adjust both flow and speed yourself. This means that you can decide much filling should be in each portion. This allows you to regulate how sharp the ears or eyes should be on the panda ice cream by turning the valves.
3D printing is an important (and advantageous) ingredient
After starting to print the nozzle, neither Tetra Pak nor Danish Technological Institute have any doubts that 3D printing was the right ingredient to add to the nozzle, because the technology has provided several advantages. Among other things, 3D printing is faster and significantly cheaper. At the same time, the design freedom with 3D printing is enormous, and with the low price, Tetra Pak can make several design iterations – here, they have previously been more limited due to the price.

In this component, 3D printing gives us the advantage of having a very hygienic design, which is important in ice cream production. In addition, it gives our customers value because they can quickly make new productions – and this is a trend we see in the ice cream market

- Elsebeth Baungaard, Tetra Pak
"The freedom of design has been utilized to a colossal extent"
In addition to the great benefit of being able to quickly change the ice cream production, the nozzle has an obvious advantage when it comes to hygiene. Here, ease-of-cleaning has been taken into account both in terms of design and material selection. As mentioned, the nozzle is printed in metal detectable nylon that is approved for food contact. Subsequently, the nozzle is 3S-treated, which ensures that it does not absorb liquid. In addition, the freedom of design has also given several plusses.
- On the nozzle, we have optimized the flow, and at the same time you can design it in such a way that there are no hidden or dead areas through the nozzle. That's why the design freedom is also utilized to a colossal extent here, says Kristian Rand Henriksen.
The design freedom is free because it is not a challenge for the printers to print something complex. It also means that there is a lot of money to be saved

- Kristian Rand Henriksen, Danish Technological Institute
Specifically, Tetra Pak achieved:
60 percent cost reduction
Delivery time reduced from 8 to 4 weeks
Part consolidation from 30 parts to 3 - and a much more hygienic design
Benefits of 3D printing in this case
Attractive price at low unit numbers
Ultimate design freedom and flexibility with the ability to continuously optimize the design and make redesigns without large tool costs
With 3S treatment on the 3D-printed nylon, new surface properties are added, so that the material does not absorb water and thus becomes easier to clean.
Avoid large inventory - only the 3D files need to be in stock. The parts are produced as needed and with a short delivery time
Printing in both metal and plastic materials that are approved for food contact
No joints or welds where bacteria can accumulate.