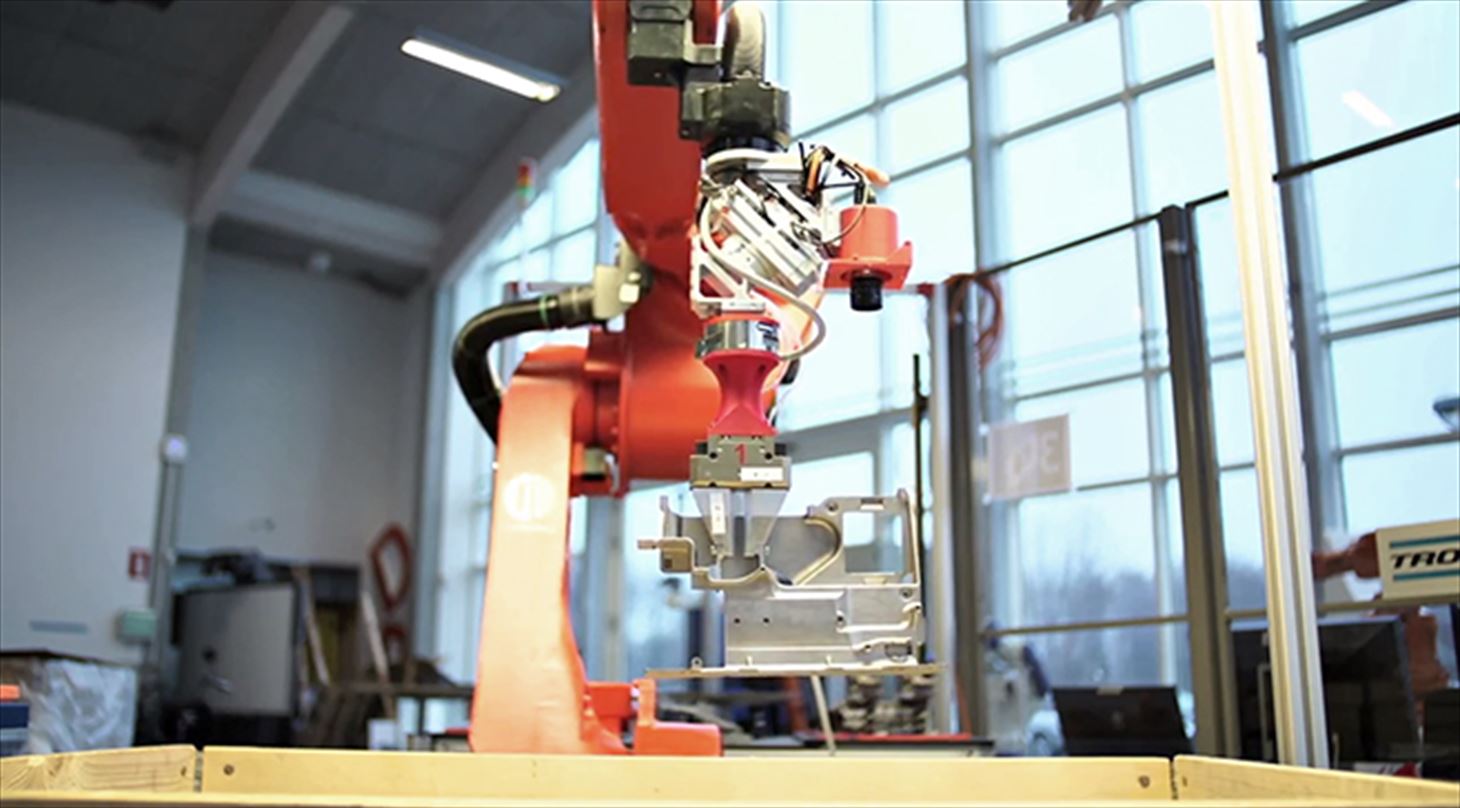 Robot technology news, video cases and projects - Projects
DTI is involved in many robotics projects both nationally and internationally. Read about current and completed research and development projects below.

CURRENT

COMPLETED
Bladerunner: Development of robot technology that can make complex moulds to shape poured concrete. Read more.
Carmen: The project is about reducing set-up times for robot assembly installations, testing its application designs on a novel prototype modular robot cell. Reduced set-up times increases the viability of using robots for mixed-batch production.
Hybrid Gripper: The project is about developing a highly flexible yet robust robot hand with easily replaceable and reconfigurable printed fingers. The resulting soft but secure grip versatility will make it useful in many different settings, e.g. the food sector or the caring sector. Read more.
INNOSORT: The project focuses on developing technologies that can sort rubbish by chemical composition or shape. Such technologies promote automated recycling, extract hazardous materials and reduce resource waste. Read more.
LIAA: LIAA will implement a framework that enables humans and robots to truly work together in assembly tasks. This enables more tasks to be automated, increasing productivity and keeping jobs in Europe. Read more.
PRACE: The goal is to enable semi-trained employees to supervise easy-to-program robot systems, resulting in fast and cost-effective automation.
R5-COP: The project seeks to combat outsourcing by focusing on adaptability and reusability. Developing modular technologies to be used with mobile robots will make mobile robot systems more flexible. Read more.
RAMPup: The aim is to improve European production competitiveness by decreasing the integration effort needed for automating small production lines. A framework and infrastructure for modular industrial automation systems will be developed during the course of the project. Go to website
Robot CoWorker for Assembly: Co-working allows the senses and intelligence of the human to be complemented by the strength and endurance of the robotic automation. The goal of this project is to develop a Robot CoWorker that can carry out 80 percent of all manufacturing tasks. Read more.
ROBOTT-NET: Four RTOs, including DTI, have teamed up to provide free consulting to 64 hand-picked European companies that wish to develop or deploy robot technology in industrial production. The mission is to collect and share knowledge about robot technology and to ensure competitiveness. Go to website
S3-CAV: Advanced camera sensors to give farmers an easy way to detect deceases in crops and get an indication of the optimal time to start harvesting. Go to website.
SafeCOP: The goal is to develop a framework for safe communication between two cooperative technologies. Learn more about SafeCOP
SMErobotics: The objective was to create cost-effective and intelligent robot solutions for small and medium-sized manufacturing companies to increase their level of competitiveness. The project ended on June 30, 2016. Go to website.
StaldTek: The goal is to develop a surveillance system to be used during farrowing and a vision system that can guide autonomous sty-cleaning robots. Read more.

​