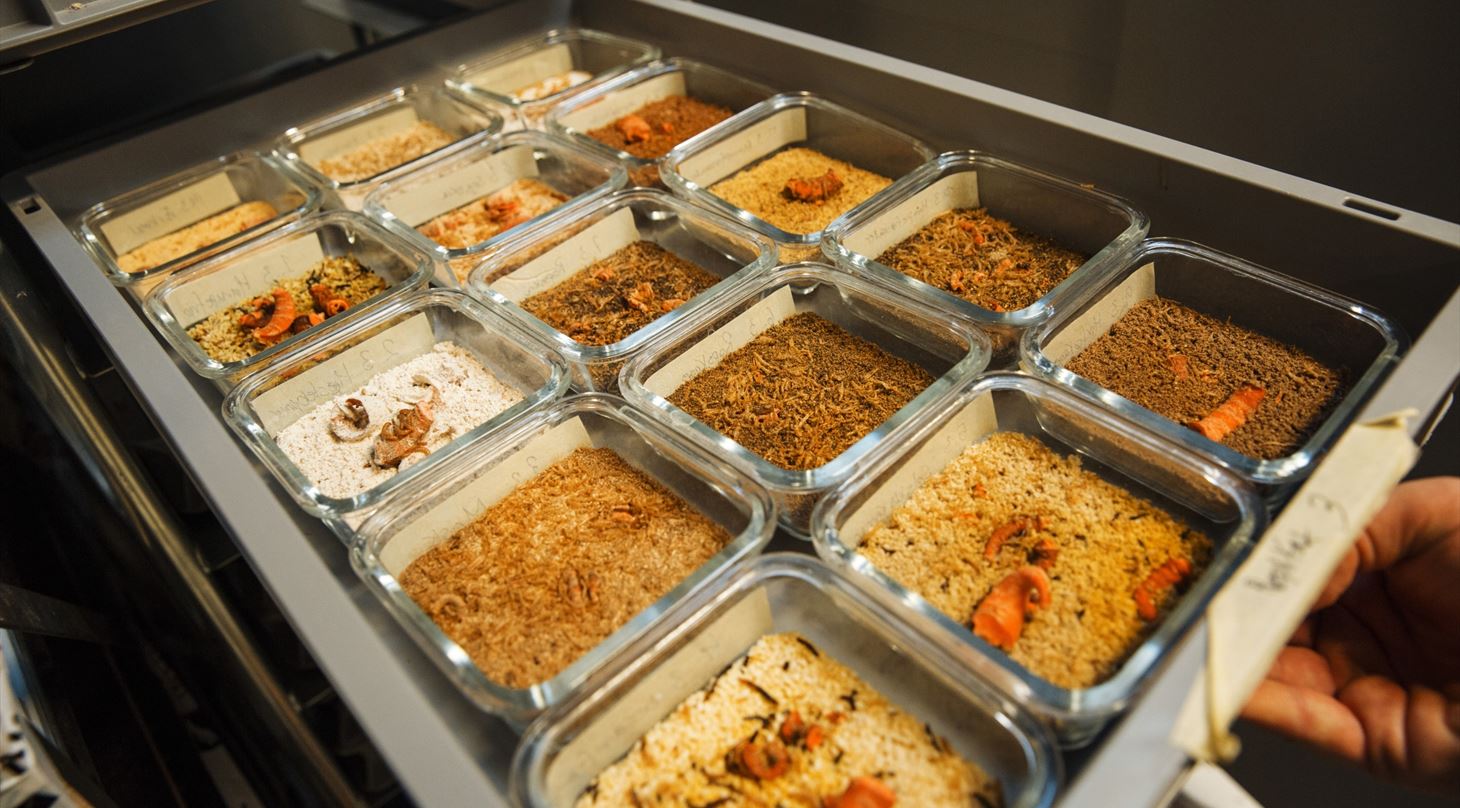 Insects - R&D projects
Our research and development projects are mainly centered around three species of insects: Hermetia Illucens (Black Soldier Fly), Tenebrio molitor (Common mealworm) and Alphitobius diaperinus (Lesser mealworm/Buffalo).
The primary areas of our interest are nutrition (feed), reproduction, genetics and physiology. We are involved in different kinds of projects both small InnoBooster projects with individual companies supported by Innovation Found Denmark and large projects that often involve several participating companies.
Our projects
(Insect Value Chain in a Circular Bioeconomy) will create a sustainable resource-efficient industry for animal protein production based on mealworms. The goal is that inVALUABLE can facilitate Danish and European industrial insect production in the coming years and be the enabler of new market opportunities for insects as feed, food and other high-value components.
Supported by: Innovation Fund Denmark
Insects: Tenebrio molitor (Common mealworm) and Alphitobius diaperinus (Lesser mealworm/buffalo larvae)
Project period: 2017-2019
The organic fraction of household waste constitutes an important resource that Danish municipalities increasingly wish to recycle in the best possible way. The WICE project will identify the technological and economic potential by allowing insects (fly larvae) to convert source-separated organic household waste and subsequently use the produced insect biomass as feed for mink.
The development work includes testing the produced larvae as feed in mink production and uncovering the potential of the residual fraction for biogas production and/or growth media for plants.
Supported by: MUDP (the Danish Eco-Innovation Program)
Insect: Hermetia Illucens (Black Soldier Fly)
Project period: 2016-2017
(Sustainable Mealworm Production for Feed and Food) supports an adequate and sustainable food production for the increasing global population. The project focuses on:
1) development of an optimized low-cost-feed formula based on organic residues and waste products for optimal growth and quality of mealworms
2) expansion and automation of the existing larvae production system at Proti-Farm, including investigation of a digital monitoring system that can assess the health and growth of larvae.
Supported by: EUROSTARS
Insect: Alphitobius diaperinus (Lesser mealworm/Buffalo larvae)
Project period: 2015-2017
(Valorization of organic side streams through bioconversion with Insects). The aim of this project is to develop a profitable and sustainable concept of feed production for mealworms by using selected residue and waste streams from the food industry. The quality of mealworms will be assessed in terms of their nutritional composition and sales opportunities as fish feed.
Supported by: GUDP (The Danish Agricultural Agency)
Insect: Tenebrio molitor (Common mealworm)
Project period: 2015-2017