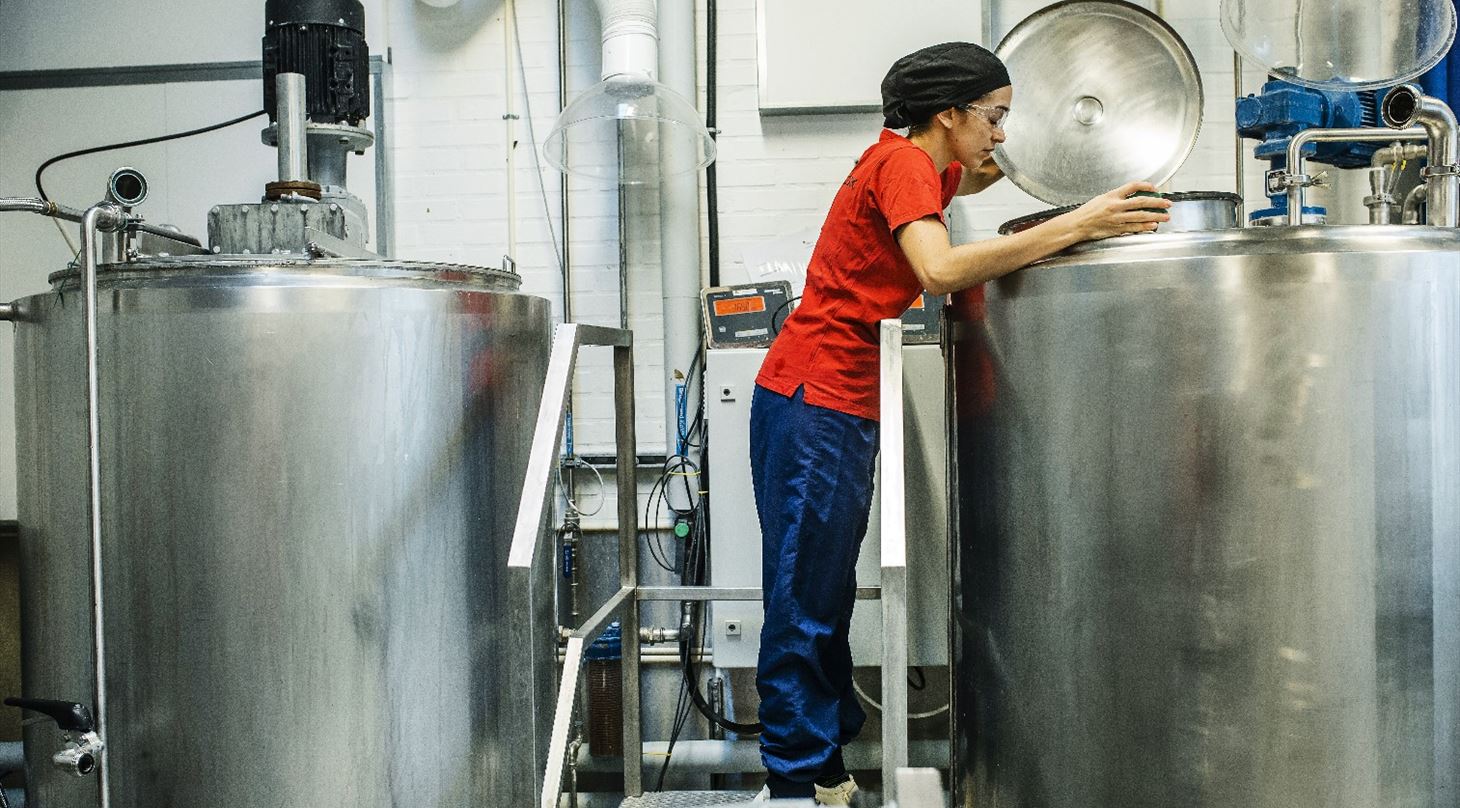 Biosolution Technology Center, BTC
Companies can work with experts from DTI to develop, test and upscale biobased processes and products e.g. food ingredients. Danish Technological Institute offers an innovation hub with food grade laboratory and pilot-scale biorefining, fermentation and Down-Stream processing facility.

The green transition places new major demands on the agricultural and food industry. There is a urgent need for everyone to think of new compositions for the food we produce, and there is a need to optimize our in- and output in production.
Can beetroot tops, which are currently utilized for biogas, for example, gain greater value as an ingredient in new food products? Can grass be used in other applications than biogas and thereby have a longer life at a higher level in the value chain?
These are just some of the questions we can help to answer at Danish Technological Institute through testing in our integrated pilot-scale biorefining and fermentation plant.
Testing of new food ingredients
Danish Technological Institute's new Biosolutions Technology Center (BTC) will support the development of sustainable technologies and processes in Denmark and internationally. BTC can offer tests within the development and/or scale-up of biosolution products or processes that fill the "gap" between laboratory tests and industrial production. Experts at Danish Technological Institute can, together with companies, develop, test, validate and upscale processes within biorefining, fermentation and downstream processing in a separate or integrated setup.
We can support both the development of new plant-based foods, as well as the use of more technologies and processes to produce alternative food ingredients or vegetable ingredients e.g. to replace meat. This can be achieved via precision fermentation. Here, it is key to utilize residual and side streams from the agricultural and food industry to ensure sustainability and circular economy. There is a need to test and evaluate the developed processes and products in terms of sustainability regarding technology, economy and environmental impact, while concurrently verifying the feasibility of upscaling to industrial scale.
What can BTC do for your business?
With the establishment of BTC, Danish Technological Institute wishes to offer companies and other organizations expert assistance as well as access to laboratory and pilot facilities that can support the development of new biosolutions. The center has state-of-the-art process equipment for biorefining and fermentation including a range of technologies to concentrate and purify products in appropriate scale steps from a few ml up to several m3. The center is food approved and can also handle fermentation with GMO organisms in both laboratory and pilot scale. BTC will be geared towards new biosolutions across food and biotechnologies.
Which services does BTC provide?
Proof of principle: Testing an idea under controlled conditions
Proof of concept: Develop samples of products and processes
Deliver prototype product for food approval, product development and marketing
Prepare techno-economic assessment as input for business case (LCC) and Life Cycle Analysis (LCA)
Provide process and infrastructure for the initial scale-up
We offer analysis and advice in relation to the process regarding the development of a new product or a new process - in other words assist the development of a new green business model.
The test facilities can be rented with or without active participantion from your side. Thus, you may participate in the laboratory or in the pilot work, or you can let us carry out the experimental work for you. There will always be an expert adviser from Danish Technological Institute assigned to each task.
In addition, companies can rent meeting facilities at the Institute for customer or partner meetings. It will also be possible to book a tour of the facility.
What is biorefining?
Biorefining is the processing of one or more biomasses into several distinct, marketable products. Biorefining is a cascade utilization of the biomass, where the maximum potential of a raw material is realized. This is done by extracting the ingredients with the highest value first and ultimately using residual fractions for energy production or recycling.
What is fermentation and precision fermentation?
"To ferment" comes from Latin and means "to bring to ferment". In all its simplicity, it describes what fermentation is all about: When you ferment your food, you preserve it by starting a fermentation process where natural lactic acid bacteria and enzymes are formed. Precision fermentation goes one step further. It is a new way of using microorganisms to produce specific functional ingredients such as proteins.
What do we mean by biosolutions?
Biosolutions is a transversal business area that stems from research seeking to understand and exploit biological systems. Biosolutions include i.e., enzymes, proteins, bacteria, dyes, biochemicals, biomaterials, biofuels, etc., which are produced on an industrial scale.
In Denmark, biosolutions are particularly widespread within advanced foods, where we have strong positions within bio-based ingredients and fermentation technology. These technologies are used , when we produce beer and cheese, but we also have a number of strong companies within industrial enzymes, bio-based chemicals, bio-based feed, plant and seed breeding, bio-energy and bio-based environmental technology.
BTC - part of the Biosolutions Zealand flagship project
Zealand must be world leading in the development of biosolutions that contributes to solving global and local climate and environmental challenges and at the same time creates sustainable growth, jobs and exports throughout Zealand. The establishment of BTC is based on the following six recommendations from the Danish Governments Growth Team Zealand:
Establish scale-up and demonstration facilities
Shorter time-to-market – create one entry point for testing and approval
Strengthen innovation and the entrepreneurial ecosystem within biosolutions
Create better access to qualified labour
Strengthen export opportunities
Create better access to capital
Timeline for the new facility
BTC is already well on its way. Biorefining, lab and pilot facilities have been built including downstream processing via centrifugation, filtration and spray drying. The first fermenters have been installed and are running – more are on the way thanks to the Biosolution Zealand sponsorship. The newly renovated center will be ready in the winter of 2023. By then, state-of-the-art fermenters in 1L, 10L and 200L scale will be installed, ready to support customer needs in biosolution development.
Prices
Prices depend on duration, choice of material, amounts and processing steps.
Please contact Lise-Lotte Schmidt-Kallesøe for a business proposal.
Contact person