Medical Biotechnology - Infection Diagnostics
Diagnosing infections by means of advanced molecular methods is becoming more and more widespread in hospitals and clinical departments. A change in clinical practice towards the use of new molecular methods has the potential to save lives through faster and more reliable diagnosis of critical infections. Nevertheless, development and market introduction of new assays for in vitro diagnostics and point-of-care analysis remains a challenge for both manufacturers and end-users.
We combine core expertise in molecular biology and bioinformatics with in-depth knowledge about routine clinical practice in hospitals. In cooperation with companies, researchers, and clinicians, we develop and validate new methods and assays for molecular in vitro diagnostics, and contribute to the implementation and change of clinical practices.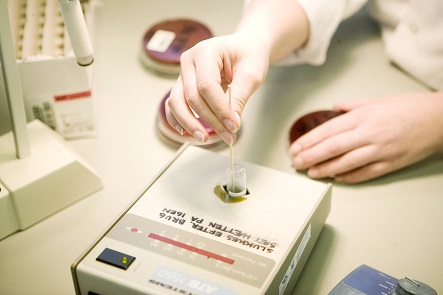 We can assist you by providing
Analysis of complex polymicrobial infections
In vitro systems to study microbial growth under standardized conditions (including MBEC™, flow cells, CDC reactors, biofilm static tests)
Consultancy and validation of assays and analytical technologies
GMO laboratory for handling genetically modified organisms
Class II laboratory facilities for cultivation and handling of pathogenic microorganisms
Detailed knowledge of various types of infections such as blood poisoning (sepsis), heart valve infection (endocarditis), chronic wounds and infections related to implants, prostheses and medical devices
Expertise with phage display technology for development of detection systems
Bioinformatics for design of probes and data analysis
Development and optimisation of PCR-based assays (PCR, qPCR, RT-qPCR)
NGS and Sanger sequencing of DNA and RNA
Development and optimisation of assays for fluorescence microscopy (DNA-FISH, PNA-FISH)
Identification and development of protein-based biomarkers