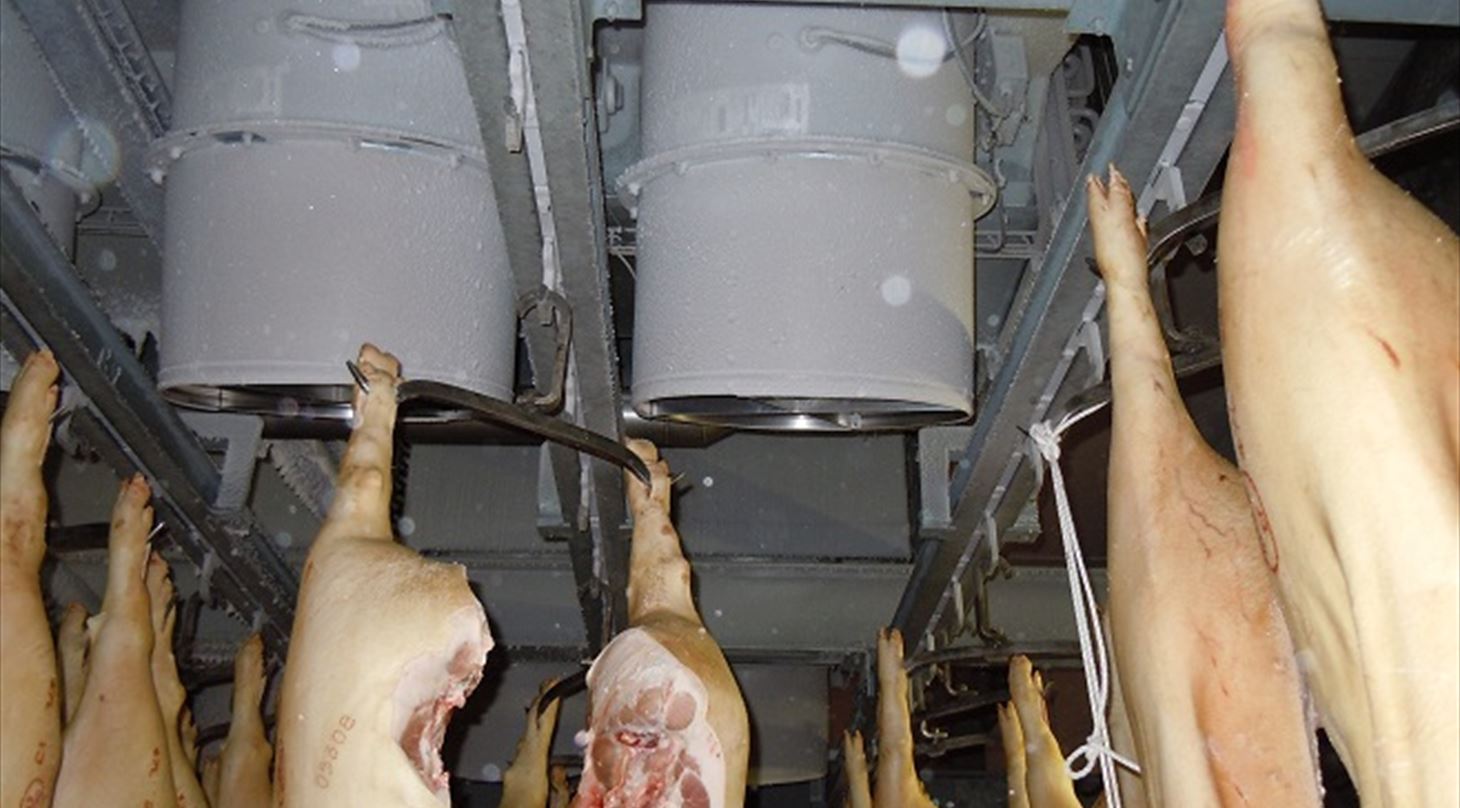 Design of carcass chilling facilities - with optimal meat quality output
DMRI offers our unique competences in the design and engineering of your new carcass chilling process or upgrading of your existing carcass chilling process. We design chilling processes with a chill loss of 0.7% to 1.3%, depending on the choice of process (hard/soft). On top of that, we can provide a chill loss guarantee.
When constructing new chilling facilities or upgrading existing ones, it is important to ensure proper equipment sizing and design that provide correct process parameters.This requires solid experience of how to optimally extract heat from hot carcasses and knowhow that can prevent critical design flaws and reduce overall project spending while ensuring the optimal carcass chilling process for your needs.
Bringing DMRI onboard your project will ensure exactly this, and we will provide you with technical process specifications that are tried and tested in the field by our engineers themselves. We will also assist you in contractor/supplier selection and ensure that their scope of supply lives up to the process specifications.
By the end of the project, DMRI conducts a performance test to establish any corrections needed by the contractors.
In short, we will assist you from start to finish.
DMRI designs ensure:
Higher meat quality
Low chill loss (evaporative loss during chilling)
Low drip loss (meat juice in packaging)
Reduced operating costs
Sufficient chilling capacity
Correct final product temperature
Low condensation level in building (no dripping)
Structural longevity
Newsletter November 2020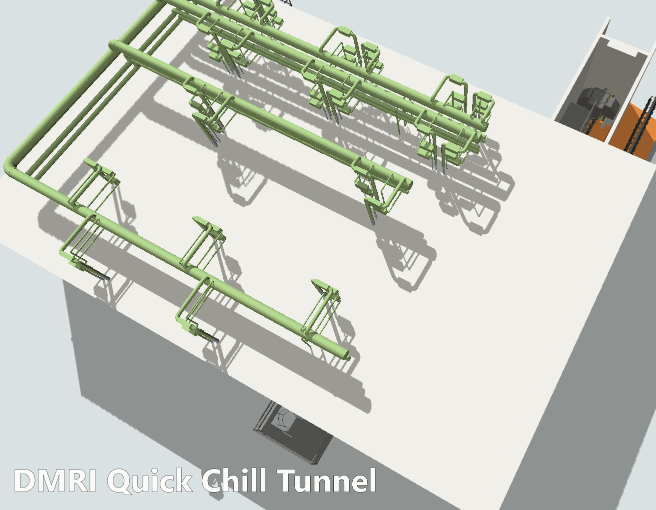 Value of chill loss:
The water that evaporates from the skin and meat of the carcasses poses a significant loss in yields. Analysis of sales numbers from various pork slaughter facilities determined the average value of 1% of chill loss to be approx. 1.3 EUR per carcass.
In one case, one of our customers running 700 pigs/hour in a two shift operation was able to increase yearly sales of approx. 3,500,000 EUR by reducing their chill loss with 1% by refurbishing their chilling process using DMRI's specifications.
Based on your average sized carcass, DMRI can produce:

1. Process specifications that define:
Thermal process simulation
Evaporator design
Heat transferring area [m2]
Air flow [m3/h]
Process time (and thus required footprint)
Air temperature
Refrigeration valves design and operation
Defrost timmings
Fan programming
Refrigeration plant sizing
Insulation sizing and requirements
Air separation systems for cold/warm areas
2. Building specifications that define:
Insulated and heated floor structure
Vapour barrier requirements
Wall penetrations for pipes and cables
Equipment support columns ensuring thermal break
Insulated panel interface with concrete sub floor ensuring intact vapour barrier
Correct interface with adjacent buildings
3. Layout drawings and evaporator placement
4. 3D drawings of facility
5. Continued consultancy and interaction with local contractors on behalf of the facility owners
6. Site supervision during construction and installation
7. Performance test
RECENT CHILLING DESIGN PROJECTS FOR HOT CARCASSES